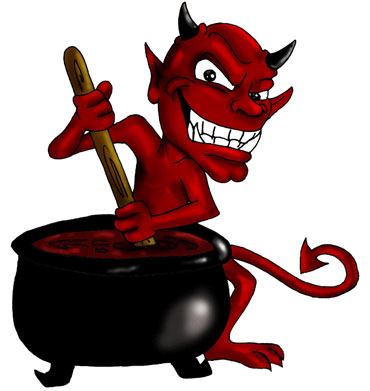 Does Satan Have Any Legal Rights Over Christians?
Most of us know that sin allows satan to attack, harrass and invade humans. Sin gives satan a legal right.  What does that mean for Christians? In Him we have redemption through His blood, the forgiveness of sins, according to the riches of His grace (Ephesians 1:7, NKJV).  This scripture tells us that once we accept Jesus as our Lord and Saviour we have redemption through His blood and are forgiven of all our sins according to the riches of God's grace.  We are eternally saved and are right standing with God and become an heir of Christ and inherit all the blessings God has for us. Great! I knew that no matter what, God has a trump card to thwart the enemy for everything.  It is called Grace. When it comes to God's Grace satan has no legal rights, not one!  Grace trumps the lot!! This is my favourite Scripture. Let us therefore come boldly to the throne of grace, that we may obtain mercy and find grace to help in time of need (Hebrews 4:16, NKJV). This posed a problem for me though.  I was still aware that demonic spirits had access to me.  I was suffering infirmities in my body, fear, pride, critical/judgmental attitudes against others and many more.  Why had I not been redeemed, like the Bible said I was?  Why had I not been set free because of God's Grace. I started to read about satan's legal rights.  Why did satan have legal rights over us? Most websites and other Ministries listed unconfessed sin as the culprit.  I began to see also that we are spirit beings and fleshly beings.  The flesh was warring against the born-again spirit.   The flesh is our carnal areas (soul) and physical body. I read more scriptures in the Bible that said God wanted to transform us into the likeness of Christ who was sin-less.  My flesh wasn't born-again nor was it acting very Christ-like.  I couldn't understand what I was missing!  
My husband and I started ministering to people in Healing and Deliverance based on the concept that unconfessed sin was the culprit as to why Christians were not living the abundant life. We would seek the Holy Spirit to expose sin, then lead people through repentance.  After two years of this, I started to become rather concerned, because it seemed that satan had more power over us than God because of all this unconfessed sin.  I believed that unconfessed sin tied God's hands and satan was in control until God revealed the sins. This was frightening to me!
I prayed to God for more Grace.  This is what He gave me. "My grace is sufficient for you, for My strength is made perfect in weakness." Therefore most gladly I will rather boast in my infirmities, that the power of Christ may rest upon me (2 Corinthians 12:9, NKJV). Sometimes God will only give us a measure of His Grace for reasons known only to Him.  Usually it is to outwork our weaknesses and replace them with His strength. Many times it is because God is a just God. When satan comes to Him and accuses us before God sometimes He will agree with him and allow disciplinary measures against us.  Jesus took away the curse of the law which is the punishment system of disobedience to the law so God can no longer punish us for sin but their is still a disciplinarian system in place.  God abhors sin and is the same yesterday, today and forever.  He doesn't change but how He deals with us does - No more punishment system, just disciplinary measures! The Bible says that God scourges and disciplines those whom He loves (Hebrews 12:6). This is to teach us right from wrong. Satan is a persecutor and will petition for us.  It is written throughout the Bible that he uses Gods Word against us to be able to attack us. Interestingly the word in Ephesians 1:7 also reads 'In accordance with the riches of His Grace'!  God decides how much Grace to use in each circumstance. Sometimes we are cleansed and healed from things immediately upon salvation or it may take some time to appropriate what Jesus has done. It is all in accordance with the measure of Gods Grace.
 Throughout all of this God would ask me periodically if I trusted Him.  I kept answering with all confidence 'of course'.  After a while of this God tested my heart to see if I really did trust Him.  Turns out I didn't.  When the tough times hit, I threw out my toys and was very hurt and angry with God for not helping me. He showed me that I trusted in myself more than I trusted in Him.  He asked me how could He guide and lead me into 'His' will and purpose for me, when I kept resisting.  Trust in the Lord with all your heart, And lean not on your own understanding; In all your ways acknowledge Him, And He shall direct your paths. Do not be wise in your own eyes; Fear the Lord and depart from evil. It will be health to your flesh, And strength to your bones (Proverbs 3:5-8, NKJV). I said to God "How can I trust You when it seems that satan is more in control of my life than You because of all this unconfessed sin"? This is what He showed me. As far as God is concerned the work is done. Jesus has offered His life for our life. All we need to do is take it by submitting our spirits/souls, bodies, and entire lives to Jesus. It is a swap. There is an exchange that happens at the cross. He who finds his life will lose it, and he who loses his life for My sake will find it (Matthew 10:39, NKJV). This is harder than we think. There are many areas in our lives that we want to hold on to. We cling to these areas and stubbornly refuse God access to them. Sometimes we may think we are yielding them, but God sees our heart and knows when we are not. This poses a problem! Any area not submitted to God is not brought under the Blood of Christ. This means it stays in the hands of the devil. The devil has legal rights over these areas. . Ephesians 4:26-27 tells us not to give a place to the devil. The word place in Greek is Topos and means power.  When we sin we give power to the devil. We may need repentance, deliverance and healing in those areas before we can let them go and accept Christ into them. All unyeilded areas are still seen as sin and need to be confessed as sin and sanctified by using the name and power of Jesus Christ. The problem here was not God, it was me! There were areas in my life I wasn't handing over to God so there was unconfessed sin within them. My unyielded areas were weaknesses that I needed God's strength in. God was taking me through a trial in order to trust Him. The Holy Spirit told me that I tried to be in control of everything. I had taken the reins of control from God. I hadn't yielded control over to God, which meant satan was in control. When 'we' are in control it ties the hands of God, and makes it harder for Him to be in control. Satan has a legal right to take control of many situations because we are refusing to hand this control over to God. When you submit all control over to Jesus, you can trust that You are in His perfect will. This means that you can walk in peace to continue in the direction and path you are currently on, trusting in Him to show you when you need to change direction. This in no way interferes with free will, as you are still free to make any decision you wish. When we hand over the reins of control to Jesus we can trust Him entirely to know that He will never violate or control our free will. He will always give us the freedom to choose. Giving Him control of your life helps you to recognise God easier enabling God to guide you in the perfect choice and make correct decisions. When I received this revelation, I was then able to, with all my heart hand control over to Jesus because I totally wanted Him to be in control now, not me. For the first time in my life I knew I truly trusted God more than I trusted myself. I even prayed that if any prayers I prayed were not in alignment with Gods purpose for me, to make them null and void!
The outworking of our unyielded areas is a process.  Trust God to show them to you, then work with Him to completely hand them over to God.  When there is no unyielded areas that we are stubbornly hanging on to satan will have no legal rights over us! But remember God still holds that all important trump card, Grace, and He can use it in accordance with the riches of His Grace whenever He sees fit. Trust Him that He knows the ultimate way to set you and others around you free! 
Prayer of submission 
"Dear Father God in the name of Your Son Jesus Christ I repent for all areas in my life that I have not yeilded to You. I want to relinquish all to You, so that You are in control. Father God I declare that I am ready to submit to You. Please help me to do this. I give You authority to minister to me. I love You and I trust You. I dedicate my life, spirit, soul and body to You. I dedicate my family, home, business, finances, belongings and pets to You. I ask for all thoughts, emotions, influence and endeavours I have to come into alignment with Your will and purposes for me. I commit my works to You LORD, so Your thoughts will be established. I ask the Holy Spirit for a fresh infilling to help me to discern Your voice, to lead me and guide me into the life You have planned for me. I give you authority to conform me into the Christ-like creation You have predestined me to be. I give You my life for the life of Christ. Please show me all areas in my life that I have not fully yielded to You - Amen".
Control Prayer – Trust in the Lord with all your heart, And lean not on your own understanding; In all your ways acknowledge Him, And He shall direct your paths (Proverbs 3:5-6, NKJV).
(PRAY) -  " I repent Father God for control. I trust You and want You to be in control. I thought I was better in control, but I am not, You are! I want to yield all of my life, my spirit/soul and body to You. I hand over the reins of control to You Lord Jesus.  I relinquish control of my life. I relinquish my need to control situations, and the need to control others.  I lay control at the foot of the cross. I give it all to You in Jesus name. I pray that my will would come into alignment with Your will.  I commit my will and declare 'Your will be done, not mine'! 
I break all forms of control operating and command all demons of control, and all demons with you to leave in the name of Jesus Christ".
Exerting Your Legal Rights - One of the legal rights satan has over us is simply not knowing our legal rights as a child of God.
So what is our legal rights? Your legal rights as a child of God is that Jesus already fulfilled the requirements of the law and received all the God-given inheritance for you. What the devil doesn't want us to know is that the blessings are already ours! We are entitled to many blessings as a son/daughter of God but we sometimes need to actually claim them. If we don't use our legal rights against satan he may refuse to stop attacking us and will continue until we show him who we are in Christ.
(PRAY) - "As a son/daughter of God I speak to all spirits of darkness that attempt to exert authority over me and declare to you now my legal rights as an heir of God.  By the name, blood and resurrection power of Jesus Christ of Nazareth I declare that I am a partaker of the inheritance of the saints in the light and have been delivered from the power of darkness and translated into the Kingdom of Jesus (Colossians 1:12-13). I am a new creation in Christ - old things have passed away and all things have become new (2 Corinthians 5:17). I am no longer in Adam, but in Christ (1 Corinthians 15:22). I am redeemed from the curse of the law (Galatians 3:13). I am sanctified and washed clean by the washing of the water of the word (Ephesians 5:26). I have been redeemed with the Blood of Jesus (1 Peter 1:18-19). I have been justified by faith (Romans 5:1). I have a personal relationship with God the Father and can stand before His throne with confidence (Hebrews 4:16).  I am righteous through the putting on of the righteousness of Christ (Philippians 3:9) I am worthy (Matthew 6:26).  I have died to sin and now live and reign as a child of God (Romans 6:11). I use my authority in Christ to overcome the world (1 John 5:4). I live in resurrection power (Philippians 3:10) and walk in Holy Spirit anointing (1 John 2:27).  I cut myself free with the truth and proclaim whom the son sets free is free indeed (John 8:32). I am seated with Christ in Heavenly places (Ephesians 2:6). I share His victory, I share His glory and I share His triumph (Colossians 2:15). I have overcome the enemy by the Blood of the Lamb and by the word of my testimony (Revelation 12:11). By the stripes Jesus bore on His body I am healed from all sickness and disease (Isaiah 53:5). Thank you Lord Jesus for the power of your Spirit flowing through me that releases abundant life (John 10:10). I have been given power and authority to trample on snakes and scorpions and overcome all the power of the enemy (Luke 10:19). I am protected within the secret place of the most High God (Psalm 91:1).  The Lord guides my paths because I trust in Him with all my heart (Proverbs 3:5-6).  I am in God's perfect will because I declare that I want Your will to be done, not mine! (Luke 22:42).
I now command all demons in my life including those which are hiding to come out and leave in the name and power of the risen Lord Jesus Christ.  I exert my legal rights over you by claiming all that Jesus Christ did on the cross for ME.  Thank You Jesus, I praise Your wonderful Holy name, Amen".
 By Tania Francis