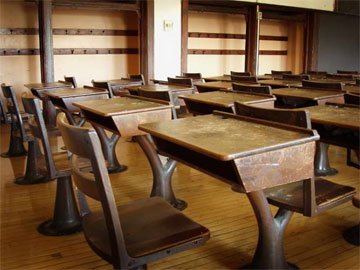 Pleasing God
One day I was at my church worshipping the Lord when I had a vision of a white curtain. I opened the curtain and saw an old school desk instead of the Ark of the Covenant.  Inside the old school desk was the Law of God.  God told me that He was showing me what was inside my heart. He told me that the desk was striving and it represented a work station.  He hadn't been able to enter and sanctify certain areas of my heart because I didn't understand the difference between grace and works. He showed me that I would spend my time trying to please Him so that He in return would be pleased with me!  This then becomes about 'me' and not about 'Him'. My whole motivation and beliefs were based on a mind-set which 'wants to gain approval and be accepted'. We should do things to please God simply because we love Him and want to bless Him.
The Old Covenant was about trying to keep the law through works of righteousness to be right standing with God. This is works! The New Covenant is about Jesus removing the curse of the law so we can be right standing with God simply by accepting and believing in Jesus. This is Grace! Most of us know that we cannot earn our citizenship to Heaven, that it is free and given to us through God's Grace. We understand it, accept it and are good with it, but there is much more to this than we realise. Salvation is more than just earning our place in Heaven when we die. Salvation is also about attaining freedom for our bodies and souls from sickness and hurt. It is about financial freedom and provision in our lives. Most of us are aware that we have received a free gift to Heaven through accepting Jesus as our Lord and Saviour, but for some reason we still think we need to strive to please God to earn more. We try to do everything right to earn favour and approval from God so He will love us more, be pleased with us and release His blessings. The problem with this is that He has already given to us the whole Kingdom; this includes the blessings, His love, His approval and favour. These things are already ours. No works of righteousness on our part will earn something we already have. In fact the Word of God tells us that if we attempt to be justified by law we have fallen from Grace. You have become estranged from Christ, you who attempt to be justified by law; you have fallen from grace (Galatians 5:4, NKJV). Instead of striving to do good works to earn these things, we need to take a proactive approach to access what is already ours. We find it really hard to believe our Kingdom inheritance is free; we keep trying to earn it. As humans we live by a belief system that when people are pleased with us we will gain rewards. This comes from a life time of 'doing' good things and being rewarded for them. It starts in our childhood when our parents reward us for good behaviour, carries on into school and then into our jobs when we want to please our bosses. A lot of us simply do things to please others for self approval and praise. What does the Word of God say about doing works to attain freedom and gain approval from God? O foolish Galatians! Who has bewitched you that you should not obey the truth, before whose eyes Jesus Christ was clearly portrayed among you as crucified? This only I want to learn from you: Did you receive the Spirit by the works of the law, or by the hearing of faith? Are you so foolish? Having begun in the Spirit, are you now being made perfect by the flesh? (Galatians 3:1-3, NKJV).
And if by grace, then it is no longer of works; otherwise grace is no longer grace. But if it is of works, it is no longer grace; otherwise work is no longer work (Romans 11:6, NKJV).
As Christians we know what the law is - it is God's moral law of right and wrong. It is God's commandments of righteous living that are in our minds, and written on our hearts. We understand that we need to adhere to this Godly law of right and wrong living because when we walk contrary to it, we open ourselves up to the devil and suffer affliction and attack. This is because we are walking in the flesh and not in the spirit. God showed me that we are supposed to live our life in accordance with the law, because the law is good, but attaining to the law should have no emphasis on trying to earn your salvation,  gain favour or right standing with God, make Him love us more, or make Him pleased with us. We are already made righteous the moment we accept Jesus as our Lord and Saviour. His blood covers us. We are no longer 'under' the law; this means we don't need to keep the law to be in right standing with God. Jesus already took care of that, and because of this we are already right standing with God. He removed the curse of the law. God allowed Him to do this because He loves us so much. There is nothing we can do to make God love us more. God told me that it is an insult to try and please Him with our acts of righteousness if it is not for the right reasons. In fact it cancels out the law of Grace. So then what are the right reasons? Pleasing God is all about the motive of our heart and why we choose to do things in order to please Him or others. Pleasing God works by trusting Him, Loving Him and loving others, respecting Him, being obedient to His voice and promptings, and exercising faith by believing and doing what the Word of God says. Of course God still wants us to adhere to the law, but this should be for the right reasons. You will please God when you adhere to the law if it is because you love the Law and agree that the law is right! You will please God if you adhere to the law because you honour Him and love Him. Wherefore we labour, that, whether present or absent, we may be accepted of him (2 Corinthians 5:9, KJV). 'We labour' is φιλοτιμεομαι and means strive (to be actuated by love of honour).  The word actuated means to be motivated.  God wants our motivation of striving to do good works to be because we honour Him, adore Him and love Him. We please God when our motivation is love, love for Him and love for others. We please God also when we allow Him to do the good works through us – giving Him the glory!  Pleasing God should have no emphasis on trying to get Him to be pleased with you!  God rewards us when He is pleased with us, but purposely doing good things to get Him to be pleased with us is not the right way to go.  Gods ways certainly are not our ways!
Blessings and rewards come as a result of grace flowing when we step out and take what Jesus has offered us. How do we take it? 'Resist' the devil so he will flee from you. Resisting the devil is steadfastly sticking to what is right and wrong. Use God's tools such as His word, praise, worship, fellowshipping with other Christians and spending time in His presence listening for His voice. These are the keys to inherit the blessings. When we are sick and a doctor gives us medicine to take, do we take it because we want to please the doctor or do we take it because it will make us well? We need to liken Gods tools to medicine and apply them so we can be set free in our flesh! The devil will use guilt and condemnation to make us feel as though we are letting God down when we are not reading His word, or going to Church, or spending time in His presence. The more we feel that we have to do these things to please God, it inevitably ends up making us do it out of guilt. This does not work for God. We do not inherit the blessings because of our own good works done with a wrong motive. Using God's tools releases healing. It is using the tools themselves that make us well. If we don't use them and apply them then it is only us who suffers. We inherit the blessings because we are entering into Gods presence and claiming what the Word of God says. If we do these things it is because we believe in the power of them. Faith with works! This pleases God! Good works acceptable to God is works working through faith. Faith is belief. When you believe and obey, this pleases God. Faith is the ability to believe. Faith releases miracles. Our own good works for the wrong reasons do not earn rewards! Works with faith are the key because you believe. You believe, and then you 'do' what God shows you to do. Works is faith in action. We show our faith by our works. In fact rewards are released when we exercise our faith. But without faith it is impossible to please him: for he that cometh to God must believe that he is, and that he is a rewarder of them that diligently seek him (Hebrews 11:6, KJV). As we allow more of God's love to crucify our flesh we will actually find we operate more and more in a righteous moral manner because the love of God in us will help us to automatically do it. No striving on our part to do anything will even be needed, because it will become natural to us. This pleases God when His love working through us automatically helps us do what is right!
(PRAYER) - "Dear God I repent for trying to keep the law through works of righteousness to be right standing with God. I repent that I have done good works so that You and others would be pleased with me, as this then becomes blessing others to bless myself. I repent for trampling the spirit of grace underfoot. I repent for trying to earn my salvation, and gain approval and love from You through righteous acts and works. Help me to strive in 'Good works' for the right reasons. Help me to see that I don't need to earn favour or approval from You because I already have it. Jesus removed the punishment system and helps me to fulfil the law through His righteousness so I can relax and be okay with the fact that I am not perfect, and that You love me anyway! I command every spirit of striving, perfectionism, and false good works to leave immediately in the name of Jesus Christ. I pray for the grace of God to again flow in my life and circumstances, Amen".
This is a note I have pinned to my wall to help me to remember:-
'Do good works because you love God and want to honour Him'
'Do good works because you believe in His word and because you agree with His word'
'Use Gods tools because they are keys to aide in your circumstances'
'Do good works because you love others and want to help them'
'Do not do good works to please God if your motivation is for Him to be pleased with You in order to satisfy the need for approval'


Claiming Rewards (Faith with Works) - The Christian religion is based on justification (being righteous) through faith in Jesus. Many other religions teach that works is part of our salvation process.  This came about from the teaching in James. But someone will say, "You have faith, and I have works." Show me your faith without your works, and I will show you my faith by my works. You believe that there is one God. You do well. Even the demons believe—and tremble! But do you want to know, O foolish man, that faith without works is dead? Was not Abraham our father justified by works when he offered Isaac his son on the altar? Do you see that faith was working together with his works, and by works faith was made perfect? And the Scripture was fulfilled which says, "Abraham believed God, and it was accounted to him for righteousness."And he was called the friend of God. You see then that a man is justified by works, and not by faith only (James 2:18-24, NKJV). I asked the Holy Spirit about this and this is what He showed me: Salvation can be basically broken down into a two part process.  The first part is eternal salvation through faith in Jesus. We receive the Holy Spirit as a guarantee when we accept Jesus as our Lord and Saviour.  We immediately become righteous through His blood and know we are saved and headed to Heaven upon physical death. We did nothing to earn this. This is the first part. The second part is the reward system. Receiving rewards from God. These can be blessings, healings, actively displaying fruits of the Spirit and abundant living. They are also referred to as 'crowns' in the Scriptures. God's abundant grace gives you rewards!  God's love gives you rewards simply for no other reason but that He loves you. Diligently seeking God releases rewards, but it must be through faith and trust because You simply believe in Him. But without faith it is impossible to please him: for he that cometh to God must believe that he is, and that he is a rewarder of them that diligently seek him (Hebrews 11:6, KJV). Yielding and allowing the Holy Spirit to crucify the flesh releases rewards as it is outworked and you are changed! Another part of the reward system is reaping what you have sown. Whatever you have sown in God you are entitled to partake. Do you not know that those who minister the holy things eat of the things of the temple, and those who serve at the altar partake of the offerings of the altar? (1 Corinthians 9:13, NKJV). An example of this is, as God created this Ministry through me I reaped the rewards in my own soul as wholeness and healing which was then passed on to others. Faith with works also gives you rewards. We are righteous only when we believe and understand that our righteousness comes from Christ alone. Not by your works of righteousness do you earn rewards, only your faith in believing in Him, your faith is reckoned as righteousness, and you receive rewards. But to him who does not work but believes on Him who justifies the ungodly, his faith is accounted for righteousness (Romans 4:5, NKJV). Understanding His righteousness is the first principle to receiving Kingdom rewards. But seek first the kingdom of God and His righteousness, and all these things shall be added to you (Matthew 6:33, NKJV). Works is trying to earn favour with God. Works by themselves are filthy to God because we already have favour with God. Faith with works pleases God. Faith is belief.  When you believe and obey, this pleases God.  The key to your freedom is belief. Faith is the ability to believe.  Faith releases miracles. Good works do not earn rewards when done with the wrong motive! Works with faith are the key because you believe. You believe, then you 'do' what God shows you to do.  Listening is also an important part of this principle.  When you listen to the voice of God and obey you automatically step into Gods rewards.  Are you listening? Do you have faith? Do you show works according to your faith? Are you obeying the voice of God? If you can answer yes to all of these then it is time to receive your rewards!
****After I had written this prayer God revealed to me a few months later that I still had a mindset of believing I was entitled to rewards for my works! One of my biggest desires in God was to be transported into Heaven.  I was having Heavenly visits in visions which I knew were really happening because much fruit came from them, but I craved an actual real visitation where I was actually being transported. The desire I had for this was overwhelming, at times it ate me up.  My husband one day received a word that he was going to be given revelations pertaining to the future and would be having Heavenly visitations.  Well that was too much for me; I spat the dummy and told God He was just mean! I told Him that I deserved it more than my husband because for the last three years all the work on the Ministry had been done by me and my husband hadn't contributed much at all! Why should he get what I wanted! (I really acted like a spoilt brat). I then thought that perhaps God didn't love me enough if He was going to give what I wanted to my husband.  Maybe God saw my husband as more important than me! That really hurt! God then showed me that He is not a respecter of persons.  God does not favor one over another. He gives to each person whatever gifts they need in accordance with their purpose in Him. The Word of God tells us that God will supply all our needs (Philippians 4:13).  Sometimes our flesh wants the things of God that are not needs! My desire for this gift came from the flesh.  It was not a God-given desire, nor was it a need. The enemy had given me this desire knowing full well my husband was going to get this gifting. It was a 'want' which I wanted simply because it was cool.  He then revealed that I was wearing a counterfeit breastplate of righteousness because I kept expecting to receive things from Him that I thought I deserved as a reward because of the 'Good Works' I was doing for Him in regard to the Ministry.  He showed me that the good works I was doing with the Ministry was my God-given purpose and already bearing much fruit. The results from the prayers and articles I had written were amazing. I then realised I had been expecting blessings and rewards from God because of the work I was doing for Him when the rewards already were the results - both in myself and others! I accepted this and six months later God told me that He wanted to reward me for my faith and contribution to Him in allowing Him to use me in a time of great suffering to create this Ministry for His glory. He told me that I and my family would be greatly blessed. He then showed me that He wants to bless us with good things simply because He loves us. If we think we are entitled to them because we think we deserve them, then that can actually hinder us from receiving them. Be expectant because you know that God is good, not because you think you deserve it! It has and always will be about the motive of our hearts and our willingness to serve Him.  If we are doing it for what we can get - this is not good!  If we are doing it to give - this is good and will be rewarded.
Why has God waited for such a time as this to give you your rewards?
For by grace you have been saved through faith, and that not of yourselves; it is the gift of God, not of works, lest anyone should boast.  For we are His workmanship, created in Christ Jesus for good works, which God prepared beforehand that we should walk in them (Ephesians 2:8-10, NKJV).

(PRAYER) - "Father God I (name) believe that I am justified by faith by believing and accepting Jesus as my Lord and Saviour.  My own good works that I do with wrong motives will not earn rewards or favour from God. My good works that I do mixed with faith because I believe in Jesus and the power of the Gospel to change lives releases rewards from God. My good works that I do which is motivated in love will release rewards from God. The Biblical principle that I will reap what I have sown enables me to partake that which I have sown into your Kingdom. Father God I will also receive rewards because You are my Father and You love me. I am saved by faith; Faith in believing on Jesus for my salvation. I am made righteous by Jesus alone. No works on my behalf can make me righteous. Faith with works releases rewards from God. I have faith Father God, and my faith is shown through my works because I believe. In Jesus name I now claim those rewards and will pass those rewards on to others, so they too can preach the Gospel which is the Good News of Christ available to all who believe, Amen!
By Tania Francis