Peaceable Fruit of Righteousness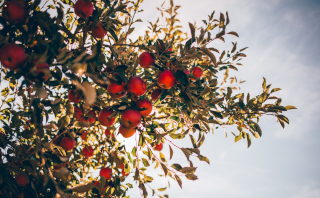 Recently I wrote an article about how God chastises those whom He loves. There was a part in the Scripture (within the article) that talked about the peaceable fruit of righteousness that is produced by being chastened by the Lord. For they verily for a few days chastened us after their own pleasure; but he for our profit, that we might be partakers of his holiness. Now no chastening for the present seemeth to be joyous, but grievous: nevertheless afterward it yieldeth the peaceable fruit of righteousness unto them which are exercised thereby (Hebrews 12:1-11, KJV). I pondered what the peaceable fruit of righteousness was at the time as I didn't fully understand what it was, and then it went out of my head.
Recently I was reading James and I came across another Scripture talking about the peaceable fruit of righteousness and then it really stood out to me as something I needed to seek God on so I could get a fuller understanding. And the fruit of righteousness is sown in peace of them that make peace (James 3:18, KJV). I started with taking the words from the scripture back to the original Greek meaning. In Greek the word for fruit is Karpos and means that which originates or comes from something, an effect, result.  The word for righteousness is Dikaiosune and means: state of him who is as he ought to be, righteousness, the condition acceptable to God 1b) integrity, virtue, purity of life, rightness, correctness of thinking feeling, and acting. The word sown is Speiro and means 1) to sow, scatter, seed  2) metaph. of proverbial sayings. The word peace is Eirene and means 1) a state of national tranquillity 1a) exemption from the rage and havoc of war 2) peace between individuals, i.e. harmony, concord 3) security, safety, prosperity, felicity, (because peace and harmony make and keep things safe and prosperous) 4) of the Messiah's peace 4a) the way that leads to peace (salvation) 5) of Christianity, the tranquil state of a soul assured of its salvation through Christ, and so fearing nothing from God and content with its earthly lot, of whatsoever sort that is 6) the blessed state of devout and upright men after death. 'Of them that make' in Greek is Poieo and means 1) to make 1a) with the names of things made, to produce, construct, form, fashion, etc. 1b) to be the authors of, the cause 1c) to make ready, to prepare 1d) to produce, bear, shoot forth 1e) to acquire, to provide a thing for one's self 1f) to make a thing out of something 1g) to (make i.e.) render one anything 1g1) to (make i.e.) constitute or appoint one anything, to appoint or ordain one that 1g2) to (make i.e.) declare one anything 1h) to put one forth, to lead him out 1i) to make one do something 1i1) cause one to 1j) to be the authors of a thing (to cause, bring about) 2) to do 2a) to act rightly, do well 2a1) to carry out, to execute 2b) to do a thing unto one 2b1) to do to one 2c) with designation of time: to pass, spend 2d) to celebrate, keep 2d1) to make ready, and so at the same time to institute, the celebration of the passover 2e) to perform: to a promise.
In the passages in James before this scripture James had been describing the difference between worldly wisdom and godly wisdom. Worldly wisdom is all about being selfish and greedy, and to put our own interests before the needs of others to get ahead and experience worldly peace. Godly wisdom is all about putting the needs of others above our own, seeking first the Kingdom and His righteousness (Matthew 6:33) and to rely and depend upon Jesus which leads to Godly peace. Peace I leave with you, my peace I give unto you: not as the world giveth, give I unto you. Let not your heart be troubled, neither let it be afraid (John 14:27, KJV). The ones who walk in this peace are known as peacemakers and are called children of God and are blessed. Blessed are the peacemakers: for they shall be called the children of God (Matthew 5:9, KJV). You obtain this blessed state of being a peacemaker by being chastised and trained by the Lord.  This is a process as you are being refined by going through the various trials and continuing to trust in Him.
When I was a very young Christian the Lord launched me straight into the Healing and Deliverance Ministry and I was once doing a Ministry session for a lady when the Lord told me that He wanted to make her more righteous.  The lady got very upset with me and told me that the Lord had already told her that she couldn't be any more righteous because she was already made righteous through the righteousness of Christ so believed what I received was wrong. Feeling bad I never pressed the point (as I believed I may have got it wrong) and decided to move onto the next part of the session.  Since then I have always had the same mind-set as her - that you cannot become anymore righteous than what you became the moment you were born-again (when you first believed in Jesus Christ) because of the many Scriptures that confirm our righteousness is in Jesus and our own righteousness is as filthy as rags. 
What however does the word say? Is this belief backed up by Scripture? As I was pondering this is I heard the Lord and this is what I believe He spoke to me, "The fruit of righteousness is sown in peace once you understand the righteousness of Christ. His righteousness changes you, establishes you and makes you right before God.  It is not of your own works lest anyone should boast. You become a slave to righteousness once you are clothed in it. What then? shall we sin, because we are not under the law, but under grace? God forbid. Know ye not, that to whom ye yield yourselves servants to obey, his servants ye are to whom ye obey; whether of sin unto death, or of obedience unto righteousness?  But God be thanked, that ye were the servants of sin, but ye have obeyed from the heart that form of doctrine which was delivered you. Being then made free from sin, ye became the servants of righteousness. I speak after the manner of men because of the infirmity of your flesh: for as ye have yielded your members servants to uncleanness and to iniquity unto iniquity; even so now yield your members servants to righteousness unto holiness. For when ye were the servants of sin, ye were free from righteousness. What fruit had ye then in those things whereof ye are now ashamed? for the end of those things is death. But now being made free from sin, and become servants to God, ye have your fruit unto holiness, and the end everlasting life.  For the wages of sin is death; but the gift of God is eternal life through Jesus Christ our Lord. (Romans 6:15-23, KJV). Your own righteousness is as filthy as rags and only through the power of His righteousness can you be saved, healed and made whole.  When you accept Jesus as your Lord and Saviour you become righteous but it does not end there, you also need to be made more righteous in your areas of unrighteousness. The way of the wicked is an abomination unto the Lord: but he loveth him that followeth after righteousness (Proverbs 15:9, KJV). His righteousness highlights these areas in you and through repentance (turning away from these things) you are healed by the anointing power of His Blood and changed into holiness. Simon Peter, a servant and an apostle of Jesus Christ, to them that have obtained like precious faith with us through the righteousness of God and our Saviour Jesus Christ:  Grace and peace be multiplied unto you through the knowledge of God, and of Jesus our Lord, According as his divine power hath given unto us all things that pertain unto life and godliness, through the knowledge of him that hath called us to glory and virtue: Whereby are given unto us exceeding great and precious promises: that by these ye might be partakers of the divine nature, having escaped the corruption that is in the world through lust (2 Peter 1:1-4, KJV). Once you understand the righteousness of Christ and how it saves you, heals you and delivers you, you can rest in the assurance that you are in God and that He is in you and that He is in control.  That is the peace that comes out of the righteousness of Christ.  You can become more righteous through Christ by allowing Him to remove your areas of unrighteousness, but you cannot become more righteous through your own works of righteousness, or by keeping the law of God.  Abraham believed God and it was accounted to him as righteousness. And he believed in the Lord; and he counted it to him for righteousness (Genesis 15:6, KJV). Righteousness is attained only through faith in Jesus. But now the righteousness of God apart from the law is revealed, being witnessed by the Law and the Prophets, even the righteousness of God, through faith in Jesus Christ, to all and on all who believe. For there is no difference; for all have sinned and fall short of the glory of God, being justified freely by His grace through the redemption that is in Christ Jesus, whom God set forth as a propitiation by His blood, through faith, to demonstrate His righteousness, because in His forbearance God had passed over the sins that were previously committed,  to demonstrate at the present time His righteousness, that He might be just and the justifier of the one who has faith in Jesus (Romans 3:21-26, NKJV). The more you are tested in that faith and continue to believe the more righteous you become.  But what saith it? The word is nigh thee, even in thy mouth, and in thy heart: that is, the word of faith, which we preach; That if thou shalt confess with thy mouth the Lord Jesus, and shalt believe in thine heart that God hath raised him from the dead, thou shalt be saved. For with the heart man believeth unto righteousness; and with the mouth confession is made unto salvation (Romans 10:8-10, KJV).  Will you still keep believing in Jesus through the trials and tribulations? You confess with your mouth and believe in your heart. The heart needs to be tested to see what it really believes. You need to put on the righteousness of Christ.  But put ye on the Lord Jesus Christ, and make not provision for the flesh, to fulfil the lusts thereof (Romans 13:14, KJV). The righteousness of Christ aides in the sanctification process.  As your areas of unrighteousness are removed you become more holy as I am holy. The fullness of My peace comes as the righteousness of Christ removes that which is unholy and the things that give power to the devil. The less of the world in you, the more of Me and My power you receive.  You walk in peace when you understand the righteousness of Christ and rest in Me.  You then begin to walk in more and more peace as the unrighteous things are removed and the areas of bondage are removed from you."
As God revealed this to me I finally understood. The word righteous means innocent, faultless and upright. The lady whom I ministered to years ago was correct in the fact that we cannot become more righteous through our own works of righteousness, or through keeping the law of God as Christ is the end of the law of righteousness to those who believe, but incorrect in the fact that she couldn't become more righteous in Him.  The Lord wants to make us more holy, more righteous and more like Him each day. We have areas of unrighteousness in our soul even after we are born-again.  These areas need to be sanctified through the refining fire of God. It is a process and we need to yield to God through the sanctification process and allow His righteousness to purge out our unrighteousness and unholy acts. How much we believe in Jesus and His promises is accounted to us as righteousness. When we put our faith in Jesus through the sanctification process we become more righteous and His righteousness cleanses us and removes our areas of unrighteousness. The Blood of Jesus justifies (makes you right with God) and there is no works of your own that can accomplish this.  In regard to your salvation status (being saved and a Son or daughter of the Most High) this is achieved through faith and belief in Jesus. Our faith and what we truly believe is tested by God with the result being 'you show your works by your faith', and the more we yield to Jesus and surrender to Him the more we become like Him. Abraham believed God and it was counted to him as righteousness. James tells us that faith with works makes our faith perfect. You are being changed bit by bit, piece by piece by God to be used for God in His Kingdom.  We can still be used by Him when we are in our fleshly state, but when He grabs a hold of you and changes you more into a Holy creation, the more He can use you and the more of His power is bestowed upon you, which can then be poured out on others. You will be glorified by Him because His Glory will be seen in you as you are recreated into a more holy state. Understanding the righteousness of Christ is the key.  Knowing you are not righteous by your own works but righteous only by His righteousness in you. The fruit of righteousness is peace in God once you understand the righteousness of Christ. Let the righteousness of Christ establish you and change you (and do the work in you) as you are moulded into a Christ-like creation. And be found in him, not having mine own righteousness, which is of the law, but that which is through the faith of Christ, the righteousness which is of God by faith: That I may know him, and the power of his resurrection, and the fellowship of his sufferings, being made conformable unto his death; If by any means I might attain unto the resurrection of the dead. Not as though I had already attained, either were already perfect: but I follow after, if that I may apprehend that for which also I am apprehended of Christ Jesus (Philippians 3:9-12, KJV).  Once you understand the righteousness of Christ and the true power it yields you can walk in peace in the knowledge that God has it all in control and the seeds of righteousness and peace you walk in can be an example to others to help them accomplish the same. We become righteous the moment we believe in Jesus and accept Him as our Lord and Saviour. We become servants to His righteousness.  We then are made more righteous through the testing of our heart to see what we truly believe in regard to Jesus as our one and only God, Lord and Saviour. When we continue to believe it is counted to us as righteousness. We are clothed in more and more of His righteousness.  The righteousness of Christ teaches us how to behave and act and in turn accomplishes a change into a more Christ-like creation. The more righteous we become the less power the enemy has over us.  We walk in more and more wholeness and more and more peace as we are changed and perfected into a Christ-like state.
As I was writing this article I remembered how once God had given me a Rhema word to speak over myself.  He told me that when I could 'see' His righteousness and the power of it, I would be healed as the root of my being unwell was 'never being good enough'. I had spent my entire life trying to get approval from other people (including God) because of the deep wounds of rejection throughout my life. This was the Rhema word He gave me to speak over myself at the time of receiving the revelation ~ I HAVE ACHIEVED APPROVAL AND ACCEPTANCE FROM GOD THROUGH THE BLOOD OF JESUS.  THE BLOOD OF JESUS REDEEMS AND JUSTIFIES ME.  THIS TRUE FACT HEALS MY WOUND IN JESUS NAME. I remember at the time I spoke this over myself for a few days, and afterward had a vision of Father God in Heaven looking down at me and at my sin and turning away from me.  I then saw what happened after I believed in Jesus. Immediately after, I was covered in His Blood and Father God smiled and said that He now saw me through the Blood of Jesus and I was justified by faith and that there was nothing more I could ever do to be good enough in His eyes because Jesus made me righteous before God. He told me that I didn't need to do anything to get approval from Him or anyone else ever again because I already had His approval and that it can only ever happen through believing in Jesus.  He explained to me that when people believe they are not good enough it can become a blockage to receiving from God because it is counted as unbelief in the righteousness of Christ to justify you before God and other people. I completely understood what He was saying and at that moment I felt that I was bulletproof and if anyone rejected me I would no longer be hurt because I had the approval of God and there was nothing else I needed to do to get more.  I felt that a burden of works had been lifted from me.  Not long after however I again experienced rejection and disapproval and again got hurt.
Pondering all of this as I was writing this latest article I brought it up to God and said to Him – "That was great that you showed me that You now see me through the righteousness of Christ and that there is nothing more I need to do to make You love me, or gain approval from You or man, but to be honest that revelation didn't help in other areas because even though I know I have this from you, I don't have this from man as they still reject, rebuke, judge and persecute me and it still hurts when I experience this."  He answered me and this is what I believe He said, "You will never be good enough for the world's standards when they judge you through the eyes of the world.  It is an impossible feat.  People can prop you up and you will feel approved and good, then the next day they can tear you down again. You know you are justified and forgiven through Jesus but you will never fully please man. To try to gain approval from man can at times be a wasted effort. They don't see you through My eyes. You can't please everyone.  When you see you no longer have to please Me through your own works of righteousness, the righteousness of Christ changes you, heals you and makes you stronger. As you are tested and your belief is accounted to you as righteousness you become stronger.  The power of His righteousness makes you stronger. You will no longer need man's approval.  Currently it is a weakness in your flesh. Once you 'see' that you are right standing before God through the righteousness of Christ you will no longer crave approval from man. Understanding this is important.  In regard to wanting to please Me, it is still good to want to please Me, but only if it is through a form of worship and adoration toward Me.  If you want to please me to appease your need for approval this is dead works.  It is also okay to want to please people if it is to bless them, but again not if it is for approval. If you want to do the right thing so you don't grieve the Holy Spirit, this too is good. If I or others are pleased with you because of your good works through Christ then be pleased that you have blessed us.  Blessing should be the motivation, not getting approval or recognition. Rejection and fear of rejection is a great wound. These wounds can be healed when you understand the power of Christ's Blood and His righteousness.  It can never be through your own works lest anyone should boast".
I then said to Him, "What if I asked You to show them 'me' through Your eyes.  Can you make them see a justified version of me so that they won't rebuke, persecute or reject? He answered and this is what I believe He said, "This is false works.  The power of the righteousness of Christ heals you so that you can remain firm in the persecution. Persecution is part of the suffering you go through to be made more Christ-like.  It is part of the world coming against you because you are in Me.  The world persecuted Me so it will also persecute you.  I cannot take this away because it is part of the Christian walk.  What I can do however is show you when it is the anti-Christ operating in rejection of 'Me' in you rather than man rejecting you for not being good enough. What is the difference?  You can rejoice when you are being rejected for Me.  I will give you the gift of rejoicing in Me – being persecuted because of Me.  Blessed are those who are persecuted for righteousness' sake, For theirs is the kingdom of heaven. Blessed are you when they revile and persecute you, and say all kinds of evil against you falsely for My sake. Rejoice and be exceedingly glad, for great is your reward in heaven, for so they persecuted the prophets who were before you (Matthew 5:10-12, NKJV). In regard to being rejected for not measuring up to the world's standards, my righteousness can heal that wound in you so that you can accept and be happy with who I made you.  Sin is in the world so sin abounds in you until the Blood of Jesus and His righteousness changes and heals you.  When I return you will get your new body.  This body is perfect and there will be no blemishes within you.  You will be who I created you to be. Look forward to this event. Until then, acceptance.  I can change and heal those things that are against My Kingdom but man will never see what I see until you become what I purposed you to be.  Accept yourself for who I made you.  I accept You so you need to accept yourself. See yourself through My eyes.  I can give you this gift.  The gift of acceptance. I can help you to accept yourself as a beloved daughter of God who is wanted and was made by Me for Me. I give to you peace and security that you are justified, made right before God (and man) because of the shed blood and righteousness of Christ within you. It is not about you trying to be perfect. I see the heart and when the heart is made right everything else falls into place."
(PRAYER) – "Father God in Jesus name I repent for any belief that I didn't need to be made more righteous through the righteousness of Christ. I pray that You would reveal all unrighteousness and the works of the flesh within me so I can repent and be set free through the power of Christ working in me. I repent for any belief in my own righteousness to save, heal, justify or deliver me.  I repent also for any belief that my own righteousness is better than others. I repent for any attempt to follow the law to attain my righteousness. Help me to believe in You Lord Jesus through all trials and tribulations so my faith can be accounted to me as righteousness. Thank You that I am clothed in the righteousness of Christ.  Thank You that You cover me and I am saved, and that Your righteousness will remove all unrighteousness from me so I can be whole, healed and delivered. Help me to do good works to bless others and please remind me when I am seeking approval from You, and from others so I can repent. If I am feeling rejected and wounded by others please remind me to declare that I am approved by God through the righteousness of Christ, and that it is the power of His righteousness that heals all wounds of unworthiness within me.  I pray for the gift of rejoicing and that You would show me when the anti-Christ spirit is rejecting me because of 'You' in me. I pray that You would also show me myself through Your eyes. Help me to accept myself as I am and to remember that I am a work in progress and am in Your capable hands.  I thank You that through the resurrection power of Christ working through me this body of sin will die and become a brand new creation. Thank You for testing my heart and for changing my heart into a heart of flesh. I look forward to my perfect Heavenly body that Jesus has for me upon His return. Thank You Jesus, Amen."
By Tania Francis