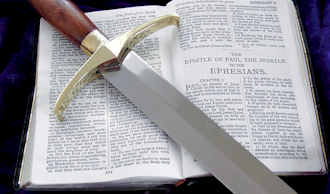 Transforming Lives With The Sword Of God
Download the Scriptures & Declarations Prayers here.
This Scripture and Declaration booklet is all about asking, believing in faith and receiving. "Ask, and it will be given to you; seek, and you will find; knock, and it will be opened to you. For everyone who asks receives, and he who seeks finds, and to him who knocks it will be opened" (Matthew 7:7-8, NKJV).
 Have you ever had deliverance after deliverance only to find nothing seems to change?  Why is this?   The Holy Spirit revealed to me that deliverance removes the driving force which allows the affliction in the first place, but one of the greatest keys to healing is by feeding the soul with the Word of God. He sent His word and healed them, And delivered them from their destructions (Psalm 107:20, NKJV).   "It is written, 'Man shall not live by bread alone, but by every word that proceeds from the mouth of God.'" (Matthew 4:4, NKJV). Not only does the Word of God heal the emotions in the soul, but it can also heal physical afflictions.  God once told me that healing begins within, then the external manifestations follow. Many physical infirmities are a direct result of wounds in our soul.  Many times when these soul wounds are healed, the physical infirmity is healed also! We need to incorporate the Word of God into everything we do!  Praying to God is very powerful, as is repenting and casting out unclean spirits, but we need to do more than this.  The Bible tells us that we have an abundance of health, wealth, freedom, joy and prosperity waiting for us in Heaven, that we are entitled to here on earth.  We pray and ask God to give us these things, but the truth is they are already ours.  We need to actually claim them and declare them into being by declaring what the Word of God says. Once we learn the scriptures they will become one with us. The Word of God will seep into our hearts and human psyche and it will become natural to simply live and breathe the Word of God. How many of us pray and ask God for His help, but don't actually know what the scriptures say, or even how to use them as tools?  
If then you were raised with Christ, seek those things which are above, where Christ is, sitting at the right hand of God. Set your mind on things above, not on things on the earth. For you died, and your life is hidden with Christ in God. When Christ who is our life appears, then you also will appear with Him in glory (Colossians 3:1-4, NKJV). Walk in the Spirit and not the flesh. Romans 8:1-11, NKJV - There is therefore now no condemnation to those who are in Christ Jesus, who do not walk according to the flesh, but according to the Spirit. For the law of the Spirit of life in Christ Jesus has made me free from the law of sin and death. For what the law could not do in that it was weak through the flesh, God did by sending His own Son in the likeness of sinful flesh, on account of sin: He condemned sin in the flesh, that the righteous requirement of the law might be fulfilled in us who do not walk according to the flesh but according to the Spirit. For those who live according to the flesh set their minds on the things of the flesh, but those who live according to the Spirit, the things of the Spirit. For to be carnally minded is death, but to be spiritually minded is life and peace. Because the carnal mind is enmity against God; for it is not subject to the law of God, nor indeed can be. So then, those who are in the flesh cannot please God.    But you are not in the flesh but in the Spirit, if indeed the Spirit of God dwells in you. Now if anyone does not have the Spirit of Christ, he is not His.  And if Christ is in you, the body is dead because of sin, but the Spirit is life because of righteousness.  But if the Spirit of Him who raised Jesus from the dead dwells in you, He who raised Christ from the dead will also give life to your mortal bodies through His Spirit who dwells in you. Walking in the spirit simply means to walk in Kingdom ways adopting a Kingdom mind-set which is directly opposite to the ways of the flesh!
When we are born-again our spirit becomes new. We need to see ourselves as spirit-beings in a body, not the other way round. We need to crucify the flesh in the areas of our lives that are weak by feeding and empowering with the word of God. We need to understand the power of Christ within us. The word of God is our spiritual weapon that will renew our minds.  Until our minds are renewed we are living in the flesh!    How do we do this? But seek first the kingdom of God and His righteousness, and all these things shall be added to you (Matthew 6:33, NKJV). The first step is to understand that we are righteous because the blood of Christ covers us.  We cannot be blessed and inherit the Kingdom if we don't grasp this first principle. Many of us believe we are not worthy.  This is condemnation in the flesh.
If we are allowing this condemnation in the flesh, we are living in the flesh and not the spirit. When we live in the flesh, the devil has access to us. When we live in the spirit, the devil cannot touch us. When we live in the spirit we have access to all that Heaven has to offer. Living in the spirit is declaring Kingdom promises from the Word of God over our lives in faith and reaping the blessings.  We are also renewing our carnal minds into alignment with the born-again spirit. We need to declare what the word of God says over our lives and circumstances.  Many times we are dealing with strongholds (demonic fortresses) that require constant battling. What do we really believe? – What God tells us, or what circumstances and the enemy tells us.  We need to change our mind-sets by breaking partnership with the lies, and partnering instead with the truth. When you believe what God tells you instead of what the enemy tells you, your whole life and circumstances will change. 
The following scriptures and prayers are designed to be declared over our lives out loud every single day. Do one or two pages a day and when the whole book is complete go back to the beginning and start again. By declaring these Scriptures and declarations each day we will see huge changes in our lives. Some scriptures God has designed to simply declare and meditate on, while others require an action on our behalf.  God might show us that we need to repent of a certain sin. Sometimes we may even need to prophetically 'do' what the scripture says, or change our behaviour in alignment with the scriptures: ~ But be doers of the word, and not hearers only, deceiving yourselves. For if anyone is a hearer of the word and not a doer, he is like a man observing his natural face in a mirror; for he observes himself, goes away, and immediately forgets what kind of man he was. But he who looks into the perfect law of liberty and continues in it, and is not a forgetful hearer but a doer of the work, this one will be blessed in what he does (James 1:22-25, NKJV). Thus also faith by itself, if it does not have works, is dead (James 2:17, NKJV). We need to be on guard and use the tools that God has given us to defeat the devil. Be sober, be vigilant; because your adversary the devil walks about like a roaring lion, seeking whom he may devour.  Resist him, steadfast in the faith. (1 Peter 5:8-9, NKJV). All Scripture is given by inspiration of God, and is profitable for doctrine, for reproof, for correction, for instruction in righteousness, that the man of God may be complete, thoroughly equipped for every good work (2 Timothy 3:16-17, NKJV). The power of confessing the Word of God brings life.  Christ's truth and light will REIGN as His Word seeps deep into our hearts! The Word of God brings healing and renews the mind.
***** Positive Scriptural confession releases the power of Jesus to help us meet our need.  If we refrain from confessing we can be left at the mercy of our circumstances and negative confession can expose us to demonic and evil forces!
READ AND MEDITATE ON THE SCRIPTURES THEN DECLARE IN FAITH OVER YOUR LIFE WHAT THEY SAY:~   (Faith is the actual presence of things hoped for) 'So then faith comes by hearing, and hearing by the word of God' (Romans 10:17, NKJV).
*****If changes don't happen immediately keep persevering.  If you struggle with continuing on in something without results then pray and ask God to give you an impartation of perseverance!
 By Tania Francis