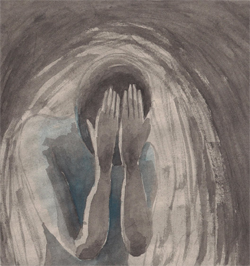 Demonization
Holy Spirit-filled Christians are Satan's biggest targets. Satans first objective is to blind humankind to the truth that Jesus Christ is the only way to the Kingdom of Heaven and all it has to offer. When he fails this, his second objective is to prevent the Christian from moving ahead. How does he do this? Deception and Ignorance. A lot of Churches preach that Christians cannot have demons. I have even heard it preached that Christians no longer have sin in them. This is because of misinterpreted scripture.  One of these misinterpreted scriptures is 1 John 3:9 :Whoever has been born of God does not sin, for His seed remains in him; and he cannot sin, because he has been born of God (NKJV). What this means is, when we are born-again, the part of us that is reborn is our spirit.  This part of us cannot sin, because it has been born of God.  The Holy Spirit enters our spirit.  The fleshly part of us has not been born-again. The flesh is the soul and physical body. This part needs to be crucified, sanctified and brought into alignment with the born-again spirit. A war then begins between Spirit and flesh.  The flesh is contrary to the Spirit.
Demons live in your soul (mind, will and emotions) and your physical body sometimes disguising themselves as an ungodly trait, an illness or sickness. The heart of man is the soul of man. Our spirit is our God conscience - I tell the truth in Christ, I am not lying, my conscience also bearing me witness in the Holy Spirit (Romans 9:1, NKJV). Our soul (heart) has an evil conscience until it is purified. Let us draw near with a true heart in full assurance of faith, having our hearts sprinkled from an evil conscience and our bodies washed with pure water (Hebrews 10:22, NKJV). Some Christians think that demons only live 'in you' or 'around you' if you are actively sinning; this is also a farce. Demons can enter upon trauma in one's life, even in childhood. They can enter from the generational curse line through the punishment crescendo, And he passed in front of Moses, proclaiming, "The LORD, the LORD, the compassionate and gracious God, slow to anger, abounding in love and faithfulness, maintaining love to thousands, and forgiving wickedness, rebellion and sin. Yet He does not leave the guilty unpunished; he punishes the children and their children for the sin of the parents to the third and fourth generation" (Exodus 34:6-7, NIV). You may say at this point that all curses are broken at the cross. As far as God is concerned the work is done. Jesus has offered His life for our life. All we need to do is take it by submitting our spirits/souls, bodies, and entire lives to Jesus. It is a swap. There is an exchange that happens at the cross. He who finds his life will lose it, and he who loses his life for My sake will find it (Matthew 10:39, NKJV). This is harder than we think. There are many areas in our lives that we want to hold on to. We cling to these areas and stubbornly refuse God access to them. Sometimes we may think we are yielding them, but God sees our heart and knows when we are not. This poses a problem! Any area not submitted to God is not brought under the Blood of Christ. This means it stays in the hands of the devil. The devil has legal rights over these areas. We may need repentance, deliverance and healing in those areas before we can let them go and accept Christ into them. All unyeilded areas are still seen as sin and need to be confessed and sanctified by using the name and power of Jesus Christ. Any demon who harasses us because of the generational curse, whether it has caused us to sin or not, must still be removed in the name of Jesus Christ. According to Deuteronomy 28:45-46 curses are upon us forever. "Moreover all these curses shall come upon you and pursue and overtake you, until you are destroyed, because you did not obey the voice of the Lord your God, to keep His commandments and His statutes which He commanded you. And they shall be upon you for a sign and a wonder, and on your descendants forever", NKJV. When He says forever we must assume He means it. The curse remains on us forever in that unyielded area until we yield it over to Christ.  We may need to repent for our sins and possibly any unforgiven sins from our ancestors, which is only made possible through Jesus Christ. "If we confess our sins, He is faithful and just to forgive us our sins and to cleanse us from all unrighteousness." (1 John 1:9 NKJV).
There are a multitude of entry points, such as Heavy Metal music, yoga, acupuncture, hypnotherapy, gossiping, fornication, osteopaths, chiropractors, inner cursing of oneself with negative confessions and many more.  A Christian can be demonized and be in bondage (influenced). It does not mean that the person is owned by the demon. Derek Prince explains it like this: "Christian souls are like a city, and like a city your personality has many different areas. Each area represents your different characteristics and traits. Whatever inhabits each area reflects the state of that particular area either positively or negatively, ie: If the area is occupied by the Holy Spirit then it would reflect positively; if it were inhabited by a demon then the characteristic would be negative". Whoever has no rule over his own spirit is like a city broken down, without walls (Proverbs 25:28, NKJV).
When you are first saved and receive salvation, even though your spirit-man is reborn; you will still need to work out your salvation. "Therefore, my dear friends, as you have always obeyed—not only in my presence, but now much more in my absence—continue to work out your salvation with fear and trembling, for it is God who works in you to will and to act in order to fulfill His good purpose". (Philippians 2:12-13, NIV). We must fully submit to the Lord and renew our souls through walking in obedience so these areas come into full alignment with our born-again spirit. Chapter 8 of Romans talks about putting to death the old ways by living in the Spirit.
How do we live in the Spirit? Through listening, obeying and renewing our minds by declaring 'who' the word of God says we are 'in Christ'. It is also about yeilding to the Holy Spirit and allowing God to change us in whichever way He chooses. It is a process. Eventually as we work with the Holy Spirit He will begin to permeate fully into our soulish areas, so then we can be truly walking in the Spirit.
There are not a lot of churches that are willing to enter into this kind of ministry - fear and ignorance are the devil's biggest weapons. If there is anything in your life where you are struggling, whether it be fear, anger, addictions, loss of self-control, etc., chances are there are demons rooted into those very areas. Praying to God and asking Him to show you the areas in your life which are not completely yielded to Him and telling Him you want Him to have complete reign over your entire life, spirits, souls and bodies will take you on a journey of deliverance and healing, if you are willing and open. Unforgiveness is one of the biggest weapons satan can use over us. If unforgiveness is something that you are aware you carry in your life you can start by confessing forgiveness out loud by repenting of your sins of unforgiveness and asking the Holy Spirit to show you who you hold unforgiveness toward. The Apostle Paul said: "Now whom you forgive anything, I also forgive. For if indeed I have forgiven anything, I have forgiven that one for your sakes in the presence of Christ, lest Satan should take advantage of us; for we are not ignorant of his devices (thoughts, plans)" (2 Corinthians 2:10-11, NKJV). Forgive them out loud and ask the Lord to bless them. A classic lie of Satan's is to make you believe that if you don't mean the forgiveness with all your heart then you shouldn't confess this, but confession has the power to bring life and death. Death and life are in the power of the tongue, and those who love it will eat it's fruit (Proverbs 18:21, NKJV). Confession is the key to breaking and removing the demons that are rooted in the unforgiveness. Once they have been cast out, God can begin to heal until you can come to a place of complete forgiveness (which can be immediately or over time). Demon removal can be likened to peeling an onion layer by layer, as problems begin to surface in your life, repentance, deliverance and healing can take place - as those areas are healed then something else may become prevalent so repentance, deliverance and healing can begin again until complete freedom is obtained. Continual renewing of the mind will aide in the process. This process can be quick for some, and for others it may take some years before total healing and freedom takes place. God will choose the method that will far surpass any other for us, as long as we give Him total control of our lives. The sooner we can acknowledge that demons are at the source of many of our problems - and humble ourselves and allow God to pinpoint the areas in our life that are not completely yielded to Him - then the sooner we can be cleaned up and start living the abundant life in Jesus. God requires us to be 'clean' so we can be the vessels He purposed us to be to aid in helping others achieve the same freedom and liberty we all so abundantly seek.
By Tania Francis