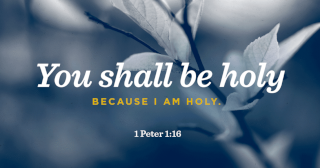 A Call to Holiness 
I have come under many sermons on the Grace of God and how His empowering favour is upon us.  As I sat under yet another one of these teachings, I found myself becoming very annoyed.  Where are the teachings on God's holiness and how we should be holy as He is holy.  Why are people not teaching on how we are meant to become like Christ?  I am not negating the love and grace of God and what it covers but I almost feel that too many of these teachings without the balance of how a follower of Christ should live give too many a green light to walk in the flesh. 
The Bible tells us to walk in the Spirit and not in the flesh. I have heard many proclaiming that there is now no more condemnation to those who are in Christ Jesus – but what about the rest of the Scripture?  The part that talks about setting your minds on the Spirit and allowing Him to lead you and if living by the power of the Holy Spirit you need to be habitually putting to death the sinful deeds of the body (Romans 8:1-14).
Romans 8:1-14 tells us if we have the Spirit of God in us, we are not in the flesh.  Many take this to mean that we are so covered by the Grace of God that we can do anything we like and nothing will expose us to the devil or his consequences because we have the Holy Spirit in us and we are protected. This couldn't be further from the truth.  Be ye angry, and sin not: let not the sun go down upon your wrath: Neither give place to the devil (Ephesians 4:26-27, KJV). The word place in Greek is Topos and means opportunity, power, occasion for acting.  When we sin we give power to the devil. This means the devil has the right and power to afflict us in our lives. When the word of God tells us that we are not 'in the flesh' because we have the Spirit of God in us what this means is we have a helper.  We are working with the Holy Spirit to put to death the deeds of the flesh. He is always working in you, convicting you and leading you away from sin and into Holiness. 
I have also heard followers of Christ proclaim that now we are Christians we can no longer sin. Whosoever is born of God doth not commit sin; for his seed remaineth in him: and he cannot sin, because he is born of God (1 John 3:9, KJV). This Scripture says that we can no longer commit sin when we have the Spirit of God and upon first glance it may appear that way. Some may also believe that grace covers all their sins so you know longer have to worry about sin. Is this really what this Scripture means? If we say that we have no sin, we deceive ourselves, and the truth is not in us.  If we confess our sins, he is faithful and just to forgive us our sins, and to cleanse us from all unrighteousness. If we say that we have not sinned, we make him a liar, and his word is not in us (1 John 1:8-10, KJV). This Scripture says the complete opposite of the first one. The Berean Literal Bible explains the first Scripture more clearly. Anyone born of God refuses to practice sin, because God's seed abides in him; he cannot go on sinning, because he has been born of God. What this Scripture is really saying is it is very hard to sin wilfully as opposed to sinning in weakness (with remorse) because of the conviction of the Holy Spirit.  The Bible gives us grave warnings about sinning wilfully.  I believe this can happen only when you quench and do not follow the conviction of the Holy Spirit.  For if we sin wilfully after that we have received the knowledge of the truth, there remaineth no more sacrifice for sins, But a certain fearful looking for of judgment and fiery indignation, which shall devour the adversaries. He that despised Moses' law died without mercy under two or three witnesses: Of how much sorer punishment, suppose ye, shall he be thought worthy, who hath trodden under foot the Son of God, and hath counted the blood of the covenant, wherewith he was sanctified, an unholy thing, and hath done despite unto the Spirit of grace? For we know him that hath said, Vengeance belongeth unto me, I will recompense, saith the Lord. And again, The Lord shall judge his people (Hebrews 10:26-30, KJV).
How many people are encroaching into this territory because they are not holding themselves accountable for their unrighteous behaviour and continuing on in it without fear of God or remorse?  What shall we say then? Shall we continue in sin that grace may abound? Certainly not! How shall we who died to sin live any longer in it? (Romans 6:1-2, NKJV).
What does the Bible class as walking in the flesh? Now the works of the flesh are manifest, which are these; Adultery, fornication, uncleanness, lasciviousness, Idolatry, witchcraft, hatred, variance, emulations, wrath, strife, seditions, heresies,  Envyings, murders, drunkenness, revellings, and such like: of the which I tell you before, as I have also told you in time past, that they which do such things shall not inherit the kingdom of God (Galatians 5:19:21, KJV). How many people are suffering affliction and unable to be healed or set free because these things have become a blockage to them receiving the healing power of God.  I believe that repentance and a call to walking in God's holiness needs to be brought back into the body of Christ.  Too many people have fallen into complacency.
There are also many today in the Body of Christ who believe Jesus abolished the Ten Commandments and that they are not applicable for believers today.  I believe this is incorrect.  The only exception to this is the Sabbath day. There seems to be no command for believers in the church age to observe the Sabbath as a day of rest or worship anymore. Colossians 2:16 actually appears to release the believer from the Sabbath rule. According to Hebrews 4:1–11 Jesus has become our rest.  We need to cease from our own works and enter into His.  It is about total trust in Jesus.
In regard to the Ten Commandments Jesus abolished the Old Covenant way of being saved which was following the law to the letter and coming under a curse of death and separation from God if you did not. Jesus took away the curse of the law which was eternal death and separation from God - not the law itself. He removed the curse for not following the law and instead enabled us to be partakers of the blessings through Jesus that God promised to Abraham, Isaac and Jacob. When you accept Jesus as your Lord and Saviour you are then eligible to partake of these blessings. God's moral law of right and wrong however is how He still wants His believers to live. Wherefore the law is holy, and the commandment holy, and just, and good (Romans 7:12, KJV). Jesus even added one new commandment to love one another as He loved us (John 13:34) and showed us that this commandment and the commandment to love God with all our heart, soul and mind summed up all the commandments. "On these two commandments hang all the Law and the Prophets" (Matthew 22:40, KJV). In Revelation 12:17 faithful members of the Church are identified as those 'who kept the commandments of God'. Throughout Pauls writings we see many times over his instructions to keep commandments that are part of the Ten Commandments to his followers. (Romans 13:9, Acts 15:20, 1 Corinthians 6:9-10, Ephesians 6:2, 1 Timothy 1:8-10, 1 John 5:21, 1 Peter 4:15, Ephesians 4:28, Colossians 3:4). Keeping the commandments of God does not save us (only faith in Jesus saves us) but it helps us to resist the devil so he flees from us.  Keeping His commandments means the devil has no power over us.  The devil can still afflict us in our flesh when we walk in sin.  Keeping His commandments is about protecting your flesh from affliction. As you walk with Jesus and follow the leading of the Holy Spirit, as you turn from your wicked ways curses and afflictions are removed from you and instead of those curses you inherit the blessings. To receive these blessings you go through Jesus.  You go through Him by giving Him 'you', all of you!  In the Old Testament trying to receive the blessings of God through the law brought nothing but death. For the law of the Spirit of life in Christ Jesus has made me free from the law of sin and death (Romans 8:2, NKJV).  
But now we have been delivered from the law, having died to what we were held by, so that we should serve in the newness of the Spirit and not in the oldness of the letter (Romans 7:6, NKJV).  We do not go through the old system of keeping the law to gain access to our inheritance. Faith and belief in Jesus releases these Heavenly blessings to you. Adhering to the commandments which includes the moral law of God is about protecting you rather than rewarding you. Healing comes when Jesus remits the sin through His Blood and your inheritance is released as you lay down your life and enter into the resurrection life of Jesus.
For what the law could not do in that it was weak through the flesh, God did by sending His own Son in the likeness of sinful flesh, on account of sin: He condemned sin in the flesh, that the righteous requirement of the law might be fulfilled in us who do not walk according to the flesh but according to the Spirit (Romans 8:3-4, NKJV).  Interestingly even though Jesus fulfilled the requirements of the law so we could be saved through Him He still also wants to fulfil the righteous requirement of the law in us and this can only happen (according to this Scripture) when we walk according to the Spirit.  He wants to put to death the old us and recreate a new us that is in the image of Himself. For assuredly, I say to you, till heaven and earth pass away, one jot or one tittle will by no means pass from the law till all is fulfilled. Whoever therefore breaks one of the least of these commandments, and teaches men so, shall be called least in the kingdom of heaven; but whoever does and teaches them, he shall be called great in the kingdom of heaven (Matthew 5:18-19, KJV).  Before Heaven and Earth pass away (which happens when Jesus returns and judges the world) not one jottle or tittle will pass from the law till all Jesus came to do is accomplished.  After all He is coming back for a bride who is spotless and without blemish (Ephesians 5:28).
After I had pondered all of this and typed my thoughts and understandings down I decided to ask God what He thought of it all.  The very next day I received this word and this is what I believe I heard the Holy Spirit spoke to me ~
"Where is My Holiness? In the Old Covenant people had to attain holiness and righteousness to be saved.  Under the New Covenant you are saved by faith through My grace by believing in the works of Jesus.  Faith in Jesus is all you need to achieve My favour – which is My empowering grace.  Grace is taught throughout the Churches and My grace is good, but are people taking My grace for granted?  Yes they are.  There are dire warnings throughout the Bible to those who continue to walk in the flesh.  Holiness is still a requirement that I expect from My Children for they are spokespeople to the works of God.  Their fruit should be set to holiness.  But now being made free from sin, and become servants to God, ye have your fruit unto holiness, and the end everlasting life (Romans 6:22, KJV). Why are followers of Christ blending into the world instead of standing out against the world? Mediocrity! Mediocrity and compromising the word of God has come into the Church.  No one wants to 'rock the boat' or promote a message that can be construed as critical.  How can preaching holiness be critical?  There is no condemnation to those in Christ Jesus who walk not according to the flesh but walk in the Spirit.  Walking in the Spirit is being lead by the Spirit.  I do not expect you to be walking in perfect holiness the moment you are born-again, but believing it doesn't matter if you are not goes against My values and principles.  It does matter and it matters a great deal.
Although you are saved through believing in Christ if you don't live a Godly life good and pleasing to God you reap death into your flesh.  If you live by the flesh you die by the flesh.  The flesh (if walking in the flesh) is not filled with life – instead it is filled with death.  You will not reflect life.  Godly living brings life.  The good things of God are attained by walking in the light as He is in the light. The light illuminates those things that are dark and brings them into the light so you and God can deal with them.  Things need to be exposed and can not be dealt with if they remain hidden. This then is the message which we have heard of him, and declare unto you, that God is light, and in him is no darkness at all. If we say that we have fellowship with him, and walk in darkness, we lie, and do not the truth: But if we walk in the light, as he is in the light, we have fellowship one with another, and the blood of Jesus Christ his Son cleanseth us from all sin (1 John 1:5-7, KJV).
Although My grace is good, trusting only in My grace to do it all for you is not. There are also things as a follower of Christ that I need for you to do.  Put off the old man and put on the new. You need to work with Me in partnership so I can recreate a brand new Christ-like version of you. I am coming back for a Holy Bride – one who is sold out for Me and who wants to become like Me.  Although salvation is a free gift people don't understand to accept Me as their Lord and Saviour means they are entering into My life.  My life for your life. He who finds his life will lose it, and he who loses his life for My sake will find it (Matthew 10:39, NKJV). It is through the exchanging of our lives where you are made new. Before you can be made new you must first die to your old self. Verily, verily, I say unto you, Except a corn of wheat fall into the ground and die, it abideth alone: but if it die, it bringeth forth much fruit (John 12:24, KJV). These things are not being freely taught for it is not comfortable to those who hear this message. The road to God is narrow – great and wide is the road to destruction.  If people keep continuing to quench My Holy Spirit and not listen to His leading and instead listen to the things that 'tickle their fancy' they are entering into trampling the Spirit of Grace underfoot where My sacrifice no longer covers their sins.
The Body of Christ is in a mess – the world is in a mess.  I am bringing forth a people who are sold out for Me – ones who are willing to stand for My truth no matter how uncomfortable the message may be.  The Holy Spirit is bringing back conviction.  Listen to Him.  This is not to condemn, but empower and save.  There are so many who are sick and struggling.  Sin can be the cause of this.  My grace does not cover their sin if they refuse to listen to the conviction of the Holy Spirit.  I choose not to empower them because of their disobedience. But he giveth more grace. Wherefore he saith, God resisteth the proud, but giveth grace unto the humble (James 4:6, KJV).  In accordance with the New Covenant the way I save people in their sins has changed but the way I want people to live has not!"
After writing this I felt to also address another issue about Grace.  You have become estranged from Christ, you who attempt to be justified by law; you have fallen from grace (Galatians 5:4, NKJV).  There are many who still try to keep the law to earn their salvation or favour with God. This is also wrong. We are justified (made right with God) by the works Jesus did on the Cross.  This Scripture tells us that we can fall from Grace when we try and keep His law to gain our salvation because the only way to be saved is through Jesus Christ.  No works of righteousness on our behalf can earn our salvation. Paul teaches in Ephesians that we are justified by faith alone, while James teaches we are justified by faith plus works. This means we cannot be justified (made right with God) by our own 'good works'. It is only Jesus working through us that our good works are counted as righteous, and our faith made perfect. Do you see that faith was working together with his works, and by works faith was made perfect? (James 2:22, NKJV).
To recap and simplify these messages into an easier way to understand I have made the following bullet points:
We are saved and go to Heaven and gain God's approval, grace, mercy, blessings and favour simply by believing in Christ's work on the cross and accepting Him as our Lord and Saviour. All these things as followers of Christ are our inheritance.


If we walk in the flesh we can be afflicted in our flesh. Walking in the flesh can become a blockage to God's blessings. We need to resist the devil by following God's commands and laws so he flees from us. If we sin we give him power over us. Instead of blessings we may receive affliction and curses. We then need to repent and walk in the Spirit following the leading of the Spirit. We need to stay close to Jesus and His Holy Spirit. If we quench the Spirit and ignore Him when He convicts and instructs us, we run the risk of wilful sinning which tramples the Spirit of Grace underfoot and no sacrifices are left to save us


.

If we strive to walk in the commandments of God to earn our salvation, approval, justification, blessings, favour, or rewards we can then fall from Grace. We should follow the commands and law of God simply because it is right, Holy, good, protective, and a form of worship to God. Doing this is also faith with works. We show our faith in Jesus by our good works. If we have weakness in our flesh and do things that are contrary to God's law as long as you are remorseful and give these things to Jesus He will aide in your deliverance and freedom from these things.  It is about partnership.  Christ in you doing the work through you so you can become a 'new you'. You are set free through Christ not from following the law. Are you so foolish? Having begun in the Spirit, are you now being made perfect by the flesh? (Galatians 3:3, NKJV).

You heard and believed the message of truth, the Good News that he has saved you. In him you were sealed with the Holy Spirit whom he promised. This Holy Spirit is the guarantee that we will receive our inheritance. We have this guarantee until we are set free to belong to him. God receives praise and glory for this (Ephesians 1:13-14, (GWT).
(PRAYER) – "Father God in Jesus name I repent for taking Your grace for granted.  If I have sinned by not following Your commands, I repent.  Help me to follow the leading of the Holy Spirit. I ask You Holy Spirit to help me avoid walking in the flesh.  I am sorry for any belief that Your commands (especially the Ten Commandments) are null and void.  I understand that I am saved by faith in Your Son Jesus Christ and no works of righteousness on my behalf can save me or gain me Christ's inheritance. Christ's inheritance is released to me as I yield and surrender my life to Him as my Lord and Saviour. Although I am not yet perfected in my flesh I ask that You would continue to complete the good work until the day of Jesus Christ, Amen."
By Tania Francis