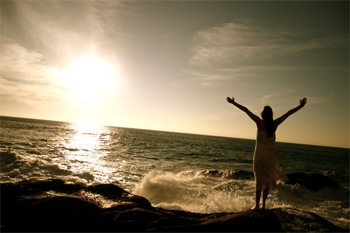 Keeping Your Freedom After Deliverance
Praise God you have received freedom! You might not understand everything that has happened but rest assured Jesus said: "I will never leave you nor forsake you"  (Hebrews 13:5). To continue in the success of your healing and deliverance, and combat the forces of evil, you need to follow these guidelines:
Know your Enemy!  Ephesians 6:12 says: "For we do not wrestle against flesh and blood, but against principalities, against powers, against the rulers of the darkness of this age, against spiritual hosts of wickedness in the heavenly places".  We are not fighting what we can see, but what we can't see. The first thing the enemy will try after your session will be to make you doubt what has happened. Deliverance and Healing removes the demon associated with that driving force which leads you to sin. The demons legal rights have been removed so it is now a time to be strong and resist their attempts at regaining the foothold they once had in your life. "Therefore submit to God. Resist the devil and he will flee from you"  (James 4:7). Keep a notebook of Scriptures that defeat weaknesses in your life.
Pray for the Lord to continue to heal your spirit, soul and physical bodies.  When there are wounds, there are hurts and emotions that can allow the enemy access to us.  When we feel hurt or wounded, we can react negatively out of our hurt which opens the door for the demons to once again invade.  The demons that have been removed from you have specific functions and many of these areas are revealed during a session. This gives you great insight on how to avoid those very same areas again.  After a session they will try to tempt you and harass you until you succumb so they can infiltrate you again. The key here is to be aware that your peace has been stolen so you can ask the Lord 'Why?'.  You may need to repent of a specific sin that has opened the door again, then simply command the demons on that sin to leave in Jesus name.  The more healing that comes through Jesus Christ, the less access the demons have over you. Jesus' spirit and soul had no wounds formed by sin, therefore demons had no dominion over Him. This is the greatest transformation the Holy Spirit is outworking in us.
Be more disciplined! Healing and deliverance is an ongoing process. Don't assume you're *done*.  Renew your mind by seeking the Lord daily. Spend time with Him by talking, praising and listening to Him.  Make time to come into His rest by simply putting on anointing music and asking to come into His rest, then sitting quietly soaking in His presence – This is where we receive our restoration. Read your Bible daily for at least 15 minutes because faith comes by hearing, and by hearing the word of God. Ask the Holy Spirit to shine His light on your life and reveal any areas that are holding you back. If He shows you an area then confess any sin and remove any demons by commanding them to go in Jesus name. You can even ask Him to reveal things in your home that may not be pleasing to Him, e.g. idols, posters with evil, occultic or satanic symbols, etc. (many Heavy Metal bands use satanic imagery and gestures on their posters and album covers). Remove the things in your life, home, place of work, etc., that would cause you to slide back into your old ways. We also need to recognise that one of the most powerful influences in our lives are the people with whom we associate with. We are warned in 1 Corinthians 15:33 - "Do not be deceived: 'Evil company corrupts good habits.''
Pray for God's protection over your life and your families. Cover yourselves daily with the Blood of Christ. Pray and ask God to help you overcome the enemy's lies and temptations (which may steer or tempt you back into your old habits that you are trying to break free from).
Ephesians 6:13-17: "Therefore put on the full armour of God, so that when the day of evil comes, you may be able to stand your ground, and after you have done everything, to stand. Stand firm then, with the belt of truth buckled around your waist, with the breastplate of righteousness in place, and with your feet fitted with the readiness that comes from the gospel of peace. In addition to all this, take up the shield of faith, with which you can extinguish all the flaming arrows of the evil one. Take the helmet of salvation and the sword of the Spirit, which is the word of God."
This is your spiritual armour. This Scripture is an action Scripture about how we should live each day. Ask God each day to clothe you in His armour, and show you how to use it.
Continually thank the Lord for your freedom. Declare it in Jesus' name! Praise and Worship Him and speak in Tongues – the enemy hates this and it wears him down. Praise and worship always, especially in the tough times, it is incredibly powerful. If you have received prophetic words or promises for your future – declare this continually and prophesy it into completion. Partake of communion regularly – there is power in the blood!  The Lord also shared with me that when you partake of the wine (fruit of the vine) you are actually taking in new revelation.
See: How to Protect Ourselves for more prayers.
By Tania Francis