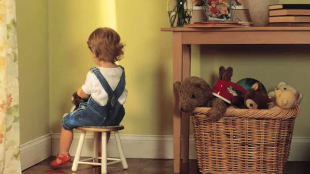 God Chastises Those Whom He Loves
Wherefore seeing we also are compassed about with so great a cloud of witnesses, let us lay aside every weight, and the sin which doth so easily beset us, and let us run with patience the race that is set before us, Looking unto Jesus the author and finisher of our faith; who for the joy that was set before him endured the cross, despising the shame, and is set down at the right hand of the throne of God. 
For consider him that endured such contradiction of sinners against himself, lest ye be wearied and faint in your minds. Ye have not yet resisted unto blood, striving against sin. And ye have forgotten the exhortation which speaketh unto you as unto children, My son, despise not thou the chastening of the Lord, nor faint when thou art rebuked of him:
For whom the Lord loveth he chasteneth, and scourgeth every son whom he receiveth. If ye endure chastening, God dealeth with you as with sons; for what son is he whom the father chasteneth not? But if ye be without chastisement, whereof all are partakers, then are ye bastards, and not sons. Furthermore we have had fathers of our flesh which corrected us, and we gave them reverence: shall we not much rather be in subjection unto the Father of spirits, and live?
For they verily for a few days chastened us after their own pleasure; but he for our profit, that we might be partakers of his holiness. Now no chastening for the present seemeth to be joyous, but grievous: nevertheless afterward it yieldeth the peaceable fruit of righteousness unto them which are exercised thereby (Hebrews 12:1-11, KJV).
Recently I was having one of my down episodes of losing hope in the healing for the anxiety disorder and its physical and emotional related symptoms that crippled me, which God had promised me many years ago.  Waiting for healing to manifest (when you have heard clearly from God that it will happen) when it tarries for so long is very hard.  On top of all the emotional and physical issues I need healing for, and am struggling with I recently cut my gum with a jagged potato chip which then became infected causing immense pain.  Not wanting to take antibiotics as I experience a lot of side effects (and avoid them whenever possible) I started doing salt water gargles, antiseptic mouthwashes, colloidal silver gargles and bonjela rubs hoping and praying it would heal. As I was praying for my gum I heard the Lord speak to me and He told me that when you pray you are leaving the outcome in His hands.  I liked the sound of that so in addition I also told Him that 'I release these issues into His hands' and believed He was in control of the outcome.
That night as I went to bed I heard the voice of the Lord speak to me and this is what He said, "Don't give up on Me because I have not given up on you.  Your healing for all the ailments you suffer has been delayed for a reason and when you understand and see why you will be so pleased I did it the way I have.  You will be glorified because I will be glorified in you."
The next day as I sat reading my Bible I came to Hebrews and started reading about the chastisement of the Lord and how God uses it to refine those whom He loves. I sat pondering it and remembered how once before I had taken the word chasteneth and the word scourgeth back to the original Greek words and found that the word chasteneth in Greek is Paideuo and means to instruct, teach and train, and to chasten by the affliction of evils and calamities.  The word Scourgeth in Hebrew is Showt and Mastigoo in Greek and means to whip or chastise. This then means that God whips us into shape by using the affliction of evils and calamities.  How very interesting!  
As I was remembering this I heard the Lord again speak to me.  This is what I believe He said, "The Lord chastens and scourges those whom He loves.  Why does He do this? The answer lies in the next part of the passage – you are being trained by it! At the moment the Heavens and earth are being shaken. Whose voice then shook the earth: but now he hath promised, saying, Yet once more I shake not the earth only, but also heaven.  And this word, Yet once more, signifieth the removing of those things that are shaken, as of things that are made, that those things which cannot be shaken may remain. Wherefore we receiving a kingdom which cannot be moved, let us have grace, whereby we may serve God acceptably with reverence and godly fear: For our God is a consuming fire (Hebrews 12:26-29, KJV). At the moment there is a shaking – both in Heaven and on the earth.  What is happening in the Heavenlies is also being reflected also on earth. Let me unveil to you a mystery.  Chastening – this is not pleasant but nevertheless a necessity because afterward it yields the peaceable fruit of righteousness to those who are being trained by it. What is the righteousness of Christ?  Knowing you are saved, healed, delivered and made whole by His sacrifice and Blood and not of your own works lest you should boast.  I have to shake (remove) those things that are contrary to Me. You can either sink or swim in the process.  Sinking is walking away from Me and swimming is leaning more into Me. Pursue Me.  Trust in Me.  Keep you hope in Me. Look to Me.  Never give up on Me and never let Me go. I need to refine you so you can become holy as I am holy.  I draw out your strengths and weaknesses and when I see that you have yielded up those areas of weakness to Me I strengthen those areas that are weak and enhance those areas that are strong. As I draw out your strengths and weaknesses you become vulnerable.  Those who strive to be strong and don't allow weakness or vulnerability need further shaking.  Those who also refuse to be strong in themselves, instead looking to others for their strength when they have more within them, also need more shaking.  This is to draw out their inner strengths that I have already placed within them. I want to be your Master.  I want you to be dependent on Me. This does not mean that you can't rely on yourself or another for support, you can - but ultimately I need you to come to that realisation that you can't do it without Me. I will remove all avenues bit by bit, piece by piece that are not part of My plan for you so you are left to rely solely on Me and My provision for you. I am removing the world from you. This isn't to say that some things you are relying on aren't good, because they are, but eventually the baby has to be weaned from its mother's milk, and just like the bird who is pushed out of the nest to survive on its own, so too do you need to do this. The good news is, when this happens you will never be alone.  I will be with you always. I am removing dependency on the world and teaching you to be dependent on Me. I am preparing you for the end of days when you will no longer have a place in this world. When all other means fail, I never will. God never fails. Dependency on Me. This is what I am outworking in you. In the end of days there will come a time when I am all that you will have and all that you will need, and you will be glad that I trained you to learn this. Reliance on Me – dependency on Me.  This does not mean that I will remove your loved ones so you depend only on Me – but the provisions others can supply will never be enough for your needs.  I am God and only I can supply all your needs according to My riches in glory by Jesus Christ.  Those in the world who reject Me will not have a saviour, but those who follow and trust in Me will always have Me. I will never leave them. I am training you for such a time as this. You will be glad and in time you will see that when every other avenue is exhausted for your healing you will still have Me. This is when your healing will manifest – when every option outside of Me has not worked and you come to the end of yourself and need My strength.  This is when you cease from your works and enter into My rest. When the end times come you would have already learned what it means to rely solely on Me and you would have been delivered and healed so that you will know you can rely and trust solely on Me in those times and teach others to do the same.  In these times before I return, it will mean the difference between life and death – staying close to Me and continuing to walk with Me or turning away and choosing the world.  The road to God is narrow – the road to the world is wide – so much provision in the world but one day that provision will be gone for those who choose to follow Me. This is why your healing has tarried for so long. You are My daughter, you are Mine and I chastise those whom I love.  I am removing every resource available to you for your healing so that you depend only on Me.  My Glory will shine through you – why? Because My strengths are made perfect in your weakness.  My grace is sufficient for you. My grace is My empowering strength which works through you to empower you.  This is in My timing and when I know you are ready.  I will heal you and I will glorify you and you will be a testament of My love, My grace and My blessings.  Surrender all.  Those who surrender their all to Me are the ones who come out on top!"
Interestingly after I received this revelation I had been battling my gum infection for around five days and there was absolutely no change.  Each time Mark and I prayed we keep getting to wait and that it would pass. On the sixth night which was a Sunday night I decided I needed the antibiotics as I couldn't bear the pain anymore and went to my local doctor's surgery who operate as an A & E triage system.  The fee for this procedure is way more expensive than an appointment to see your own doctor but I was desperate and decided that antibiotics were now my only option, and the sooner I got them the better.  As I arrived I was informed the wait time was 2 ½ hours.  I had even prayed to God beforehand to go ahead and prepare the way.  Not wanting to sit around at the doctors and wait that long I decided to come back home.  The next morning my gum had improved by around 30% so I decided to wait it out a bit more.  As I write this my gum has improved now by about 90% and I know that it will come right without the need for antibiotics.  God had told me to wait.  Not being 100% sure if it was Him I was hearing from I was impatient and went anyway, but because I had prayed and put the outcome in His hands He had gone ahead of me and blocked the way.  It had appeared to me on the Sunday when I went to the doctor that He hadn't gone ahead and prepared the way at all but God knew that it would heal without the need for antibiotics so prevented me from getting them (knowing full well the side effects I suffer when I take them) which is still in essence 'going ahead and preparing the way'. This whole ordeal was God illustrating to me that we need to wait on Him and when we go ahead with our own plans and things appear to us like God is not helping, this is not the truth.  He is always helping and preparing the way – it just may not look like how we expect it to look. I am learning that God is in control and that we are the biggest obstacle to God fulfilling His plans.  We need to trust in Him no matter what the circumstances are showing us and trust that He is in control.  We need to trust that He is good all the time and even though certain things make no sense to us or those around us, we need to endure His chastening so that at the end of it we can be partakers of His holiness and the peaceable fruit of His righteousness.
(PRAYER) – "Father God I repent for being resentful toward You for chastising and scourging me. Thank You that You chastise and scourge those whom You love. I understand that You are shaking those things within me that are not of You so that afterward I can yield the peaceable fruit of righteousness. Thank You that You are making me more holy just as You are holy. Thank You that through this shaking I am being trained by You, and that I am learning to let go of the world and become fully dependent on you. Thank You for all the people and resources You have placed in my life to aide in this.  I pray that You would close the door to those people and things that are not part of Your plan for me.  I understand that when these things are removed I will always have You and that You will never leave me nor forsake me. You are my God and You supply all my needs according to Your riches in Glory by Jesus Christ (Philippians 4:19). I trust that You are good all the time and that You turn all things to good for those who are called according to Your purpose. I praise You Lord God for Your perfect timing, and for my weaknesses that You have exposed, in order to display Your power and glory through. I will be a testament to Your goodness because when all else fails You never do. These things I pray in Jesus name, Amen."
By Tania Francis