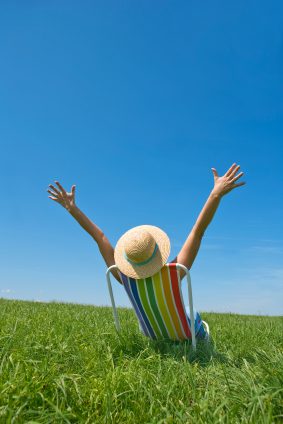 Entering God's Rest
What is entering into God's rest? Many people believe God's rest is having faith in times of adversities. Others believe It is when we put aside all works and activities and come before God and worship and praise Him, and to also read and meditate on His Word. Another belief for entering into God's rest is simply being quiet before God and sitting in His presence ceasing from all works. I believe it is a mixture of all three and more!
The 'more' part of entering into God's rest I believe is when we enter into that place of serenity, safety, peace and tranquility, where nothing can affect you.  How do we get there? Ceasing from all our own works and allowing God through His Holy Spirit to take us there.  It is when we no longer strive.  It is that place of partnership with Jesus. This can only happen when we have completely died to self and become one with Jesus.  It is the end stage of the glorification process.  For whom He foreknew, He also predestined to be conformed to the image of His Son, that He might be the firstborn among many brethren (Romans 8:29, NKJV).
But someone will say, "How are the dead raised up? And with what body do they come?"  Foolish one, what you sow is not made alive unless it dies. And what you sow, you do not sow that body that shall be, but mere grain—perhaps wheat or some other grain. But God gives it a body as He pleases, and to each seed its own body. All flesh is not the same flesh, but there is one kind of flesh of men, another flesh of animals, another of fish, and another of birds. There are also celestial bodies and terrestrial bodies; but the glory of the celestial is one, and the glory of the terrestrial is another. There is one glory of the sun, another glory of the moon, and another glory of the stars; for one star differs from another star in glory. So also is the resurrection of the dead. The body is sown in corruption, it is raised in incorruption. It is sown in dishonor, it is raised in glory. It is sown in weakness, it is raised in power.  It is sown a natural body, it is raised a spiritual body. There is a natural body, and there is a spiritual body.  And so it is written, "The first man Adam became a living being." The last Adam became a life-giving spirit. However, the spiritual is not first, but the natural, and afterward the spiritual. The first man was of the earth, made of dust; the second Man is the Lord from heaven.  As was the man of dust, so also are those who are made of dust; and as is the heavenly Man, so also are those who are heavenly. And as we have borne the image of the man of dust, we shall also bear the image of the heavenly Man.  See also Sancification of God's Holy Temple to get a better understanding of how this works.
I believe we can experience snippets of Gods rest when we trust Him during trials, with absolute steadfastness. Trusting in Him means simply doing nothing but believing that He is in control and that 'All things work together for Good for those that love God and are called according to His purpose' (Romans 8:28, NKJV). When Moses took the people out of Egypt they had to be in the wilderness for 40 years because of their unbelief, rebellion and hardness of heart (it actually should have been an eleven-day journey - (Deuteronomy 1:2-3). No matter how much of God's goodness they had already experienced, they did not believe in God's word of the promised land (because of the giants who were inhabiting it). God then made a promise because of their unbelief, that whoever disobeys because of unbelief will not enter His rest. Therefore, as the Holy Spirit says: "Today, if you will hear His voice,  do not harden your hearts as in the rebellion. In the day of trial in the wilderness,  Where your fathers tested Me, tried Me, And saw My works forty years".  Therefore I was angry with that generation, And said, "They always go astray in their heart, And they have not known My ways". So I swore in My wrath, "They shall not enter My rest" (Hebrews 3:7-11, NKJV).
We all have a promised land to enter into. This is the land of abundance. Dependent on the state of your heart and how you yield to the Spirit of God determines how long it is before you enter into your promised land. The promised land is also that place of rest. The Lord has shown me that when we are facing trials and tribulations this is the most important time for us to come into His rest.  Instead of unbelief, rebellion and hardness of heart consuming us, we must enter into His presence with praise and thanksgiving. The  human nature grumbles and allows self-pity and blame to enter at these times.  We are so quick to praise the Lord when our prayers are being answered, but when times are tough worship and praise is the furtherest thing from us.  Worship and praise is a gift that God gave to us, it releases the power of God to work in our lives. God created us to worship and praise Him, He doesn't require worship because He is exalting Himself or being egotistical, it is a weapon He created for us as it is incredibly powerful against the enemy. It is also a way for us to show Him respect and to show Him we love Him, because He is worthy, and this is pleasing to Him. This is the very time He uses to equip us and strengthen us so we can overcome. We need to pray during these times for restoration and strength. 
"Therefore, since a promise remains of entering His rest, let us fear lest any of you seem to have come short of it.  For indeed the Gospel was preached to us as well as to them; but the word which they heard did not profit them,  not being mixed with faith in those who heard it.  For we who have believed do enter that rest, as He has said: So I swore in My wrath, "They shall not enter My rest," although the works were finished from the foundation of the world".  For He has spoken in a certain place of the seventh day in this way: "And God rested on the seventh day from all His works"; and again in this place: "They shall not enter My rest."   Since therefore it remains that some must enter it, and those to whom it was first preached did not enter because of disobedience,  again He designates a certain day, saying in David, "Today," after such a long time, as it has been said: "Today, if you will hear His voice, Do not harden your hearts."   For if Joshua had given them rest, then He would not afterward have spoken of another day.  There remains therefore a rest for the people of God.  For he who has entered His rest has himself also ceased from his works as God did from His.  Let us therefore be diligent to enter that rest, lest anyone fall according to the same example of disobedience" (Hebrew 4: 1-11, NKJV). The Bible shows us that He put aside the seventh day to rest so we can come into that place. We can do this whenever we are able, the more the better.  If we don't come into this place of praise, glorifying God and worship then God cannot transform us and equip us. We will not reap the rewards He has for each and every one of us. The Scriptures clearly show us that when we disobey and harden our hearts with disbelief we can not enter this place of rest, and it appears that this is the very place where we receive our answered prayers.  Coming into this place is when we drop everything and just be with Him. "Come to Me, all you who labour and are heavy laden, and I will give you rest. Take My yoke upon you and learn from Me, for I am gentle and lowly in heart, and you will find rest for your souls. For My yoke is easy and My burden is light" (Matthew 11:28-30, NKJV). Spend time with your Creator by putting on some worship music and soaking in Him. During these times of soaking the Lord may speak to us, or we may even receive renewal. It is putting aside us and coming before Him in obedience. It is about belief and faith in God.  It is about stilling ourselves before God and listening. Be still, and know that I am God (Psalm 46:10, NKJV). I soon learnt that when you 'soak' in the Lord and enter into His presence this means so much more than we can ever understand. One time when I was entering into God's presence I had an amazing encounter.  The Lord showed me what was happening within my soul. I saw a vision of a huge white whirlwind travelling toward me; beside it was a black whirlwind.  They travelled alongside each other until they joined together, then the white whirlwind completely devoured the black whirlwind.  The whiter whirlwind kept coming toward me when suddenly I felt it consume me with a surge of energy. The Lord then spoke to me and this is what He said "This is my power entering your soul. My power will be in all of you.  Things will change significantly from this moment. When the Holy Spirit sanctifies your heart and  soul, He will devour all the dark places. Transformation takes place.  When it is complete I will be fully in you -  Few get to this point - it is a battle against soul and spirit the moment you are reborn into the Kingdom. This battle will be won through sheer determination and obedience.  When I enter your soul, demons can not reside alongside the Holy Spirit therefore they will be annihilated.  This is good news My child, you will  be walking in the full power of the Holy Spirit. Be transformed in Me.  This is My gift.  Walk in the fullness of the Holy Spirit.  You will radiate Me, you will be fully like Me in soul and spirit. The fullness of God within you - Jesus was the first of these,  there will be more".
"For whom He foreknew, He also predestined to be conformed to the image of His Son, that He might be the firstborn among many brethren" (Romans 8:29, NKJV). 
"A disciple is not above his teacher, nor a servant above his master. It is enough for a disciple that he be like his teacher, and a servant like his master" (Matthew 10:24-25, NKJV).
"To know the love of Christ which passes knowledge; that you may be filled with all the fullness of God" (Ephesians 3:19, NKJV).
"Till we all come to the unity of the faith and of the knowledge of the Son of God, to a perfect man, to the measure of the stature of the fullness of Christ" (Ephesians 4:13, NKJV).
"For it pleased the Father that in Him all the fullness should dwell" (Colossians 1:19, NKJV).
"For in Him dwells all the fullness of the Godhead bodily; and you are complete in Him, who is the head of all principality and power" (Colossians 2:9-10).
"Behold what manner of love the Father has bestowed on us, that we should be called children of God! Therefore the world does not know us, because it did not know Him.  Beloved, now we are children of God; and it has not yet been revealed what we shall be, but we know that when He is revealed, we shall be like Him, for we shall see Him as He is.  And everyone who has this hope in Him purifies himself, just as He is pure" (1 John 3: 1-3, NKJV).
What does that mean then for the Sabbath?  Should we still observe this one day a week and keep it Holy for God?  So let no one judge you in food or in drink, or regarding a festival or a new moon or sabbaths,  which are a shadow of things to come, but the substance is of Christ (Colossians 2:16-17, NKJV).
I believe it is not wrong if you wish to do so but it has no bearing whatsoever on earning your salvation.  Dedicating a day to God is great and I am sure God would love that as it is a sign of worship.  I personally believe though that it is far better to focus everyday on Christ - to put Him above all things and put time aside each day just for Him as much as possible.  If this is too hard and unachievable then that one day a week just for Him will grow your relationship with your Creator.  Intimacy is the key!
Is there anything that can prevent us entering that rest? When we have unbelief and hardness of heart we cannot enter that rest. We who have believed are entering that rest, just as he has said, "So in my anger I swore a solemn oath that they would never enter my rest," even though his actions had been finished since the creation of the world (Hebrews 4:3, NASB).  We all too often blame God and fail to realise that we just like the Israelites are taking longer than we need to because we have entered into unbelief and hardness of heart.  God showed me that disappointment in Him caused my heart to harden towards Him.  I expected His promises when I needed them but unfortunately this wasn't when God had planned for me to receive them.  When we expect in our timing and it doesn't happen it can make us blame God.  I developed such a hard heart towards God at one point that I became empty.  I felt resentful towards Him because I was suffering so much and He wasn't helping me (or so it seemed to me). God uses our hardship to refine us and also use what He is teaching us to help others towards the end goal. Unfortunately God doesn't answer hardened hearts so thankfully He showed me that this is what I had developed.  The Holy Spirit said that I needed to repent for hardening my heart towards God so I could again receive a new heart - a heart of flesh and not stone.  During this process this is what God spoke "My daughter when you first met me it was all about you.  It was all about what I could do for you.  The flip side to this attitude is I then need to make it all about Me.  You have served Me, you have served My purpose and your testimony will be phenomenal.  I have called you to be a witness of My healing, My purpose and My will.  Repent for making it all about you and not about Me!  Many of My children are like this.  They worship me with intent in their heart.  They are human and they are suffering and I understand this but I still need to make your journey in Christ all about Me - My purpose and what I have called you to do.  I am going to show you Me.  I am going to show you what I can do for you.  It is My heart to do this only when you are ready to receive it. True worship is when you give yourself to Me for Me and not what you can get from Me."

(PRAYER) - "Father God I am so sorry for hardening My heart toward you.  I am so sorry that I made my relationship with You and the call of God over my life about Me and what I could get from You. I now want to put my heart in the right place.  Take my heart of stone Lord and turn it into a heart of flesh.  Pray for me Jesus; pray that my faith will never fail through the trials and adversities.  Pray that I will never again harden my heart towards You and towards the Father and the Holy Spirit.  Help me to finish the race and to enter that place of rest that You have reserved for me.  I repent with all my heart for my unbelief.  Help me to always believe in You, Your promises and the call of God over my life, Amen."
See also 'What does God want from us?' 
By Tania Francis