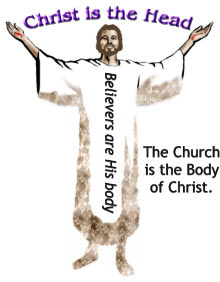 Separating Oneself From Christ's Body
Not long ago I got a word for someone that they had rejected Christ.  With no immediate revelation or understanding how or why as they were a follower of Jesus Christ, I believed that in time Christ would reveal it to them. Today I learned that this person had many years ago separated themselves from the 'organised' Church because they had felt ostracised and rejected.  They also didn't want to associate themselves with the Christian religion for fear of rejection from the world. This person said that they still followed Jesus but didn't want anything to do with the Church. Immediately the Scripture about Christ being the head and the church being His body came to mind. And He is the head of the body, the church, who is the beginning, the firstborn from the dead, that in all things He may have the preeminence. For it pleased the Father that in Him all the fullness should dwell, and by Him to reconcile all things to Himself, by Him, whether things on earth or things in heaven, having made peace through the blood of His cross (Colossians 1:18-19, NKJV).
As I typed parts of this Scripture into google to find the actual Scripture an article came up about people who had rejected the Church wanting nothing to do with the religion, instead just wanting Jesus. The writer went on to explain that when you do this you are severing the head of Jesus from His body and walking around with just His head. Jesus is the Head, of His body, which is His church. When one severs a head from one's body there is no life left between the head and body.  If one self-amputates and severs limbs from a body the body can no longer function as a whole body.  The Head (Jesus), and His body (Jesus' church) are totally inseparable. The Lord then told me that when you reject the Church it can cause damage to the Body and also can cause Christ to suffer.
I then decided to study what the word Church in Scripture means in Colossians 1:18.  The word for Church in Greek is Ekklesia and means 1) a gathering of citizens called out from their homes into some public place, an assembly 1d1) an assembly of Christians gathered for worship in a religious meeting 1d2) a company of Christian, or of those who, hoping for eternal salvation through Jesus Christ, observe their own religious rites, hold their own religious meetings, and manage their own affairs, according to regulations prescribed for the body for order's sake 1d3) those who anywhere, in a city, village, constitute such a company and are united into one body 1d4) the whole body of Christians scattered throughout the earth 1d5) the assembly of faithful Christians already dead and received into heaven.
So we see that the Church (which is Christ's body) is a fellowship of believers who come together to celebrate Christ. This shows us also that Church doesn't have to be a building with a pastor and other believers to be 'the body'. It means that the word of God tells us to fellowship and celebrate Him together with other believers. What denotes a gathering of believers? Two or more people. Again I say to you that if two of you agree on earth concerning anything that they ask, it will be done for them by My Father in heaven. For where two or three are gathered together in My name, I am there in the midst of them (Matthew 18:19-20, NKJV). It is my belief that the word of God commands us to fellowship together – this means more than just the times you share between yourself and God.  Without this fellowshipping one cannot grow in the things of Christ. And let us consider one another in order to stir up love and good works,  not forsaking the assembling of ourselves together, as is the manner of some, but exhorting one another, and so much the more as you see the Day approaching (Hebrews 10:24-25, NKJV).
A new commandment I give to you, that you love one another; as I have loved you, that you also love one another (John 13:34, NKJV). It is a very dangerous place to be if you are not regularly fellowshipping with other believers. I do not pray for these alone, but also for those who will believe in Me through their word; that they all may be one, as You, Father, are in Me, and I in You; that they also may be one in Us, that the world may believe that You sent Me. And the glory which You gave Me I have given them, that they may be one just as We are one: I in them, and You in Me; that they may be made perfect in one, and that the world may know that You have sent Me, and have loved them as You have loved Me (John 17:20-23, NKJV).

But if we walk in the light as He is in the light, we have fellowship with one another, and the blood of Jesus Christ His Son cleanses us from all sin (1 John 1:7, NKJV). Other believers help you to grow.  God works with you together in unity as one body. He also gives gifts for you to use to minister to one another with. And He Himself gave some to be apostles, some prophets, some evangelists, and some pastors and teachers, for the equipping of the saints for the work of ministry, for the edifying of the body of Christ, till we all come to the unity of the faith and of the knowledge of the Son of God, to a perfect man, to the measure of the stature of the fullness of Christ; that we should no longer be children, tossed to and fro and carried about with every wind of doctrine, by the trickery of men, in the cunning craftiness of deceitful plotting, but, speaking the truth in love, may grow up in all things into Him who is the head—Christ— from whom the whole body, joined and knit together by what every joint supplies, according to the effective working by which every part does its share, causes growth of the body for the edifying of itself in love (Ephesians 4:11-16,NKJV). A proper functioning Church should have functioning members who all use their gifts together for the purpose of edifying Christ and one another.  If you have fellowshipped with other believers and had disunity amongst you causing you to cut yourself from them this also causes damage to Christ's body. Scripture shows us if one member suffers, all the members suffer with it. For as the body is one and has many members, but all the members of that one body, being many, are one body, so also is Christ. For by one Spirit we were all baptized into one body—whether Jews or Greeks, whether slaves or free—and have all been made to drink into one Spirit. For in fact the body is not one member but many. If the foot should say, "Because I am not a hand, I am not of the body," is it therefore not of the body? And if the ear should say, "Because I am not an eye, I am not of the body," is it therefore not of the body? If the whole body were an eye, where would be the hearing? If the whole were hearing, where would be the smelling? But now God has set the members, each one of them, in the body just as He pleased. And if they were all one member, where would the body be? But now indeed there are many members, yet one body. And the eye cannot say to the hand, "I have no need of you"; nor again the head to the feet, "I have no need of you." No, much rather, those members of the body which seem to be weaker are necessary. And those members of the body which we think to be less honorable, on these we bestow greater honor; and our unpresentable parts have greater modesty, but our presentable parts have no need. But God composed the body, having given greater honor to that part which lacks it, that there should be no schism in the body, but that the members should have the same care for one another. And if one member suffers, all the members suffer with it; or if one member is honored, all the members rejoice with it (1 Corinthians 12-26, NKJV).
(PRAYER) – "Father God in Jesus name I repent for any time I rejected the Church which is the body of Christ and equates to rejecting Christ. I repent for not associating myself with the Christian religion through fear of rejection from others. I declare that my religion is Christianity and I worship and follow Jesus Christ. I repent for anytime I believed I did not need the Body and severed Your head from the Body to carry around with me. I am sorry for causing suffering to You Lord Jesus when I damaged the Body by separating myself from it. I am sorry for anytime I severed or amputated limbs from the body of Christ through division, disunity or cutting myself off from and causing suffering amongst the members.  I forgive all those who offended me in the body of Christ.  I repent for offending anyone in the body of Christ. I understand that fellowshipping within the Body of Christ is a command from You and that it is for wholeness, so I pray that You would lead and guide me to a body of believers that function as Your body that I can be one with.  I pray that all damage and severed parts of the Body of Christ would be restored and made whole so that we can be as one with You.  In Jesus name, Amen."
By Tania Francis