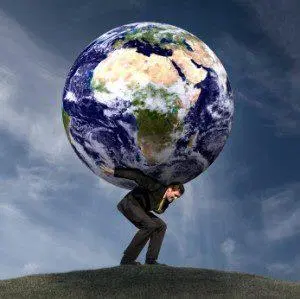 Lay Down the World
My husband Mark and I had some time together recently with the Lord.  We put on some worship music and asked Jesus to share His heart with us.  During this time I received a word which I perceived to be from the Lord Jesus. This is the word I received: - "I am above all things.  When I am in you, you are above all things.  I have given you dominion over all things.  I have given you authority to trample on serpents and scorpions and over all the power of the enemy (Luke 10:19).  The problem however, is when you allow the world to be greater in you than I am. This is when you choose the world.  In this world you will have tribulation but fear not for I have overcome the world (John 16:33). You have to relinquish the world 'in you' to Me. Let go of the world so I can have dominion.  I only have dominion in you over that which you have laid down and given to Me.  What you hang onto and don't allow Me access to still carries power. When the love of the world is greater than the love of Christ whatever you give power to exerts the greatest control.  If you accept the world and its influences that are not Godly you compromise Me and My Kingdom.  How do you overcome the world?  You allow Me to reign in you.  Lay down that which is weak.  You can't do all this yourselves. That is why each and every one of you needs 'Me', 'in you', doing it 'with you'.  I test your heart to see how much you are really in the Kingdom of God as opposed to the world. How much of the world is each one willing to let go of? Whatever you are willing to let go of, if it is too difficult I will help you.  It is not all done at once.  This would cause resentment, it would be too hard and many would give up and walk away. Bit by bit I call you to lay down the world and enter into My Kingdom.  You are seated with Christ in Heavenly Places but it is up to you to choose to sit there with Me. For he raised us from the dead along with Christ and seated us with him in the heavenly realms because we are united with Christ Jesus (Ephesians 2:6 NLT). One foot in the world and one foot in the Kingdom.  Eventually I will call you fully into My Kingdom. This requires commitment and sacrifice and is not an easy feat.  The more you let go of, the more you gain. He who loses His life for My sake will gain life and he who does not lose his life for My sake will lose life. Anyone who finds his life will lose it, and anyone who loses his life because of me will find it (Matthew 10:39,CSB). It really is that simple.  Are you ready to lose your life for Me?
I pondered this word and felt really excited about releasing it.  He basically spelt it out for us. It is up to us what we choose and when we choose Him over the things of the world we gain the Kingdom.  We bring Heaven to earth. We already have the Kingdom as our inheritance but it is only through death that we actually receive all of it. Therefore we were buried with Him through baptism into death, that just as Christ was raised from the dead by the glory of the Father, even so we also should walk in newness of life (Romans 6:4, KJV). This can mean physical death or dying to the world through the sanctification process. When we are born-again we are sanctified, set apart and made holy.  We are saved and have our inheritance in Heaven and nothing can take away this free gift from God except if we choose not to accept it. This means upon death we go to Heaven and are with the Lord forever. After we are saved and born-again and still here on earth the world however is still in us even after we have first received the Holy Spirit.  The world is our carnality - our flesh (which comprises the soul and physical body).  These parts of us need to be cleansed, healed, and restored so they can be preserved blameless. And the very God of peace sanctify you wholly; and I pray God your whole spirit and soul and body be preserved blameless unto the coming of our Lord Jesus Christ (1 Thessalonians 5:23, KJV).
 At the beginning of our salvation our spirit is born-again. The Spirit Himself bears witness with our spirit that we are children of God (Romans 8:16, NKJV). Our soul and physical body are not made new at this time. Paul talks very clearly of the war between soul and spirit (Romans 8) so we see by this that there is a work to be done in our fleshly (not born again) areas of our soul (heart) and physical body. Many believe that the moment we are born again that we are born again completely in our hearts also. This is incorrect.  Our heart (soul) is the part of us that needs to be sanctified, cleansed, purged, delivered and healed. Who hath also sealed us, and given the earnest of the Spirit in our hearts (2 Corinthians 1:22, KJV). The word 'sealed us' in Greek is Sphragizo and means to 1) to set a seal upon, mark with a seal, to seal. The word 'the earnest' (of the Spirit) in Greek is Arrhabon and means 1) an earnest 1a) money which in purchases is given as a pledge or down payment that the full amount will subsequently be paid. We see by this when we first receive the Holy Spirit our spirits bear witness with His Spirit that we are children of God, and our heart is sealed with a down payment of the Holy Spirit in which the full amount will subsequently be paid.  We have not received the fullness of the Holy Spirit until the heart (soul) is cleansed, healed and made whole through the sanctification process of purification and the renewing of the soul.  As the old man dies, the new man rises up in resurrection power – it is a process.
The Bible tells us not to love the world and that the things in the world are for the lust of the flesh, the lust of the eyes and are the pride of life. Do not love the world or the things in the world. If anyone loves the world, the love of the Father is not in him. For all that is in the world—the lust of the flesh, the lust of the eyes, and the pride of life—is not of the Father but is of the world (1 John 2:15-16, NKJV). The Bible describes the whore of Babylon as a great Harlot woman.  She represents the world and the worldly system in allegiance with the beast.  She is an idolatrous figure. The Bible says to 'come out of her'. And I heard another voice from heaven, saying, Come out of her, my people, that ye be not partakers of her sins, and that ye receive not of her plagues (Revelation 18:4, KJV). We are told to separate ourselves from the world. Although we are in the world we are told we are not of the world. For God so loved the world, that he gave his only begotten Son, that whosoever believeth in him should not perish, but have everlasting life (John 3:16, KJV). God still loves the world itself (as it is His creation and He gave His only Son to save the world) but He does not like the sin in the world.  He wants us to separate ourselves from the ungodly things of the world.  God wants to present us to Jesus as His Bride upon His return undefiled, without spot or wrinkle.  We need to be ready.  We need to allow the Holy Spirit in us to clean us up and transform us into the creation God purposed us to be.  We need to work with Him and allow Him to wash us clean. For I am jealous over you with godly jealousy: for I have espoused you to one husband, that I may present you as a chaste virgin to Christ (2 Corinthians 11:2, KJV). In this Scripture Paul says that his goal was to present the Church of Corinthians 'as a chaste virgin to Christ'. The word chaste in Greek is Hagnos and means 2a) pure from carnality, chaste, modest 2b) pure from every fault, immaculate 2c) clean. Husbands, love your wives, even as Christ also loved the church, and gave himself for it; That he might sanctify and cleanse it with the washing of water by the word, That he might present it to himself a glorious church, not having spot, or wrinkle, or any such thing; but that it should be holy and without blemish (Ephesians 5:25-27, KJV). This Scripture shows the people of the church, defiled by sin, becoming unblemished, wrinkle free, holy, and spotless.
When we compare this to the nation of Israel as a type, Ezekiel 16:9 shows God cleaning up His people. Then washed I thee with water; yea, I throughly washed away thy blood from thee, and I anointed thee with oil (Ezekiel 16:9, KJV). This is a progressive work – it does not all happen the moment we are born-again. There any many in the Body of Christ who believe that when you are saved and born-again that it is done and that no more work is needed in the area of sanctification.  These Scriptures and word from God show us clearly that when we were saved and born-again that it is only just the beginning of our journey and that there is more work to be done before we can be preserved blameless unto the coming of our Lord Jesus Christ.  It is up to us to work with the Holy Spirit who was given to us as our teacher, comforter, and the one who intercedes, supports and acts as an advocate, even convicting us when we have sinned. Paul one of the greatest apostles talks about how hard the walk of God is because the sin in him makes him do what he does not want to do. If Paul struggled with sin then what makes us believe we are exempt from this struggle? Even Paul talked about how he was not yet perfected and that it is a process. Not that I have already attained, or am already perfected; but I press on, that I may lay hold of that for which Christ Jesus has also laid hold of me. Brethren, I do not count myself to have apprehended; but one thing I do, forgetting those things which are behind and reaching forward to those things which are ahead, I press toward the goal for the prize of the upward call of God in Christ Jesus (Philippians 3:12-14, NKJV).  
 For by grace you have been saved through faith, and that not of yourselves; it is the gift of God, not of works, lest anyone should boast (Ephesians 2:8-9, NKJV). The word for saved in Greek is Sozo and means save, make whole, and heal. Jesus came to save, make whole and heal us in our spirit, soul and body.
 All that is required from us from the moment we accept, is for us to lose our lives for His sake.  This means we need to make a total commitment to Christ and make Him our Lord and Saviour over every area of our lives and allow Him to remove that which is not Godly.  We are to walk in the Spirit and not in the flesh.  When we walk in the flesh we sow corruption to ourselves.  This is not the life Jesus wants for us to live. Jesus gives us life so that we can have life in abundance (John 10:10). To inherit this life we are to lay down our lives and let go of the world in all areas of our lives, so that we can be in the world, but not of the world. Seek after the Kingdom of God and His righteousness and all things will be added unto you. But seek ye first the kingdom of God, and his righteousness; and all these things shall be added unto you (Matthew 6:33, KJV).
(PRAYER) – "Father God in Jesus name I pray that You would show me any worldly things I am hanging onto that prevents me from fully entering into Your Kingdom. I repent for these things. I lay down my life for Your sake so I will gain Your life that You have for me.  I let go of the world and ask You to help me do it.  You have overcome the world and while You are in me I too can overcome the world.  If I still have one foot in the world and one foot in Your Kingdom I choose and am willing to take this foot from the world to plant both feet firmly in Your Kingdom. I choose to sit with You in Heavenly places.  This means Lord Jesus Christ, the Son of God I am fully Yours to do with me as You will.  I let go of my agenda, my plans and my will to enter fully into Yours.  Whatever Your will for me is, I enter into it. I choose You and not the world. This includes Your path, Your destiny, Your purpose and Your plans for me.  These things I pray in Jesus name, Amen."
By Tania Francis