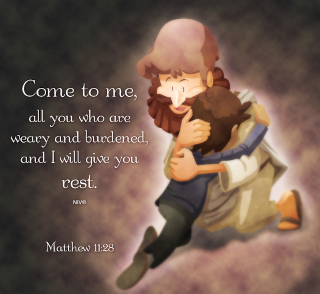 Rest For The Soul – The date of receiving this word is 09/09/2021. 
I was at home when I really felt the urge to spend some time with Jesus.  I sat down and apologised yet again for feeling disappointed in Him whilst waiting for my promise of healing. Waiting is so very hard when you are suffering and I know that my relationship with Jesus suffers when I am suffering.  I then asked Him if He had anything on His heart that He would like for me to hear.  Immediately I had a vision of Jesus in the sky amongst the clouds with His arms outstretched and people were floating up to Him and He was embracing them.  I then heard this Scripture - Come to Me, all you who labor and are heavy laden, and I will give you rest. Take My yoke upon you and learn from Me, for I am gentle and lowly in heart, and you will find rest for your souls (Matthew 11:28-29, NKJV). As I was pondering the vision I couldn't help but liken it to the rapture Scriptures where Jesus comes down on the clouds and those who remain in Him, after the tribulation meet Him in the air and receive their Heavenly bodies.
I then heard Him speak and this is what I heard, "Time to enter into My rest.  What you have been shown is not the time of the end when I return and you receive your Heavenly bodies, but the resurrection of the souls. Those who have died to themselves and remained in Me receive this infilling." I knew immediately that He was referring to the second infilling that He had been talking to me about for the last few years.  He had previously told me that the second infilling is where your soul is born-again and resurrected in Him.  When you are first born-again at the beginning of your salvation experience your spirit is resurrected in Him and made new. 1 Thessalonians 5:23 shows us that God wants to sanctify us and preserve our spirit, soul, and body blameless when He returns.  The physical body of course is resurrected when Jesus returns. We are a three-part being so it is essentially a three-part process. The soul is born-again at the end of the sanctification process of putting off the old man and putting on the new.
He continued, Those who receive this infilling are those whose souls have died to themselves and are being resurrected in Me. The infilling of the souls.  Harvest time!  It is a harvest of souls!  These ones when raised up will do My work in My strength and in My power and they will walk in My Glory.  They will cease from their works and enter into Mine. For if Joshua had given them rest, then He would not afterward have spoken of another day. There remains therefore a rest for the people of God. For he who has entered His rest has himself also ceased from his works as God did from His (Hebrews 4:8-10 NKJV). They will have one mind – the mind of Christ.  The soul is your mind, will, emotions and conscience.  Your soul will no longer be anti-Christ.  The soul is the fleshly carnal part of man.  You will rise up in the new man - a new you – transformed through My grace.  You laid down your lives for My sake.  You remained in Me, you waited on Me even though it was tough. I removed every blockage between you and Me.  The world is about to change.  What you now see is a snippet of what is to come.  Things are unfolding quickly.  There is a time of grace for the world through My chosen ones.  These ones will perform signs and wonders and be My light in the chaos.  They will teach and raise up others to do the same.  My church is about to receive an awakening of My power this generation has never seen before."
It is my belief that those who are to be raised up in this time are represented in the Bible as the Church of Philadelphia.  Revelation talks about the seven different types of Churches of God that remain at the end times.  This church went through the fire of God and although had little strength remained true to His word and never denied His name.  These ones are given more power and are protected from the seven-year tribulation on earth. "And to the angel of the church in Philadelphia write, 'These things says He who is holy, He who is true, "He who has the key of David, He who opens and no one shuts, and shuts and no one opens": "I know your works. See, I have set before you an open door, and no one can shut it; for you have a little strength, have kept My word, and have not denied My name. Indeed I will make those of the synagogue of Satan, who say they are Jews and are not, but lie indeed I will make them come and worship before your feet, and to know that I have loved you. Because you have kept My command to persevere, I also will keep you from the hour of trial which shall come upon the whole world, to test those who dwell on the earth. Behold, I am coming quickly! Hold fast what you have, that no one may take your crown. He who overcomes, I will make him a pillar in the temple of My God, and he shall go out no more. I will write on him the name of My God and the name of the city of My God, the New Jerusalem, which comes down out of heaven from My God. And I will write on him My new name. "He who has an ear, let him hear what the Spirit says to the churches'" (Revelation 3:7-13, NKJV).
By Tania Francis