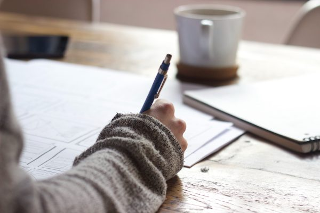 Petitioning God 

To download in PDF format click here: Petitioning God                                                                  
Be careful for nothing; but in everything by prayer and supplication with thanksgiving let your requests be made known unto God (Philippians 4:6, KJV). The word supplication in Greek is deesis and means prayer, supplication, and request. The word request is aitema and means require, request and petition.  The word petition in Hebrew is ba`uw and means petition, request, and prayer. By this we see that request, supplication and petition are one and the same. According to Dictionary.com the word petition is a formally drawn request, often bearing the names of a number of those making the request that is addressed to a person or group of persons in authority or power, soliciting some favour, right, mercy, or other benefit. So we see by the Word of God we can request things from God in prayer (verbally) and/or in writing.  In fact God shows me that He loves things in writing - His Word is written, His law was written first on stones, then on our hearts and He also instructed the Israelites to write His Word on the posts of their houses and gates. In other words what I have mocked up below is a prayer in writing! If we are to write our requests to God then where should we take them? Straight to the Throne of God of course! Let us therefore come boldly to the throne of grace, that we may obtain mercy and find grace to help in time of need (Hebrews 4:16, NKJV). When I was getting the revelation for this the Lord said to me "Have you ever heard the phrase 'actions speak louder than words'? It is all about faith with works. Thus also faith by itself, if it does not have works, is dead (James 2:17, NKJV). When you have belief in My Word your actions show your faith.  Bringing Your petitions straight to the Throne is a faith action.  Faith moves mountains".
How should we approach Gods throne? Enter into His gates with thanksgiving, and into His courts with praise. Be thankful to Him, and bless His name (Psalm 100:4, NKJV). You can write up your petitions and present them before God by taking a step forward in a prophetic act (which is rein-acting in the natural in faith what is happening in the spirit realm) in a prayer of thanksgiving and praise. How do you meet with the Father? Although He is in the Heavenly realm sitting on His throne, you don't need to go there to meet with Him.  The mere fact that Jesus is in your heart means that you have direct access to God Who is also within you. Scripture tells us that God the Father, Jesus and the Holy Spirit are one. Taking a step forward is you meeting with Him there.  
What I find interesting is how Gods throne is called 'Throne of Grace' and the Throne of Jesus is referred to as a 'Judgment Seat'. When the Ark of the Covenant was made it contained a 'Mercy seat' which means a place of atonement (reconciliation). When Jesus returns we will be either be judged righteous, and receive God's grace because we have accepted Jesus as Lord and Saviour, and been reconciled with God through the Blood, or we will be judged guilty if we haven't and will receive Gods wrath. Judgment seat in Greek is translated as bema and means throne – official seat of a judge.  The word throne is translated as thronos in Greek and means a stately seat for a King or to judges i.e. tribunal or bench. 
When we come before God on His Throne with a petition I believe it is always good to quote the Scripture in Hebrews 4:16 as this is appealing to His Grace and mercy and it is through His Grace you receive your inheritance.  If satan comes to accuse you before God then God can use His Grace card (which is Jesus) which trumps any legal right satan may have over you.  God can use His Grace whenever He chooses and satan has no leg to stand on.  Appealing to God with a petition (Prayer in writing) is a very good thing to do as the Scriptures also show us that we have an advocate – Jesus, Who fights on our behalf.  Who better to advocate our request before God than our Lord and Saviour? We know by the Word of God that there is a Heavenly Court and Gods Throne is within the Heavenly Courts. Jesus of course is at His right hand. Satan comes before Gods throne night and day accusing the saints petitioning for judgment in his favour so he can afflict them.
I believe our petitions to God should be simple and scripturally sound. We need to take them and present them before God (in a prophetic act) then leave and allow Jesus to plead our case for us. I have seen others who have taken their cases straight to the Heavenly Courts and asked for a courtroom session requesting judgement for various causes. I believe this is deception because in this you are asking God to be a judge and judge you through the legal system. God no longer wants us to see Him as a judge.  He wants us to see Him as a loving Father because we have been reconciled through the Blood of Jesus. For the Father judges no one, but has committed all judgment to the Son, that all should honor the Son just as they honor the Father. He who does not honor the Son does not honor the Father who sent Him. "Most assuredly, I say to you, he who hears My word and believes in Him who sent Me has everlasting life, and shall not come into judgment, but has passed from death into life" (John 5:22-24, NKJV). I also believe that asking for premature judgment could be detrimental to your cause.  The Bible is clear that we are to be judged when Jesus returns. For we must all appear before the judgment seat of Christ, that each one may receive the things done in the body, according to what he has done, whether good or bad (2 Corinthians 5:10, NKJV).
He showed me that trying to gain your inheritance through the legal system is deception.  We receive our inheritance through God's grace as we yield ourselves to Christ and as we believe in Him and His work on the cross. The courtroom of God is always in progress but we don't use the legal system (Courtroom of God) to gain our inheritance - we go directly to Jesus.  By using the legal system we are coming back under the law. We do not receive our inheritance through asking God to release it through the law. For if the inheritance is of the law, it is no longer of promise; but God gave it to Abraham by promise (Galatians 3:18, NKJV). Inheritance is not released through the legal system because we are no longer under the law – we are under Grace. For sin shall not have dominion over you, for you are not under law but under grace (Romans 6:14, NKJV). Galatians 3:13 says we are redeemed from the curse of the law.  The curse of the law is the punishment system for sin. You are no longer under the law means you cannot be condemned to death by not keeping the law. But when we are judged, we are chastened by the Lord, that we may not be condemned with the world (1 Corinthians 11:32, NKJV). Going to Court and asking to be judged through the legal system means you are bringing back judgement under the law. Going through the legal system (courtroom) to gain your inheritance is using the law (legal system to gain your inheritance). You are putting yourself back under the Old Covenant and trying to obtain your inheritance by keeping the law. This means you are indebted to keeping the whole law in order to obtain your freedom and the grace given to you by Christ is no longer available so things will become a whole heap harder. Although the devil has legal rights to your unyielded areas (areas we have not handed over to Christ) we do not use the legal system to get them back from the enemy. The devil is a legalist, not God. We turn to Jesus, not the Court system and yield these areas to Him to receive freedom.  Jesus is our advocate who pleads our cause for us on our behalf.  We are not supposed to come before God and plead our own cause. Do you want to be judged through the legal system or the Throne of Grace?
I have written a prayer on how I was shown to petition God in writing. At the end of my petitions I included Scriptural references alongside everything I requested as the Word of God is our weapon – it brings down the accuser. The word of God is truth and when we understand the truth it is the truth that sets us free!  To begin prepare your petition beforehand, date it and if possible get witnesses to sign it. "Again I say to you that if two of you agree on earth concerning anything that they ask, it will be done for them by My Father in heaven" (Matthew 18:19, NKJV).  If possible back up your requests with Scriptural references that confirm the promises in line with your requests).
(Prayer and Prophetic act): Take a step forward and pray: - "Father God in Jesus name I enter Your gates with thanksgiving and into Your courts with praise.  I am thankful to You and bless Your name (Psalm 100:4). Father I come boldly to the throne of Grace to find help in my time of need (Hebrews 4:16). Thank You Jesus that You tore the veil so I can come straight to the Throne of God. Thank You Jesus that You are my advocate and that You will fight for me and plead my case (1 John 2:1). Philippians 4 verse 6 says with thanksgiving in prayer and petition to let your requests be made known to God. Thank You Father God for allowing me to present these written petitions.  Your words says that if I ask it will be given to me (Matthew 7:7). By faith I believe that I will receive all that I have asked for.  If there is anything I am asking for that is against the will of God for my life and purpose then I give You permission to render any request null and void.  Father God if there are any blockages in my life that prevent all that I have requested I pray that You would reveal them to me and I pray that You would remove them.
In Prayer and Petition I request ..............................................................
These things I request Lord are so I can better serve You and Your Kingdom.  I will use these things to glorify and give testimony to You. I am worthy Lord because the Blood of Jesus Christ and the righteousness of Jesus Christ covers me.  My belief in Jesus is also counted to me as righteousness. I deserve this Lord not from my own good works but because of the work of Jesus on the cross and His works working through me. Thank You Father for listening to my prayers, petitions and requests, Amen."
Date:……………….  Signed:……………….    Witnesses:………………………………………
(Prophetic act): Turn around and take a step out of the Throne room.
By Tania Francis