Intimacy And Relationship With God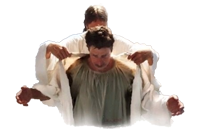 A lot of people think God wants us to stick rigidly to a programme of law, religion and a set of rules. God requires us 'yes' to adhere to these rules but only through a love relationship with Him. Jesus answered him, "The first of all the commandments is: Hear, O Israel, the LORD our God, the LORD is one. And you shall love the LORD your God with all your heart, with all your soul, with all your mind, and with all your strength." This is the first commandment (Mark 12:29-30, NKJV). He wants us to do the right thing because the moral statutes of God are good. Sadly people think they have to strive to achieve this. God is the only One Who can actively achieve this through the circumstances and trials He allows us to face. He refines us and changes us from the earthly fleshly self to a righteous Christ-like nature. How? Through obedience and trusting in Him. How do we obey and learn to trust God? We listen and we learn His voice and then we obey His promptings. The highest form of worship is obedience, respect and trust. 
The thing God wants most from us is a relationship. We need to take time out of our busy schedules and sit with God. Many of us think that we are spending time with the Lord as we go about our day speaking to Him, although He does love us to commune with Him we also need to give Him our 'absolute' one-on-one attention.  Too many of us don't give Him our undivided attention. We go about our day expecting him to answer our prayers and speak to us through our busy work loads.  When we have visitors we sit down and spend time with our guests; we don't go buzzing around doing our housework. Why shouldn't we give God this same respect and attention?  We can put on our favourite Christian music and soak or sit in silence as we invite the Holy Spirit to talk to us.  We pray then we listen. Write every thought you receive down in a book. Ask the Holy Spirit for the Gift of Discernment as this helps us to recognize His voice. This takes time and practice ~ doing this daily can fast-track the knowing of the voice of your Lord and Saviour.
Since the day I was saved back in 2009 I have not gone one day without thinking of God, talking with God and wanting to find out more about Him.  I have such an intimate relationship with Him that He is in my innermost thoughts all the time.  He wants to be part of our lives.  He wants us to include Him in everything we do. And whatever you do [no matter what it is] in word or deed, do everything in the name of the Lord Jesus and in [dependence upon] His Person, giving praise to God the Father through Him (Colossians 3:17, Amplified). We should all be living in such a way that we have an awareness of Christ with us always.  We should be aware of His presence with us wherever we go.  If this is something you struggle with then ask God to give you a supernatural hunger and desire for Him.  I personally am obsessed with my creator, I can't get enough of Him (in a good way!)
God has a purpose for each and every one of us to be a servant for Him. In Him also we have obtained an inheritance, being predestined according to the purpose of Him who works all things according to the counsel of His will, that we who first trusted in Christ should be to the praise of His glory (Ephesians 1:11-12, NKJV). 
We all play a role to save precious souls from the Perilous Pits of Hell. Tell God you are available for Him to use you in any way He can to help others. God will also never ask you to do something that you 'can not'. You will be amazed at how God will speak to you. If we all knew our Lord's voice we would all see the Power of God working in our lives. We would each have a part to play. We would see a multitude of healings and miracles take place as a result of obedience. We are 'robbing' each other of miracles and healings because 'we' are the ones to proclaim and perform His message. It is up to us. We are His soldiers, His army. We need to ask God to open our eyes and ears so we can proclaim the 'Good News'. "Most assuredly, I say to you, he who believes in Me, the works that I do he will do also; and greater works than these he will do, because I go to My Father. And whatever you ask in My name, that I will do, that the Father may be glorified in the Son" (John 14:12-13, NKJV). 
(See also Entering God's rest)
By Tania Francis