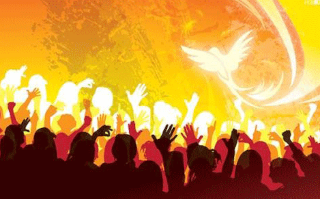 Receiving More of His Presence
This word was received 04/03/2023.  I had been seeking God again for the healing of my extreme menopause symptoms that really impact my day to day life.  This started for me when I was 44 and I am now turning 52 next month.  I have in that time learnt to live with these symptoms and do the best I can but some days it really takes its toll. 
As I was sitting on my own inviting Jesus to spend time with me this is the word I received in that time ~
"How do you cultivate My presence? You give Me your heart. When I live and dwell in your heart the fullness of Me is within you.  Currently you are sealed in the Holy Spirit.  When I come to rest upon you in a greater measure (after you have been cleansed, refined and sanctified) you are in the realm of My continual presence.  This means a greater anointing of My power and presence.
What is left for you to do?  Wait for My timing.  The last thing to be outworked before you receive this greater infilling is patience.  Long suffering – waiting for the promises is so very hard.  Some walk away from me by now because of their impatience.  I am teaching you patience.  I take your impatience and give you My longsuffering. After you have suffered a while the promise comes. But the God of all grace, who hath called us unto his eternal glory by Christ Jesus, after that ye have suffered a while, make you perfect, stablish, strengthen, settle you (1 Peter 5:10, KJV).
Why is it this way?  The cross is an exchange.  My life for your life.  You receive the fruits of the Holy Spirit and I take upon Myself the works of your flesh. My Father put the sins of the whole world upon Me so that you can be saved.  You are saved not by your own works but by accepting and believing in Me to save you from your sins.  I become your Lord and Master and you become a slave to righteousness and your fruit is set to Holiness. Although My Father put the sins of the world upon Me and you are saved, to walk in My holiness and glory there has to be a laying down of the flesh – a turning away from the sins that bind you.  Although it is finished on My end it has only just begun on yours - the very moment you are saved and born-again.  In this moment you become a new creation – that new creation is a babe in Christ and needs to mature.  A maturing and a growth is needed before I can trust you with the greater things of God.
Can I trust you?  I most certainly can.  Can you trust Me?  Yes you can.  I will lead you places that you never thought you could or would go.
SOUL HEALING – Your Ministry is about the healing of the soul.  So much of what is healed in the soul will reflect outwardly in the physical body.  You are spirit, soul and physical body.  Although three parts they are all intertwined.  Each part needs to be well. If you soul is sick it affects your spirit and body.  Sin can make you sick. If your body is sick then more often than not healing needs to be done at a spiritual level.  Some things are purely physical – whilst others have a spiritual root that needs healing.
Soul Healing – that is your Ministry.  Your own soul will be brand new – it will be born-again which is why I am calling you to teach this.  The soul is not made new upon conversion – it is a walk and takes time.  I want your souls to be born again just like your spirits and physical bodies.  It is a three-part process. The physical body becomes new when I return and you are caught up in the clouds.  A new spirit, a new soul and a new body.  A Pentecost experience is coming.  This is the receiving of a new soul.  Fire baptism – when the old becomes new. My Spirit will be poured out on young and old for those who have been made ready to receive in this time.  These ones will be in unity and teach and prepare the people to receive in the next infilling.
REVIVAL is coming.  Revival is here – Be ready!  Not only will your Ministry heal those parts of people who are in bondage but you will also prepare the next influx of people for the greatest revival the world has ever seen."
By Tania Francis