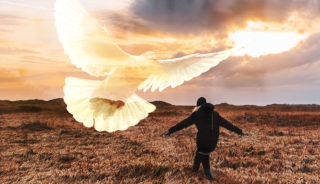 Discerning between flesh and Spirit
What is the flesh and what is the Spirit? We are a tripartite being meaning we are spirit, soul and body. The flesh according to the word of God in Greek is Sarx and means physical body and carnal nature of man. The carnal nature of man is our soul (mind, will and emotions) and is sometimes referred to as our heart. The Bible tells us that the heart of man is wicked and needs to be sanctified. Spirit in Hebrew is Neshamah meaning Breath of God and Pneuma in Greek meaning breath/spirit/wind. Another word for spirit in Hebrew is Ruwach and means wind, breath, mind, spirit. Seat or organ of mental acts.  As seat especially of moral character. The Holy Spirit first dwells within our human spirit and goes to work to sanctify the soul. The soul and spirit war against one another until the soul is sanctified and comes into line with the born-again spirit.
When I was first saved I prided myself on the fact that I could easily discern between my own thoughts and the Holy Spirit speaking to me.  What I found harder was discerning between a deceiving spirit and the Holy Spirit when the deceiver came to me as an angel of light.  The Lord gave me the gift of discerning between spirits and took me on a journey on learning His word and character so that gift could grow.  The reason I found it so easy to discern between myself and Him was because He would talk to me in such a way I knew it couldn't possibly be me.  I am a deep thinker and I know myself really well. He has also many times talked to me in screeds of sentences about topics I knew nothing about so of course it was easy to discern it didn't come from me.
Recently however I had received a word from God and as I was reading it to my husband he discerned that a part of the word couldn't possibly be from God because it was factually incorrect. I was incredibly upset because after I had finished receiving the word I had that knowing in my spirit that witnessed with His Holy Spirit that the word was from Him. I did recall though that as I was receiving the word I had a tiny check at one point but couldn't work out why as I still had the knowing it was from Him. The Lord had been talking to me about the reaping and sowing effect and how our actions determine a negative or positive outcome. I received the word and had written it down as I heard it coming.  I have a very active mind and as I receive words from Him (and am writing them down) I am very aware that I am pondering on what I am receiving. God speaks to me through my mind using my thoughts and imagination and as He spoke to me about this principle of reaping and sowing and the natural law of cause and effect my head immediately transitioned ahead to my own natural knowledge of the law of physics and I wrote down that reaping and sowing was based on the law of physics. The law of physics as I understood it was 'For every action there is an equal and opposite reaction'.  To me this was the same as the spiritual law of reaping and sowing. This was the problem – as I was reading the word to my husband I read out the part where I spoke about reaping and sowing being based on the law of physics.  He stopped me immediately and told me that physics is for the physical only and that reaping and sowing was the spiritual law of cause and effect and that physics is mathematical and the opposing reaction has to be equal to the original action – and this is not the case in the spiritual realm of reaping and sowing.  In this realm one can be greater than the other but both laws are based on the cause and effect – one is spiritual and one is physical. In my own understanding of this principle my mind had run ahead of God and put words in His mouth that He did not speak to me.  I was very upset and wondered how often had my own head done this – slotted in thoughts and written them down with the words that God had spoken and assumed all was from God.
How could I tell the difference?  I had assumed I was bullet-proof – easily able to discern my own fleshly thoughts from His words that He spoke to me because they were so different.  This little practice showed me that this was not so. I sought God and asked Him how I could prevent this from happening again.
He had taught me so much on how to discern His voice from the deceiving spirits and up until now I had not bothered asking about how to discern between Himself and my own flesh as I was not aware it was an issue until now.  This is what I believe He spoke; "The antichrist is rising up.  The flesh (carnal nature) of man is anti-Christ.  What is of the flesh is not of Me.  The flesh has a voice and is against the ways of the Spirit.  It will tempt you to do those things that are not of Me.  Until the flesh has been put to death by the Spirit it will always try to undermine me.  The flesh likes to dominate and control.  Today it overplayed itself.  You have operated out of the flesh believing it to be Me many times and it was not.  How do you tell the difference?  The flesh drives, the Spirit nudges.  The Spirit is gentle, the flesh is overpowering. Patience – when you are receiving words although I download quickly there are times you need to pause and reflect.  In the pauses (which are those times I fall silent) you need to wait and not rush ahead to fill in the space.  I take pauses on purpose.  What should you do in those pauses? Go back and reread the passage I have given you.  Flow on effect.  When I am speaking to you more often than not you are trying to interpret or understand what you are hearing.  Your own thoughts can go off on a tangent in the direction that your interpretation of what I am saying is showing you.  This is how the flesh tries to over-ride the Spirit.  I pause when I discern your thoughts are interpreting incorrectly or going away from what I am showing you.  This is a sign to pause, reflect, re-read and begin again through the Spirit – putting to silence the work of the flesh. Natural knowledge versus Godly knowledge – this will often be antagonistic to the ways of God.  As long as you are open and willing to be taught I will reveal new things and new ways to you. The pauses are what you look for – stop, reread and allow the Spirit to reign."
As He spoke this to me I smiled as I knew exactly what He meant by those pauses where He was speaking and then He would stop – my head would naturally race ahead and fill in the gaps. So many times He had been speaking to me and then He would just stop in mid-sentence.  I never thought to question and ask why He did this, but now I know – my head was running ahead and misinterpreting what He was showing me and I ran the risk of discerning and writing His words from my flesh.  We are always in such a hurry – God is not.  Take time to sit with God and practice hearing His voice speak to you.  Sometimes He will use your natural knowledge (if it is correct and Godly) to confirm or re-iterate what you already know but in these times of receiving always look for the connection (that knowing) that can only come from your spirit witnessing with His Holy Spirit that what you have received is from Him.  This knowing is a peace that comes deep within.  It is not a peace that you can tangibly feel as it is not based on feelings.  This peace that is based on feelings is known by the New Age as enlightenment or euphoria –this is false peace and is done by the use of your soulish emotions.  The peace and knowing that comes from the Holy Spirit is not a feeling but instead a deep sense of security, peace and comfort that comes from the intuition area of your spirit.  You just know that you know that you know!
Another way we can discern from our flesh is when we have a desire to see something happen in our own or another one's life.  Our desire might cloud what God is saying and we may misinterpret what He is showing us – or our emotions may completely take over and we believe it is from God when it is from our own soul.  There may also be times where God did something a certain way once or twice before and we can enter into a mind-set of just doing it that way again without waiting on God for His direction. It is so important to wait on the Holy Spirit and see what He is saying and telling us to do rather than doing what we believe we should do. For those who live according to the flesh set their minds on the things of the flesh, but those who live according to the Spirit, the things of the Spirit. For to be carnally minded is death, but to be spiritually minded is life and peace. Because the carnal mind is enmity against God; for it is not subject to the law of God, nor indeed can be. So then, those who are in the flesh cannot please God. But you are not in the flesh but in the Spirit, if indeed the Spirit of God dwells in you. Now if anyone does not have the Spirit of Christ, he is not His. And if Christ is in you, the body is dead because of sin, but the Spirit is life because of righteousness. But if the Spirit of Him who raised Jesus from the dead dwells in you, He who raised Christ from the dead will also give life to your mortal bodies through His Spirit who dwells in you. Therefore, brethren, we are debtors—not to the flesh, to live according to the flesh. For if you live according to the flesh you will die; but if by the Spirit you put to death the deeds of the body, you will live. For as many as are led by the Spirit of God, these are sons of God (Romans 8:5-14, NKJV).
(PRAYER) – "Father God I repent for all the times I believed I was hearing 'You' instead of discerning I was hearing from my own flesh.  I repent for the times I have discerned incorrectly out of the desires of my own heart instead of Your desires and Your will and purpose for myself and others.  I am also sorry for the times that I have assumed that You wanted me to do something a certain way without seeking Your way and direction first. I pray that You would put to death 'my flesh' by Your Holy Spirit working in my spirit. I pray that You would give me the greatest discernment to know Your voice and direction each and every time You speak to me.  Please show me always when it is the work of the flesh or a deceiving spirit in operation working through me instead of Your Holy Spirit. If I have given words from You to anyone and included false words that were not from You I repent and ask that You would put them right. I ask that when You speak that You would give me that 'You know that you know that you know' deep sense of peace and security. I ask also that You would remind me to ask if the word is a now word or if I am meant to hang on to it for a later time. If something is not right with the word I have received I ask that Your Holy Spirit would give me a strong check in my spirit to show me that something is not quite right so I can seek You and enable You to correct if necessary. I am sorry if I have at any time ignored a 'check' given from the Holy Spirit. Thank You Holy Spirit for the discernment You give to me.
In Jesus name, Amen."
By Tania Francis