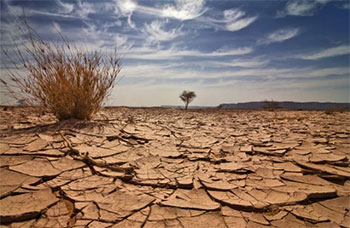 Curse Of Barrenness
Barrenness is a curse and was operating in my life until the Lord showed me how to break it.  
Barren - Not producing results, infertile, fruitless.  Barren is simply lack of blessing. We can be barren in our wombs, health, our heart, our homes, finances and lives. 
If you are not walking in the fullness of the blessings of God in all things, it could be because of a curse of barrenness. The curse of Barrenness seems to run in families, sometimes in the same areas or different areas but still the same curse.  Barrenness can enter through many doorways, as it is walking contrary to the ways of God that generate lack of blessing in our lives. In my case Freemasonry was one of those avenues. Freemasonry was prevalent in my ancestry which paved the way for desolation and destruction to enter. Rebellion and disobedience in my life enabled it to become deeper entrenched, usually through ways of enticement which simply added more curses into the mix. Rejection was then introduced.  Rejection can be rejection directly towards you from others, or your own rejection towards Jesus, or others.  Rejection brings in lack of trust towards God and others. We can build walls of protection around our hearts, in the false belief it will protect us. If we have had rejection from our parents, it can bring in the orphan spirit. Grief usually starts to manifest and can also be locked and hidden away within our wounded souls. Pride can also come in also as a result of rejection.  Pride can be rooted in an inferiority complex. Perfectionism and striving for approval is usually what happens next.  Unworthiness and condemnation start to set in, because in our own strength we cannot attain to perfection.  This sets the stage for complaining and self destruction.  Self destruction brings in the spirit of infirmity as we speak curse upon curse over ourselves. Barrenness seems to build upon each area until it becomes so entrenched it becomes a stronghold. We have put together many prayers that deal with areas in our souls and lives that are creating blockages from receiving all that God has for us. Using the many prayers provided on the Self Deliverance page will enable you to break many curses of desolation that may be over your life. 
Prayer for breaking the Curse of Barrenness
"In the name of Jesus Christ I repent for myself and my ancestors for every area in our lives where we have walked contrary to the ways of God. I pray that You would reveal every area in my life which is barren and not producing good fruit so I can repent and turn away from this and walk right into the blessings that Jesus attained for me.
I break the curse of barrenness from my life, my children's life, any grandchildren and all future descendants in Jesus name. I declare we will be fruitful and multiply in Jesus name. I declare also desolation, destruction and ruin to be broken off our lives and I command all demonic spirits associated with these things to leave in the name of Jesus Christ. I pray for the restoration of all things that the enemy stole from me and my family and ask Father God that You would help us to retrieve everything! I claim back everything that was stolen from us. I hand it to You to filter through the blood of Christ and accept back only that which is washed and ordained by the Father, Son and Holy Spirit. I release blessings and pray for the Heavens to open up and pour out these blessings on me and my family in Jesus name. I declare Isaiah 54 over my life:~
"Sing, O barren,
You who have not borne!
Break forth into singing, and cry aloud,
You who have not labored with child!
For more are the children of the desolate
Than the children of the married woman," says the Lord.
"Enlarge the place of your tent,
And let them stretch out the curtains of your dwellings;
Do not spare;
Lengthen your cords,
And strengthen your stakes.
For you shall expand to the right and to the left,
And your descendants will inherit the nations,
And make the desolate cities inhabited.
 "Do not fear, for you will not be ashamed;
Neither be disgraced, for you will not be put to shame;
For you will forget the shame of your youth,
And will not remember the reproach of your widowhood anymore.
For your Maker is your husband,
The Lord of hosts is His name;
And your Redeemer is the Holy One of Israel;
He is called the God of the whole earth.
For the Lord has called you
Like a woman forsaken and grieved in spirit,
Like a youthful wife when you were refused,"
Says your God.
"For a mere moment I have forsaken you,
But with great mercies I will gather you.
With a little wrath I hid My face from you for a moment;
But with everlasting kindness I will have mercy on you,"
Says the Lord, your Redeemer.
"For this is like the waters of Noah to Me;
For as I have sworn
That the waters of Noah would no longer cover the earth,
So have I sworn
That I would not be angry with you, nor rebuke you.
For the mountains shall depart
And the hills be removed,
But My kindness shall not depart from you,
Nor shall My covenant of peace be removed,"
Says the Lord, who has mercy on you.
"O you afflicted one,
Tossed with tempest, and not comforted,
Behold, I will lay your stones with colorful gems,
And lay your foundations with sapphires.
I will make your pinnacles of rubies,
Your gates of crystal,
And all your walls of precious stones.
All your children shall be taught by the Lord,
And great shall be the peace of your children.
In righteousness you shall be established;
You shall be far from oppression, for you shall not fear;
And from terror, for it shall not come near you.
Indeed they shall surely assemble, but not because of Me.
Whoever assembles against you shall fall for your sake.
"Behold, I have created the blacksmith
Who blows the coals in the fire,
Who brings forth an instrument for his work;
And I have created the spoiler to destroy.
No weapon formed against you shall prosper,
And every tongue which rises against you in judgment
You shall condemn.
This is the heritage of the servants of the Lord,
And their righteousness is from Me,"
Says the Lord.
******After verbally doing the prayers sometimes a series of circumstances need to be outworked before freedom and blessings can come.  Sometimes when one prays, the result can be immediate, but more often than not, it needs to be outworked through a series of trials and tribulations.

Cursed Womb
There are many different reasons for the womb being cursed. The Lord revealed that there was a curse over my womb and then showed me how to break it. I had been having heavy duty irregular bleeding over the course of three years – at times debilitating.  He revealed there was an unclean spirit involved due to cannibalism in my generational bloodline.  Through revelation from the Holy Spirit there had been abortions in my bloodline, as well as ancestors who deliberately became pregnant to sacrifice the children to other gods and then ate them (including the placentas). He then showed me that another reason I and many woman have a cursed womb is because of the reference to the monthly period as a curse. I have heard many a person refer to it as a 'curse'. This is what the Holy Spirit spoke to me; "Periods are the body's way of cleansing itself. It is a natural process. A woman was unclean when she was menstruating because her impurities were been cleansed from her very being. The uncleanness was the impurities, not the act of menstruation. All things start as babies, grow into adulthood, mature, ripen and age, ending with death. This is nature's biological clock. The body naturally slows with age. The period is nature's way of aiding in the regeneration process. This regeneration process slows down in old age. Menstruation will cease as a natural part of this process, as the cells regeneration process slows down. The period is part of the life-cycle of mankind. It is natural. It is God's way of multiplication. The period is part of God's plan. It is not a curse. It a gift from God in order to procreate, and for all woman to be physically cleansed from a build-up of old cells due to the regeneration process. This was to keep the uterus healthy in order to conceive children. To be called a curse is an insult to God who created it for a blessing.
Barrenness is a curse over one's life that yields unproductiveness and is an open door to bring destruction and desolation to all areas of your life. Everything that is born from the cursed womb will carry the curse of barrenness". 
After receiving these revelations I was emailed by a lady who had suffered multiple miscarriages and unable to carry full term.  She was pregnant when she emailed and was terrified of losing this baby.  The Lord revealed to me that her ancestors had sacrificed babies to other gods and repentance was needed.  I emailed her a prayer and many months later she emailed me photos of her healthy baby boy. 

(PRAYER) - "Father God I repent on behalf of my bloodline for all abortions.  I repent also for the sacrifices of babies and children to Molech and other gods.  I repent for all the people in my bloodline who deliberately used their wombs for the use of becoming impregnated for the purpose of baby sacrifice. I repent for the partaking of eating human flesh including placentas which is cannibalism. I repent for all reference to the monthly period as a curse. I repent for defiling the womb by partaking in sexual sin and I repent for all sexual acts whilst menstruating. I repent for any blame and unforgiveness toward You when there were miscarriages and deaths of children.  I break every curse that has been put upon my womb to never bear children in Jesus name.  I forgive all those who have cursed my womb and bless them. Thank You Father for the blessing of the womb which you gave to all women as a gift to all mankind in order to procreate. I break the curse of barrenness of my womb and off the womb of all women in my bloodline. I break the curse of barrenness from all those who were born from the cursed wombs in my bloodline.  I bless all those who were born from cursed wombs and declare fertility, fruitfulness, and productiveness in all areas of their lives in Jesus name. Every disease, unclean spirit, and imbalance that affects the entire reproductive system of all men and woman in my bloodline I now command to leave in Jesus name.  I pray for cleansing, blessings and restoration of the reproductive organs of all those within my family bloodline in Jesus name.  I now declare and decree a blessing over my womb and declare that it will bear fruit in Jesus name. I command the spirit of death to leave my womb and every baby that has been and will be birthed from my womb in Jesus name. Thank You Lord Jesus, Amen."
By Tania Francis