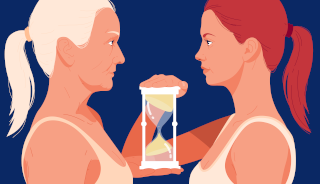 Curse of Old Age
As I write this I am 49 years old.  Since I have entered into menopause I have noticed many things related to old age deterioration starting to appear.  To be honest there are times I physically feel as though I am in my 90's due to the harshness of some of my symptoms. Mark and I quite often discuss the things that are beginning to break down in us and to say 'it is not fun growing old' is an understatement!
Recently a friend of mine rang me and told me that she had been praying for me and for my health issues when God showed her a vision of me and behind me was an old lady speaking toxic words over me and laughing at my symptoms. She had no idea what it meant and neither did I.  Today I received a revelation on what this all meant, and I will write exactly how it came to me.  Following is what I believe the Holy Spirit spoke to me ~ "The curse of old age and deterioration began at the fall of Adam and Eve.  Before the fall man and woman ate from the tree of life (Genesis 2:9, 16-17).  The curse of old age and deterioration was not so at the beginning.  Adam and Eve did not reap death and destruction in their physical bodies before the fall.  This curse is not taken away from man and woman until Jesus returns and you receive your new resurrection bodies.  This represents the finished work by Jesus on the cross.  Although He defeated death at the cross it isn't fully appropriated in you until His return. And there shall be no more curse: but the throne of God and of the Lamb shall be in it; and his servants shall serve him: And they shall see his face; and his name shall be in their foreheads (Revelations 22:3-4, KJV).
For He must reign till He has put all enemies under His feet. The last enemy that will be destroyed is death (1 Corinthians 15:25-26, NKJV). What does this mean then – that you are destined to live a life of destruction in your physical body until His return? Absolutely not! Jesus came so that you would have life in abundance.  His life in you gives power to that which is dying.  When you die to the old man who is fleshly and carnal, the new man rises up. If so be that ye have heard him, and have been taught by him, as the truth is in Jesus: That ye put off concerning the former conversation the old man, which is corrupt according to the deceitful lusts; And be renewed in the spirit of your mind; And that ye put on the new man, which after God is created in righteousness and true holiness (Ephesians 4:21-24, KJV). The inner man is strong, healthy and full of vitality and resurrection life. That he would grant you, according to the riches of his glory, to be strengthened with might by his Spirit in the inner man; That Christ may dwell in your hearts by faith; that ye, being rooted and grounded in love, May be able to comprehend with all saints what is the breadth, and length, and depth, and height; And to know the love of Christ, which passeth knowledge, that ye might be filled with all the fullness of God (Ephesians 3:16-19, KJV). The renewal of the inner man (your soul) means new life flows through you, into your blood and through your physical body.  The life of Jesus flowing through you cancels or negates the curse of death that is over you.  It begins when you are born-again.  The spirit of man (which is renewed and born-again with the life of Christ) feeds the soul with new life, which in turn then feeds the physical body. If there are blockages within the soul, and genetic corruption in the blood it prevents the physical body receiving all that new life.  The blockages and corruption needs to be removed. Removing these things enables the soul and blood to receive the fullness of the new life flowing from the spirit which in turn allows the physical body (when all sin has been remitted by His Blood) to also receive the fullness and nourishment it needs. Does this mean you will stop growing old? No – but you will have no weakness in your physical body. Your inner man being renewed gives you the mind of Christ.
And be not conformed to this world: but be ye transformed by the renewing of your mind, that ye may prove what is that good, and acceptable, and perfect, will of God (Romans 12:2, KJV). Your transformed inner man gives life to your physical flesh. Although your outer physical body still grows old it will no longer fail.  Old age disease and destruction is halted.  The old lady that your friend saw over you was 'the old you' (the old man) bound by this curse of death and destruction. The old lady was you – the old you who still carries the curse of death and destruction in her flesh that came from the curse of the fall. You can put to death that old lady and raise her in newness of life. How does this happen? Just as there are alters (which are fragmented parts of your soul that are caused through sin and trauma that need healing such as 'baby you', 'little girl you' etc.) there is also an 'old lady you' or an 'old man you' in everyone, which is caused by the curse of the fall that needs healing. 'Old lady you' remembers." (God once taught me that the memory of all sin is imprinted in your DNA causing blockages until it is healed. Sin in your genetic code causes corrupted or faulty genes which needs to be healed. DNA is our unique genetic code. Many diseases or sickness we see are caused by corruption in the DNA.  This corrupted DNA and genetic anomalies get passed on through our bloodline from generation to generation. Science shows us things like cancer being caused through a faulty gene. Until we have died to our old selves' and crucified the flesh, sin (past and present) still resides in us due to the corruption in our DNA. Only the Blood of Jesus can remit the sin and heal the corrupt DNA.)
He continued, "How is the 'old lady you' healed?  Through the renewing of the soul. Beloved, I pray that in every way you may succeed and prosper and be in good health [physically], just as [I know] your soul prospers [spiritually] (3 John 2, AMP). This is My gift to all of mankind.  To prosper in spirit, soul and body.  When the soul is renewed, the life I give to you flows through to your physical body. The old lady can be healed by the new life flowing through to her physical body. To receive the fullness of My life, all one has to do is die – the old you has to die to then be raised up in newness of life - whether that be a physical death where one departs this world and comes home to Me – whole, healed and delivered, or through the dying to self-process where you are raised in newness of life. For if the dead rise not, then is not Christ raised: And if Christ be not raised, your faith is vain; ye are yet in your sins. Then they also which are fallen asleep in Christ are perished. If in this life only we have hope in Christ, we are of all men most miserable. But now is Christ risen from the dead, and become the firstfruits of them that slept. For since by man came death, by man came also the resurrection of the dead. For as in Adam all die, even so in Christ shall all be made alive (1 Corinthians 15:16-22, KJV). The curse of death and destruction from the fall is not taken away from creation until My return but until then there needs to be no weakness in your flesh.  You can be strong in spirit, soul and body when raised in newness of life.  Many of My children lived well into their hundreds but as each generation became more wicked the lifespan of man shortened. As man entered into more sin the corruption in the genes became greater. More sickness ensued. Sin is a blockage to My life flowing through each part of you.  These blockages need to be removed.  I can also reverse the curse of death and destruction until Jesus returns. This means I can halt it in its tracks.  It will hold no power over you. And they overcame him by the blood of the Lamb, and by the word of their testimony; and they loved not their lives unto the death (Revelation 12:11, KJV). The old lady cannot be empowered by My life until you die to your old self and become born-again in your soul into the new lady.  Only through death can it be broken."
I am crucified with Christ: nevertheless I live; yet not I, but Christ liveth in me: and the life which I now live in the flesh I live by the faith of the Son of God, who loved me, and gave himself for me (Galatians 2:20, KJV).
Know ye not, that so many of us as were baptized into Jesus Christ were baptized into his death? Therefore we are buried with him by baptism into death: that like as Christ was raised up from the dead by the glory of the Father, even so we also should walk in newness of life. For if we have been planted together in the likeness of his death, we shall be also in the likeness of his resurrection: Knowing this, that our old man is crucified with him, that the body of sin might be destroyed, that henceforth we should not serve sin. For he that is dead is freed from sin. Now if we be dead with Christ, we believe that we shall also live with him: Knowing that Christ being raised from the dead dieth no more; death hath no more dominion over him. For in that he died, he died unto sin once: but in that he liveth, he liveth unto God. Likewise reckon ye also yourselves to be dead indeed unto sin, but alive unto God through Jesus Christ our Lord (Romans 6:3-11, KJV).
I then asked God why the old lady that my friend saw was speaking toxic words over me and laughing at my symptoms if it was 'old lady me'? He replied, "The venomous words the 'old lady you' was speaking over you represents the devastation and destruction of your soul and body from the curse. She is bound by the curse and as a result can't help but speak curses and words of death over you. This can also appear in the natural and comes from your own mouth. How many times have you yourself uttered words of old age, deterioration and death over yourself? The DNA remembers.  The curse is intertwined within your genetic inheritance and is a blockage to My life flowing through you. My blood remits the sin and heals the corruption in your genetic code. No more sin equals no more faulty gene causing the sickness. The blockage from the curse from Adam and Eve is removed when you let go of your life and enter into Mine. He who finds his life will lose it, and he who loses his life for My sake will find it (Matthew 10:39, NKJV). You have to die to your old self in order for the old lady to be healed. It is now time to break the curse from the old lady and enter into My life. I want for you to start speaking healing and life into the old lady."
After I wrote this it then hit me – the 'Old lady me' (who is the old man) is antichrist. Romans 6:6 tells us that the 'old man' is the body of sin.  The antiChrist is called the 'man of sin', 'son of perdition'.  Perdition means destruction.  The sin opens the door to destruction.  We have to die to sin. The soul wars against the born-again spirit until it is cleansed, delivered and healed.  It is a process and part of our walk of sanctification to become new in spirit, soul and body!
(PRAYER) – "Father God in Jesus name I forgive Adam and Eve for the curse that caused death and destruction over me. I repent for any negative words that I spoke in agreement with the old lady (or old man) over myself and break them in Jesus name.  I speak to 'old lady me'(or old man me') and I tell you that the power of this curse is broken over you in Jesus name. The curse of death and destruction is broken over my life through the power of the death and resurrection of Jesus Christ. I speak the resurrection life of Christ into me and declare, 'As the old me dies', the new me will rise up in the resurrection power of Christ flowing through me'. I declare that I will live and not die and declare the works of the Lord (Psalm 118:17). The dunamis power of the life of Christ within me gives life, vitality, strength, health and wellness to every part of me. I pray for the Blood of Jesus to remit the sin and heal the corruption in my DNA. 'Old lady me' (or 'old man me') you hold no power over me and I declare that you are healed in Jesus name. I put on the new lady me (or new man me) and declare that this lady (or man) is created in righteousness and true holiness, Amen."
By Tania Francis