Menopause Prayer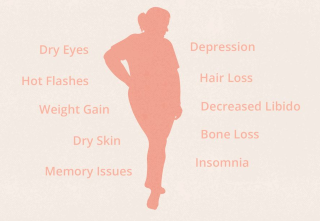 I have written many articles about how difficult the menopause process has been for me.  Recently I was ministering to someone who was suffering low estrogen side effects and I received some information and a prayer for her to pray as I was seeking God on how to minister. The Lord then asked me to add this prayer to our website.
This is what I received from Him, "Healing for the soul.  You are spirit, soul and body.  You won't receive your new bodies until I return but brokenness in the soul cause sickness in the body.  Healing of the soul can 'heal' so much of the physical body.  The spirit, soul and body works in unison.  If 'one' is out it affects the flow.  Your spirit is born-again when you accept Me as your Lord and Saviour and receive My Holy Spirit.  You may also experience some healing in the soul and physical body upon this, but the rest of the soul gets healed as you yield and walk in partnership with Me. My life for your life – the exchange at the cross. 
Menopause symptoms which are caused by loss of estrogen and progesterone is part of the curse of the fall (aging process).  One may have to turn to man-made methods for alleviation.  Is this wrong? No, but there is a better way.  Menopause is part of the destruction of the human body but this does not mean that I cannot alleviate the effects. Menopause refers to the stage in a woman's life when her reproductive system ceases to function, resulting in the cessation of menstrual cycles and the inability to reproduce. This does not mean that a woman should cease producing low levels of these hormones. The high levels are no longer needed but Gods perfect design means that you should be producing enough hormones to maintain the body but not enough to maintain periods or reproduce.  In menopause part of the curse of destruction over mankind means your body can no longer produce enough of these hormones for good health and many woman because of stress and anxiety may cease all production and have nil levels.  The ovaries should still produce low levels as well as the adrenals but the curse of the fall means that many woman are unable to.  I can turn that around. It shouldn't have to be this way!
Menopause – loss of estrogen and progesterone – your sex hormones.  Young girls before puberty do not need high levels of these hormones so why do you?  Withdrawal – the body becomes used to the high levels of these hormones and when production diminishes side effects occur. Pray against the side effects from the cessation of higher levels and command the body to produce enough sex hormones to adequately maintain the body for good health."
(PRAYER) – "In the name of Jesus thank You Father God for the reproductive years.  I bless all areas of my reproductive system, including my ovaries, uterus, vagina, fallopian tubes, and cervix in Jesus name.  Father God I am now of an age where reproduction and periods stop.  I no longer need high levels of sex hormones so I command the reproductive system to cease its production of high hormone levels in Jesus name. I break all side effects that comes with the withdrawal of these high levels of hormones in Jesus name. I break off all ill effects caused by any use of hormonal supplements in Jesus name. I speak to the ovaries and adrenal glands and command you to produce only those hormones and sex hormones which are needed to adequately maintain my body for good health in Jesus name. All hormones stored in fat cells I command you to come into divine order and store and release as needed. I speak to the uterus and command the lining to not become thick to cause bleeding, endometrial hyperplasia or cancer in Jesus name.  In the name of Jesus, I bless my breasts and command my breasts to be shielded from any cancer-causing agents and any other harmful substances in Jesus name. I speak to the adrenals, nervous system, thyroid, hypothalamus, pituitary gland, hormonal messengers, metabolites, cells, RNA and DNA and command you to come into divine order in Jesus name.  I command the spirit of menopause who worsens the natural process of menopause to depart in the name of Jesus. I break off the curse of the fall and command death and destruction as well as any cancer causing agent to leave my body in Jesus name. All effects from menopause I now break off and declare an equilibrium in my body in Jesus name. Thank You Father God, Amen."
By Tania Francis