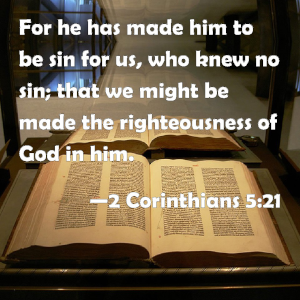 Are We Still Sinners?
I have come across certain teachings on how we are no longer sinners because God put our sins on Christ and that we are a finished process, and no longer need to worry about sin anymore because Jesus dealt with it on the cross. This teaching really concerned me because when I was first born-again, I still struggled with all the sinful things I had before I was born-again.
We also have a Healing and Deliverance Ministry that deals with past and present sins. Part of the healing and deliverance process we take people through is to confess the sins revealed by the Holy Spirit and turn away from them. We teach people to avoid sinful practices because of the reaping and sowing effect which is still in place. Be not deceived; God is not mocked: for whatsoever a man soweth, that shall he also reap (Galatians 6:7, KJV). It did however get me to thinking 'Why do we still have sin in us when God put our sins on Christ'?  I asked God this very question and the first thing He brought to my attention is that He put the sins of the whole world on Christ.  If it means that He physically removed the whole worlds sin from every person and put them onto Christ and they are no longer with us, then that would mean the whole world was free from sin (which clearly it is not).  One could then say that the moment you believe this and accept Jesus as your Lord and Saviour it is actioned, and the sins are then removed from you.  This clearly is not true either as Paul (a believer in Christ) in Romans 7 and 8 shows us that he was still battling the sins within him.  He referred to this sinful nature as 'the old man' and emphasised a putting off of the old man and putting on of the new. This shows that even though we are a new creation there is an old sinful nature and still a process to put to death the old you.
The word of God also confirms that we still have sin in us. If we say that we have no sin, we deceive ourselves, and the truth is not in us. If we confess our sins, he is faithful and just to forgive us our sins, and to cleanse us from all unrighteousness. If we say that we have not sinned, we make him a liar, and his word is not in us (1 John 1:8-10, KJV).
Another thing He brought to my attention was the world iniquity. All we like sheep have gone astray; we have turned everyone to his own way; and the LORD hath laid on him the iniquity of us all (Isaiah 53:6, KJV). I took this Scripture back to the original Hebrew words and the word for 'iniquity' in the verse was 'avon which means fault, guilt, blame, punishment and consequence of iniquity. This means He put the punishment and consequence for the whole worlds' sins on Christ. He bore our sins in His body so that we no longer experience the punishment and wrath from God for our sins.  Jesus took away the 'curse of the law' which is the punishment system for sin. We no longer have separation from God and have an eternal life in Heaven with God because of the sacrifice that Jesus made which covers our sins.  The key word here is covers. Blessed is he whose transgression is forgiven, whose sin is covered (Psalm 32:1, KJV). The word in Hebrew for covered is Kāsâ and means to hide, conceal. When God put our sins on Jesus it meant that they were hidden and concealed so those sins no longer separated us from God. 
The thought still bothered me though, 'Our sins were put on Christ but yet we are still actively walking in many of them'.  How did they get from being put on Christ to being back in us?  What was I missing?  I knew it wasn't new sin – my old sinful nature hadn't changed.  I was still the same me struggling with the same things even though my spirit was 100% born-again. I received the answer to this question when one day I came across this Scripture.  Always carrying about in the body the dying of the Lord Jesus, that the life of Jesus also may be manifested in our body (2 Corinthians 4:10 NKJV). 
What was on Jesus when He died? Our sins. If we are carrying in our bodies His dying body where are our sins? On Him, within us! When we accept Christ, we accept His dying body and His resurrection body. He died with our sins on His body. He died for our transgressions. We carry in our bodies the dying of the Lord Jesus. The power that rose Jesus from the dead is also in us. When you ask Jesus into your hearts the same Spirit that lived in Him now lives in us. We carry in our bodies the resurrection of the Lord Jesus. That is why we have to die with Christ to be raised in glory with Him. We have to die to our sins, our old ways and the world. To open their eyes, and to turn them from darkness to light, and from the power of Satan unto God, that they may receive forgiveness of sins, and inheritance among them which are sanctified by faith that is in me (Acts 26:18, KJV).  We die with Christ.  What caused His death?  Our sins.  What do we need to die from? Our sins. If Christ lives in you, though your [natural] body is dead because of sin, your spirit is alive because of righteousness [which He provides] (Romans 8:10 AMP).  This Scripture shows us that if Christ is in us, then sin is in us too, but our body is dead to that sin, because it no longer rules us. Knowing this, that our old man was crucified with Him, that the body of sin might be done away with, that we should no longer be slaves of sin (Romans 6:6, NKJV).

Repent means to truly turn away from those things that are of the flesh and turn to Christ and His ways. As we turn away from those things the Blood of Christ remits the sin and healing, and renewal takes place in our souls and physical bodies.
Jesus paid the price for your freedom so sin no longer has rule over you. Although sin is still in us, it no longer carries the same power. God, through the Holy Spirit does a working through process of cleansing us and removing those carnal things from us. And the very God of peace sanctify you wholly; and I pray God your whole spirit and soul and body be preserved blameless unto the coming of our Lord Jesus Christ (1 Thessalonians 5:23, KJV). The word sanctify in this passage in Greek is Hagiazo.  The word sanctified in Greek is also Hagiazo and means 1) to render or acknowledge, or to be venerable or hallow 2) to separate from profane things and dedicate to God 2a) consecrate things to God 2b) dedicate people to God 3) to purify 3a) to cleanse externally 3b) to purify by expiation: free from the guilt of sin 3c) to purify internally by renewing of the soul. 
In the Scripture above Paul is saying that our whole spirit, soul and body needs to be separated from profane things and freed from the guilt of sin – all three parts of us.  The soul (heart) is the part of us that is still carnal and needs to be crucified.  The spirit which contains the Holy Spirit is the born-again part of us that contains no sin.
Gods Grace gives us eternal life though faith.  Nothing we can do in the way of works earns our reward of eternal life in Heaven.  Jesus paid the price. We become heirs of God and receive the Kingdom inheritance.  God wants for us to bring our Kingdom inheritance to earth and have it manifest in our earthly bodies. The Lords Prayer says 'Your Kingdom come on earth as it is in Heaven'. As we lay down those fleshly things here on earth we bring Heaven to earth.  Whatever is bound on earth is bound in Heaven.  Whatever is loosed on earth is loosed in Heaven (Matthew 18:18). When we let go of the things in our lives that bind us, then our inheritance is no longer bound in Heaven.  It is loosed. Grace is not only Gods free gift of eternal life, it is also His empowering strength to enable us to turn from those things so we can inherit the Kingdom here on earth. Christ did not die so we could use His grace to continue in our old ways.  Christ died to give us new life - a new way of living.  We need to pick up our cross and follow Him.  We need to put to death the old man and put on the new. Our sins were put on Him, and then we carry in our body the dying of the Lord Jesus Christ and together You and Him work together to crucify the flesh and remove those sins once and for all. Therefore, my beloved, as you have always obeyed, not as in my presence only, but now much more in my absence, work out your own salvation with fear and trembling; for it is God who works in you both to will and to do for His good pleasure (Philippians 2:12-13, NKJV).
"Let us draw near with a true heart in full assurance of faith, having our hearts sprinkled from an evil conscience, and our bodies washed with pure water" (Hebrews 10:22, KJV).

Being confident of this very thing, that he which hath begun a good work in you will perform it until the day of Jesus Christ (Philippians 1:6, KJV).
He personally carried our sins in His body on the cross [willingly offering Himself on it, as on an altar of sacrifice], so that we might die to sin [becoming immune from the penalty and power of sin] and live for righteousness; for by His wounds you [who believe] have been healed (1 Peter 2:24, AMP).
Jesus took the penalty for our sins which was punishment.  We no longer are punished for our sins. Jesus took away the fear of punishment so sin no longer has power over us. We are righteous.  We have on His righteousness and His righteousness is an empowering strength to crucify the flesh.
As far as the east is from the west, So far has He removed our transgressions from us (Psalm 103:12, NKJV).
And for this reason He is the Mediator of the new covenant, by means of death, for the redemption of the transgressions under the first covenant, that those who are called may receive the promise of the eternal inheritance (Hebrews 9:15, NKJV).
Under the first covenant those who broke (transgressed) the law were judged guilty and received punishment.  They were separated from God and received the death penalty. Under the new covenant the curse of the law was removed. He has removed our transgressions.  Sin can no longer separate you from God nor render you the death penalty.  You are no longer guilty. Your sins are covered and you are justified (made right with God) through Christ.
Why do we have to remove sin then?  It is a blockage to you walking in the new life. Sin blocks you from receiving all God has for you. The word tells us that we reap what we sow.  Do not be deceived, God is not mocked; for whatever a man sows, that he will also reap. For he who sows to his flesh will of the flesh reap corruption, but he who sows to the Spirit will of the Spirit reap everlasting life. And let us not grow weary while doing good, for in due season we shall reap if we do not lose heart. Therefore, as we have opportunity, let us do good to all, especially to those who are of the household of faith (Galatians 6:7-10, NKJV).
It is for your benefit that God wants to remove it from you.  He wants to see you walking in abundance, blessings and prosperity here on earth, as it is in Heaven.
By Tania Francis