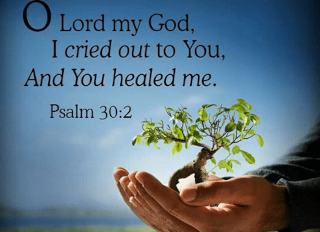 Infirmity
Surely He has borne our griefs, and carried our sorrows; yet we esteemed Him stricken, Smitten by God, and afflicted. But He was wounded for our transgressions, He was bruised for our iniquities; the chastisement for our peace was upon Him, and by His stripes we are healed (Isaiah 53:4-5, NKJV). There is a debate amongst the Christian circles as to whether Christ's death included healing for us from sickness.  The above Scripture in Isaiah 53:4-5 many claim simply means for our salvation. The word griefs in Isaiah 53:4 in Hebrew is Choliy and means sickness, disease, grief. This shows us clearly that part of our promise in Christ is to receive healing from sickness and disease!
From a human perspective there may be no hope, but where there is God, there is hope! God once told me a few years ago - 'Everyone is healed, they just need to walk in it'. Not understanding what this meant I asked God. I received a revelation which made me understand fully, so now I am able to walk in it. Firstly God showed me that healing begins within, and then the external manifestations follow. Beloved, I pray that you may prosper in all things and be in health, just as your soul prospers (3 John 2, NKJV).


A merry heart does good, like medicine, But a broken spirit dries the bones (Proverbs 17:22, NKJV). When the soul is broken and wounded it reflects directly what is going on by manifesting as physical infirmities in our body. When our soul is healed the physical body receives healing also. I believe that God wants to heal our souls and physical bodies in unison. Many of our illnesses are rooted in unforgiveness, hurt, rejection, and grief and so on. When God revealed to me that physical healing comes when our souls are healed I believed Him and yielded my heart and soul to Him by declaring my body was a living sacrifice for His will and purposes. I allowed Him to work on my soul wounds which in turn created this Ministry. God then went on to show me how faith works miracles. Faith is the ability to see beyond. It is believing the unseen. God showed me a way in which to have faith in healings. He began by showing me again that everyone is healed; they just need to walk in it. What this means is, you walk in the belief that you are healed by declaring what Jesus has done for you.  When I had received prayer from someone they would tell me to claim it by saying 'I am healed'.  I really struggled with this when I could still see the infirmity manifesting itself in the natural. Claiming I was healed when I wasn't, I really felt that I was lying. I didn't believe in my heart that I was healed because I could clearly see I had not yet received it. How could I walk in the belief that I was healed when I could clearly see I was not.
God one day spoke this to me - "How does Jesus heal you? By His stripes of course!" God began by showing me that the wounds (stripes) on Jesus' body represented the wounds in our souls and physical bodies. It was our sin and shame that was laid on His body. Wounds in our souls are formed from sin. The wounds were on the flesh of Jesus. The wounds are also on the flesh of man.  The flesh is the physical body and carnal nature of man (mind, will, evil conscience and emotions). The stripes represent brokenness, suffering and pain. God asked me if I could believe that the stripes on Jesus body were so all mankind could be healed. I told Him "Of course I truly do believe that". He told me that was faith. I believed with no doubt that the stripes on Jesus' body represented my sin and that 'By His stripes I am healed'. God showed me that this was my faith ticket. By claiming this I am walking in the belief that I am healed because I am declaring it over my flesh. By declaring each day that 'By His stripes I am healed' I am speaking to my flesh, I am declaring to my flesh that it must bow down to the name of Jesus! No ifs, no buts, it has to! Declaring you are 'healed by His stripes' and proclaiming it over your flesh is taking authority over your flesh because you believe what the word of God says. You are speaking by the power and authority of Jesus Christ. You are speaking truth and fact. If you are just confessing 'I am healed' it doesn't carry the same power as the confession 'By His stripes I am healed because it is the actual stripes that carry the power. The declaration of 'By His stripes I am healed' is simply stating a fact, a truth.  It has power!
For me personally it has taken a long time for healing to come as I allowed God access to my soul wounds.  God reminded me that we must partake of His suffering.  If His stripes represented brokenness, pain and suffering I would have to partake of this too. We are to take up our crosses and be crucified with Him (Matthew 16:24 and Galatians 2:20). Whilst waiting for my healing God reminded me that 'After you have suffered a while you will receive the promise' (1 Peter 5:10). I believe that I will walk in total health as my wounds in my soul are healed, especially when I tell my flesh that 'By His stripes I am healed'.

(PRAYER) - "Dear God in Jesus name I repent for lack of faith in Your ability to heal. I firstly express my gratitude, thanks and blessings towards all people, including medical professionals for their help in my sufferings.  I forgive them for the times they have spoken negative words into my circumstances. I repent for all the times I accepted or proclaimed any illness thinking I had that illness when I didn't. I believe that Jesus took my sins and bore them on His body on a tree. I believe that by His stripes I am healed. I believe that as you heal the wounds in my soul, the physical manifestations will follow. I speak to my flesh and declare 'By His stripes I am healed'.  I break all holds, curses and destructive words operating at the root and command all infirmity including (name all illnesses and sicknesses) to leave in the name of Jesus Christ.  I receive healing by the stripes Jesus bore on His body.  Thank You Jesus that You took my sin and shame so that I could be healed.  I claim and receive my healing by faith in Jesus name. Psalm 118:17, NKJV 'I shall not die, but live and declare the works of the Lord'.

 1 Peter 2:24, NKJV 'Who Himself, bore our sins in His own body on the tree, that we, being died to sins, might live unto righteousness - by Whose stripes you are healed'.

Matthew 8:17, NKJV 'That it might be fulfilled which was spoken by Isaiah the Prophet, saying, "He Himself, took our infirmities and bore our sickness'.

Roman 4:17, NKJV 'God who gives life to the dead and call those things which do not exist as though they did.'

Mark 11:24, NKJV 'Therefore I say to you, whatever things you ask when you pray, believe that you receive them, and you will have them'.

Philippians 2:9-11, NKJV "Therefore God has highly exalted Him and given Him the name which is above every name. That at the name of Jesus every knee must bow, of those in Heaven, and of those on earth, and of those under the earth, and that every tongue will confess that Jesus Christ is Lord to the glory of God the Father.  Every disease, every infirmity, every problem has to submit itself to the name of Jesus. And every tongue will confess that Jesus Christ is Lord to the glory of God the Father'. I demand (name of disease) to bow down to the name of Jesus". 2 Corinthians 5:17, NKJV "Therefore, if anyone is in Christ, he is a new creation".  "I call forth a new (name of body part)".

By Tania Francis