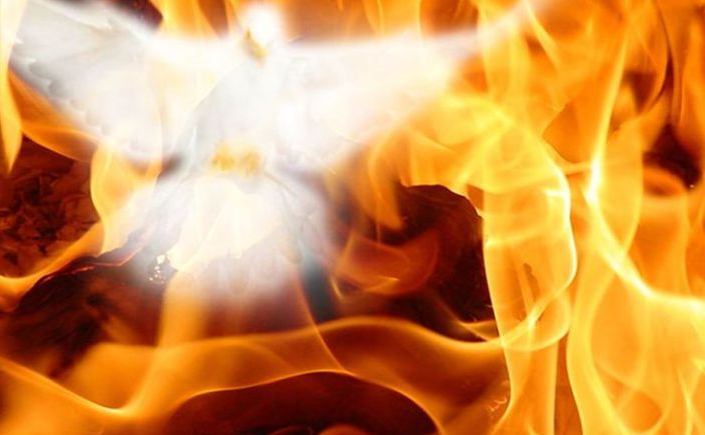 Baptised in Spirit and Fire - Second Infilling of the Holy Spirit
For many years the Lord had been talking to me about the second infilling of His Holy Spirit.  Up until this point I had never fully understood it and had written what I learned from Him and what was in Scripture. The Bible shows us that God wants to sanctify and make whole our spirit, our soul (heart) and physical body – all three parts. Now may the God of peace Himself sanctify you completely; and may your whole spirit, soul, and body be preserved blameless at the coming of our Lord Jesus Christ (1 Thessalonians 5:23, NKJV). This means all three parts of us have to be sanctified and made new into the likeness of Him. This takes time which is contrary to the belief of many who believe that when we first receive Jesus as our Lord and Saviour we are automatically born-again into the likeness of Him and finished. The reality is that the moment we receive Him as our Lord and Saviour this is just the beginning of our sanctification process.  There is a walk of surrender to Him of our lives that we must do before we are a finished product. Even Paul talked about how he was not yet perfected and that it is a process. Not that I have already attained, or am already perfected; but I press on, that I may lay hold of that for which Christ Jesus has also laid hold of me. Brethren, I do not count myself to have apprehended; but one thing I do, forgetting those things which are behind and reaching forward to those things which are ahead, I press toward the goal for the prize of the upward call of God in Christ Jesus (Philippians 3:12-14, NKJV). 
 And He Himself gave some to be apostles, some prophets, some evangelists, and some pastors and teachers, for the equipping of the saints for the work of ministry, for the edifying of the body of Christ, till we all come to the unity of the faith and of the knowledge of the Son of God, to a perfect man, to the measure of the stature of the fullness of Christ; that we should no longer be children, tossed to and fro and carried about with every wind of doctrine, by the trickery of men, in the cunning craftiness of deceitful plotting, but, speaking the truth in love, may grow up in all things into Him who is the head—Christ from whom the whole body, joined and knit together by what every joint supplies, according to the effective working by which every part does its share, causes growth of the body for the edifying of itself in love (Ephesians 4:11-18, NKJV).
But we all, with unveiled face, beholding as in a mirror the glory of the Lord, are being transformed into the same image from glory to glory, just as by the Spirit of the Lord (2 Corinthians 3:18, NKJV). 
When we ask Jesus to be our Lord and Saviour we are entering into His resurrection life.  We exchange our life for His resurrection life. Before we can walk in His resurrection life we first have to die to our own. Before something can be resurrected in newness of life, it first has to die. This is the dying to self-process we go through to be resurrected into the likeness of Him. It is also known as putting off the old man and putting on the new. But you have not so learned Christ, if indeed you have heard Him and have been taught by Him, as the truth is in Jesus: that you put off, concerning your former conduct, the old man which grows corrupt according to the deceitful lusts, and be renewed in the spirit of your mind, and that you put on the new man which was created according to God, in true righteousness and holiness (Ephesians 4:20-24, NKJV). The Bible also shows us that the things He uses to sanctify and resurrect us is His Spirit, water, fire and His Blood. When we first ask Jesus Christ to be our Lord and Saviour we are saved and born-again into the Kingdom of God, and the Holy Spirit enters and resides in our human spirit. It is known as being baptised in the Holy Spirit. This is the first baptism. The Spirit Himself bears witness with our spirit that we are children of God, and if children, then heirs—heirs of God and joint heirs with Christ, if indeed we suffer with Him, that we may also be glorified together (Romans 8:16-17, NKJV). Our once dormant spirit is now born-again.  The soul and physical body at this moment are not born-again.  The carnal unchanged flesh which is our soul and physical body tries to rise up and wage war against the born-again spirit. Paul talks very clearly of this struggle in Romans 8.  The Holy Spirit then starts a process of sanctifying the soul. This process is known as 'The washing of water by the word'. Husbands, love your wives, just as Christ also loved the church and gave Himself for her, that He might sanctify and cleanse her with the washing of water by the word, that He might present her to Himself a glorious church, not having spot or wrinkle or any such thing, but that she should be holy and without blemish (Ephesians 5:25-27, NKJV). 
Jesus answered, Verily, verily, I say unto thee, Except a man be born of water and of the Spirit, he cannot enter into the kingdom of God (John 3:5, KJV). The external act of water baptism is symbolic of this process and reflected when Jesus was water baptised by John and the Holy Spirit descended upon Him in a greater measure.  We are washed from our sins through repentance. This is the repentance process we go through as we turn away from our sinful nature and follow the leading of the Holy Spirit.  The water of the word washes us clean.The second baptism is His fire and happens in conjunction with the washing of water by the word. This is called the Baptism of fire and what I believe is the second infilling of the Holy Spirit. I indeed baptize you with water unto repentance, but He who is coming after me is mightier than I, whose sandals I am not worthy to carry. He will baptize you with the Holy Spirit and fire. His winnowing fan is in His hand, and He will thoroughly clean out His threshing floor, and gather His wheat into the barn; but He will burn up the chaff with unquenchable fire" (Matthew 3:11-12, NKJV). When we receive the fire we are given a double portion of His anointing.  This is depicted in Acts Chapter 2 when the disciples were in the Upper Room on the day of Pentecost when cloven tongues like 'as of fire' sat upon each of them.  We see in John 20:22 that the disciples had already experienced the first baptism of the Holy Spirit when Jesus was about to go back to the Father. And when He had said this, He breathed on them, and said to them, "Receive the Holy Spirit.  After the baptism of fire experience in the Upper Room the Apostles walked in the same power as Jesus did displaying mighty signs and wonders.  Not only this, upon their preaching there were times recorded when those who were with them also got infilled with the the Holy Spirit when they believed  (Acts 4). 
 The third part of the process is when the physical body is resurrected and born-again into the new Heavenly body. This happens when Jesus returns. Behold, I tell you a mystery: We shall not all sleep, but we shall all be changed— in a moment, in the twinkling of an eye, at the last trumpet. For the trumpet will sound, and the dead will be raised incorruptible, and we shall be changed.  For this corruptible must put on incorruption, and this mortal must put on immortality.  So when this corruptible has put on incorruption, and this mortal has put on immortality, then shall be brought to pass the saying that is written: "Death is swallowed up in victory." (1 Corinthians 15:51-54, NKJV).
For the Lord Himself will descend from heaven with a shout, with the voice of an archangel, and with the trumpet of God. And the dead in Christ will rise first. Then we who are alive and remain shall be caught up together with them in the clouds to meet the Lord in the air. And thus we shall always be with the Lord. Therefore comfort one another with these words (1 Thessalonians 4:16-18, NKJV).
Not only that, but we also who have the first-fruits of the Spirit, even we ourselves groan within ourselves, eagerly waiting for the adoption, the redemption of our body (Romans 8:23, NKJV). The word 'for the adoption' here in Greek is huiothesia and means 1) adoption, adoption as sons 1a) that relationship which God was pleased to establish between himself and the Israelites in preference to all other nations 1b) the nature and condition of the true disciples in Christ, who by receiving the Spirit of God into their souls become sons of God. 
I had been waiting in anticipation for the second infilling of the Holy Spirit for many years as the Lord had told me many years earlier that I would receive it and that in this time I would also be healed of my numerous aliments as my soul and DNA were born-again. The big question for me was when would I receive it and how would it happen?  I remember exactly the distinct moment the Holy Spirit entered my heart and started washing it with the water of His word.  It was a time I had been worshipping the Lord when He spoke these words to me:- "I am standing at the door and knocking. Before I can enter your heart you must first know Me and trust Me in order to let Me in. You would never allow in a stranger. I cannot enter ones heart without this as it would be violating free will.  The inner most sanctuary of man's (heart) is sacred – only he/she can give Me permission to enter.  I see the heart and know when it is ready.  The art of entering into your heart is twofold. Before I can enter I must first also know you and trust you.  To enter into your heart means I am giving you My heart.  I need to trust that you are ready to receive My heart. I need to trust that you will carry My heart for the benefit of man and not for self.  When I enter into your heart you will receive so much more than you could possibly believe or imagine.  Your will be transformed and made whole.  I need to ensure this is really what you want as the old you is no more.  A testing of your heart must be done before I can enter."  I started singing songs of worship to Him when He said "I am entering your heart." He showed up with an almighty presence and I received a healing and deliverance from self-hatred.  It was huge and very uncomfortable and emotional but also awesome all at the same time. I was lying on my bed sobbing from my inner most depths and writhing around in discomfort coughing up demonic spirits but at the same time feeling the love of Jesus healing my wounds.  He told me that He delivered me from self-hatred. I wondered at the time if this the second infilling?  I didn't think so as I still felt exactly the same and my physical ailments were not changed. I also recall that there was a time I had a powerful encounter in the presence of Jesus whilst at my local Church and He told me He had imparted to me His fire.  He then asked me to impart it to the Church, which I did. Again nothing seemed to change within me that I could notice. 
Just recently I got asked to preach in an Aglow meeting. I had prepared 6 A4 pages of notes on what I thought I should preach on. The Lord spoke to me a few days prior and this is what I heard - "I want You to release the fire over the people and the building at the Aglow Meeting.  REVIVAL – You will carry revival.  I have catalysts – fire starters all over the world.  You are one of them. Forget what you wrote – that is not what I want you to preach. Give your testimony then release this word!"  The meeting was absolutely amazing.  God showed up with His fire and His Glory! I started reading the word He had given me to release and the moment I said the word 'fire' it came and people started weeping.  I was also crying as I read the rest of the word which was about the people who were present and how they had stood firm and never let Him go through the trials and then I started preaching and prophesying over the room about our sacrifice for Him for the sake of His body, the Church and how none of what we have experienced will be wasted.   I then prophesied over many different people and I was quite overwhelmed as I had never operated in this way before. A friend of mine who sees in the spirit (and came with me) said that she witnessed the fire and it was encompassing and hitting people and burning up demons that were standing around the building.  It was absolutely amazing – I am still in awe of what happened that day and it will be a day I will never forget.  
The next day I again wondered if this was the second infilling, but again still being the same in my mind, emotions and physical body I decided it was not.  Feeling confused I asked the Lord to clarify all that had happened. Over the course of the next week the Lord started to unfold it all for me.  This is what I heard, "Things are about to change for you. The baptism of fire is burning up what is not of Me. The nature of the new man is birthed through the fire. The water cleanses while the fire burns the dross. The fire means cleansing and empowerment.  Soon you will rise up into who I want you to be – well, healed and whole. Things will fall off as you walk in obedience to My Holy Spirit.  You walk in a double anointing as My fire is in you. Your soul (mind, will, emotions and conscience) and DNA is born-again through the fire of God as the fire refines and redefines you.  You need to first die to the old man, so the new man can be born. The fullness of the new 'you' is revealed when the process is complete. The fire is an even greater refinement.  It is a call to trust in an even greater measure.  I am separating the chaff from the wheat. I am calling you to trust in the leading of My Holy Spirit.  The new you will walk in power, newness of body, soul and spirit. Much of what causes your weakness in your physical body is caused through corruption which is written in your DNA and through the wounds in your soul. These things will be healed as you are raised in newness of life. My fire burns the dross and My Blood remits the sin.  A cleansing fire, a healing fire – the fire is the greater infilling you have been waiting for. Trust Me, continue in Me and watch Me change your life into resurrection life – His life for your life! The ones who are being changed in this time through the fire of God will teach and impart the fire to others. Time is short.  I am coming soon.  I am calling My chosen ones and changing them into their new Christ-like nature.  These are the first-fruits. These are the ones who have been through the fire of God and never let Me go.  They hung onto Me and they hung onto their promises refusing to believe anything else other than who I say I am. Some will be changed bit by bit, piece by piece through the resurrection process as restoration takes place, whilst others will remain unchanged until the great unveiling, where they will be transformed in the blink of an eye.  You will stay as you are until this and there is a reason for this.  I am outworking something in you. You are not aware of what it is – when it comes to light you will weep and you will see why I kept you in this holding place.  I had to restrain you.  Continue as you are.  Is it a struggle?  Yes – but you can do all things through Christ who strengthens you. (Philippians 4:13). Anything you do in My name I will always strengthen you.  My power works through you in your weakness. The revealing of the new-born sons and daughters will be soon.  For the earnest expectation of the creation eagerly waits for the revealing of the sons of God. (Romans 8:19, NKJV). The second coming of Christ – first I return in Spirit (within my risen saints), then later in person. The anti-Christ will wage war against the saints.  Little children, it is the last hour; and as you have heard that the Antichrist is coming, even now many antichrists have come, by which we know that it is the last hour (1 John 2:18, NKJV). The true believers who know My voice and know My word will not bow down nor worship him.  Your healing is near for I need you healed and whole – remember David who defeated the giant in My strength – those whom I seal in this time as My chosen ones will rise up in power against the enemy.  For a time it will appear as though he has won – but he has not. I will come again in Glory for My Church and I have shortened the days until My return to protect My elect, for if those days were not cut short no one would survive. The beast and the false prophet will be destroyed and cast in the lake of fire whilst the devil will be bound for 1000 years. During this time My children will live and dwell with Me for that 1000 years in the promised land. Then I saw an angel coming down from heaven, having the key to the bottomless pit and a great chain in his hand. He laid hold of the dragon, that serpent of old, who is the Devil and Satan, and bound him for a thousand years; and he cast him into the bottomless pit, and shut him up, and set a seal on him, so that he should deceive the nations no more till the thousand years were finished. But after these things he must be released for a little while (Revelation 20:1-3, NKJV). 
Blessed and holy is he that hath part in the first resurrection: on such the second death hath no power, but they shall be priests of God and of Christ, and shall reign with him a thousand years (Revelation 20:6, KJV).
But, beloved, be not ignorant of this one thing, that one day is with the Lord as a thousand years, and a thousand years as one day (2 Peter 3:8, KJV). What happens to the rest of the world in this time? Those who choose to worship Me as their Lord and Saviour will inherit eternal life, those who do not will perish.  Why would some not choose Me? These are the ones who have hardened their hearts towards Me. Their hatred toward Me and toward My children will become worse but they will not prevail against Me.  Now when the thousand years have expired, Satan will be released from his prison and will go out to deceive the nations which are in the four corners of the earth, Gog and Magog, to gather them together to battle, whose number is as the sand of the sea. They went up on the breadth of the earth and surrounded the camp of the saints and the beloved city. And fire came down from God out of heaven and devoured them. The devil, who deceived them, was cast into the lake of fire and brimstone where the beast and the false prophet are. And they will be tormented day and night forever and ever (Revelation 20:7-10, NKJV).  After the 1000 years those who do not choose Me will get cast in the lake of fire with the devil, and the believers will live and dwell with Me forever. There will be a new Heaven and a new earth. Get ready for I am coming soon. How do you get ready?  You learn My word and you spend time with Me learning about Me and learning My voice. You harken to My voice and follow My instructions. Those who do not know Me, and do not know what My word says will find it hard to stand.  The enemy knows his fate and wants to take as many of My children with Him. Teach all you have learned of Me.  Those who are born-again in their soul through the fire of God will help those who have not yet come to completion to be complete in Me.  The fire is My Holy fire and it will cause you to be recreated in Me.  A new soul and rewritten DNA - no more corruption written in your unique genetic code!"
 After I received this word I read Joel which gives a good time-line leading up to the 'Day of the Lord', which is when He returns for His bride. It talks about a plague of locusts that are likened to fire which destroys. There is a great lack of blessings. Interestingly this plague of locusts is also mentioned in Revelation 9 and happens when the 5th trumpet is sounded. There is a call to repentance and God restores all that was stolen back to His people. The world rises up in this time against the followers of Christ (His Bride) and He will be a refuge, a strong fortress to His bride during this time. Before the return of the Lord Jesus He pours out His Spirit on all flesh (Joel 2:28) and (Acts 2:17) and during this time the sun will be turned to darkness and the moon into blood before the great and awesome day of the Lord come. Upon His return He will pardon His bride and the Lord will make His home with His people. "And it shall come to pass afterward, That I will pour out My Spirit on all flesh; Your sons and your daughters shall prophesy, Your old men shall dream dreams, Your young men shall see visions. And also on My menservants and on My maidservants I will pour out My Spirit in those days. " And I will show wonders in the heavens and in the earth: Blood and fire and pillars of smoke. The sun shall be turned into darkness, And the moon into blood, Before the coming of the great and awesome day of the LORD. And it shall come to pass That whoever calls on the name of the LORD Shall be saved. For in Mount Zion and in Jerusalem there shall be deliverance, As the LORD has said, Among the remnant whom the LORD calls (Joel 2:28-32, NKJV).
For these are not drunk, as you suppose, since it is only the third hour of the day. But this is what was spoken by the prophet Joel:' And it shall come to pass in the last days, says God, That I will pour out of My Spirit on all flesh; Your sons and your daughters shall prophesy, Your young men shall see visions, Your old men shall dream dreams. And on My menservants and on My maidservants I will pour out My Spirit in those days; And they shall prophesy. I will show wonders in heaven above And signs in the earth beneath: Blood and fire and vapor of smoke. The sun shall be turned into darkness, And the moon into blood, Before the coming of the great and awesome day of the LORD (Acts 2:15-20, NKJV). 
 After receiving this word and reading Joel my belief is that the outpouring of His Spirit on all flesh just before His return spoken by Joel, is depicting revival using the 'Baptism of Holy Spirit and fire'. What I found interesting in Acts 2:15-20 is that Peter spoke of 'The cloven tongues of fire' that happened in Pentecost as the fulfilment to the prophecy spoken by Joel and that he believed it was the outpouring out of the Spirit on all flesh. Yet since then the sun still has not yet darkened nor the moon turned to blood so I believe this event of 'an outpouring of His Spirit and fire' is cyclical and repeats, and is where the world has seen seasons of revival and outpourings of His power and anointing.  This keeps happening until the final fulfilment when the day of the Lord comes. It is also my belief that the second infilling God has been talking to me about is the same 'baptism of fire' and 'outpouring of the Spirit' spoken about by Joel and experienced by Peter and the disciples, and is due to repeat in a new season of revival very soon.  Later on in Acts we see that this fire is imparted to others. Throughout history we have seen that there are seasons of outpourings of His Holy Spirit and fire where revival and an outpouring of His power and anointing are witnessed through signs and wonders. There are so many prophecies around now saying that revival is near and that there is another mighty outpouring of power and anointing coming soon. I believe this revival that is up and coming will also be the birthing of His great and mighty army that is being prophesied by many. So shall they fear the name of the LORD from the west, and his glory from the rising of the sun. When the enemy shall come in like a flood, the Spirit of the LORD shall lift up a standard against him (Isaiah 59:19, KJV). This outpouring I believe will not be like anything we have ever seen before. The ones who are birthed through the fire at this time will soon rise up into their new Christ-like nature with power and anointing, and will help the ones who have not yet risen be birthed into the new man too, which I believe will happen after this one and will be the last and final one when the sun will turn to darkness, and the moon to blood before the great and awesome day of the Lord. No one knows the hour nor the day when Jesus will return but we are told to watch for the signs.  Most Christians agree at this point that the end and the return of Jesus is near as the signs seem to point to this direction.  In the words of the Lord, "Get ready for He is coming soon." 
(PRAYER) – "I pray to You Father God in Jesus name for the second infilling of Your Holy Spirit. I pray to be baptised in Your Holy Spirit, Blood, water and fire so I can be born-again and resurrected in spirit, soul and body, and into the likeness of Your Son Jesus Christ. I put off the old man and put on the new. I pray that I am chosen of God to be revealed to the world when the army of God is revealed to perform miracles, walk in Holy power, and take dominion on earth. Recreate me Lord and bring me back to the original creation you have always designed me to be.  Burn up the dross, and remove the corruption from my unique genetic code so I can rise up in Your strength and power.  I want to be in Your army of saints Lord Jesus chosen by You to be revealed in the last days as a witness and a testament to Your love and resurrection power.  Show me anything else I need to do in order for this to happen.  Thank You Lord Jesus, Amen."
By Tania Francis