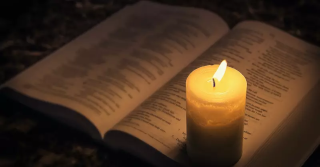 Thy Word Is A Lamp
Thy word is a lamp unto my feet, and a light unto my path (Psalm 119:105, KJV).
The date of receiving this word is 28/09/2021.  This is what I believe the Lord Jesus Christ spoke to me ~
"Covid-19.  New Zealand is about to experience a catastrophe.  The virus will not be contained.  There will be many deaths.  The Christians will question where I am in all of this.
Blind faith – this is where one has faith in Me based on their own assumptions.  I lead and I guide.  Each one needs to have a personal relationship with Me so I can lead and guide you.  What is right for one may not be necessarily be right for another.
Sheep – sheep follow their shepherd.  When the shepherd is not around, they follow each other.  If one is spooked the others follow.  Conspiracy theories are rife and leading My sheep astray.  I am speaking but not many are listening – they would rather listen to each other than truly seek Me and see what My word is saying.  You need to seek Me and seek My word and My word will confirm what I am saying.  That is the only way to stay on track – My path – which is My perfect will for you.  Many are off track, and this will be a wakeup call for many."
By Tania Francis