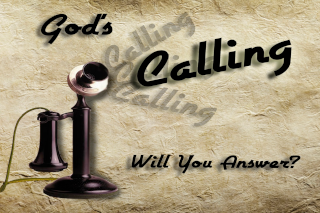 Surrender To The Call Of God  
But as God hath distributed to every man, as the Lord hath called every one, so let him walk. And so ordain I in all churches (1 Corinthians 7:17, AKJV).
As every man hath received the gift, even so minister the same one to another, as good stewards of the manifold grace of God. If any man speak, let him speak as the oracles of God; if any man minister, let him do it as of the ability which God giveth: that God in all things may be glorified through Jesus Christ, to whom be praise and dominion for ever and ever. Amen (1 Peter 4:10-11, AKJV).
And when they had brought their ships to land, they forsook all, and followed him (Luke 5:11, AKJV).
Therefore said he unto them, The harvest truly is great, but the labourers are few: pray ye therefore the Lord of the harvest, that he would send forth labourers into his harvest (Luke 10:2, AKJV).
Recently I wrote a prayer and revelation about removing the graveclothes.  In this I asked God what I still had to lay down before the graveclothes could be cut from me.  He answered me a few days later (11/12/2020) and this is what I believe He spoke; "You asked me what you had to lay down?  It was yourself for My call and purposes. I beseech you therefore, brethren, by the mercies of God, that ye present your bodies a living sacrifice, holy, acceptable unto God, which is your reasonable service. And be not conformed to this world: but be ye transformed by the renewing of your mind, that ye may prove what is that good, and acceptable, and perfect, will of God (Romans 12:1-2, KJV). I have been testing your commitment to the Ministry.  Do you believe in My promises even though they tarry?  The fruit from your Ministry was little.  This was to test your faith and prevent pride until you were fully yielded and made new in your soulish areas.  Your commitment has been great.  Even in your weakness you were willing to be My vessel.  Even when I didn't heal you, you continued.  The call of God was placed within you.  Many lay it down when the troubles come.  You did not.  That was all you and your choice.  I couldn't make that choice for you.  True surrender to the call of God. You believed in Me and you believed in the Son.  You believed Him at His word and persevered even though you didn't see the fruits of your labour. If you got fruit straight away pride would enter and take you out of the race.  I have taught you to be careful.  I have taught you to test everything.  Donald Trump is about to win - the results will be overturned.  My justice will prevail.  This is for My purpose. My saints are about to rise up alongside Trump and they will rise up in power and be glorified.  The fruits of your labour will be apparent.  Life as you know it is about to change.  You will have a face to face encounter with Me that will change your life forever.  You will teach others how to surrender their lives, spirits, souls and bodies to Me.  It is about the call of God over your life.  The call of God should be above and beyond in importance than anything else.  It is your commitment to serve Me and put Me first in your life. Walking in the calling of God should come above your families, your jobs, and your health. Sometimes when you are struggling in your health I will ask you to continue, other times I will advise you to rest.  It is about listening to Me and My direction.  Putting Me first above all else.  It is obedience to Me in all facets of your life.  What am I saying? It is about seeking Me in all things and putting My will and purposes ahead of your own. I look for these ones.  They are not perfect, far from it – but they are obedient – putting Me first above all things. When you seek first the Kingdom and His righteousness then everything else can be added unto you (Matthew 6:33). I have chosen you for your dedication and for your commitment to serve Me.  Not all are willing to lay down their lives for My sake – My body, which is the Church.  The Church is lost and I am looking to save it.  I am choosing the ones who have been tried and tested through the fire of God and come out clean – set free and healed.  These ones are going up a level in God.  They will become leaders of My army – calling those who are lost, blind, deaf, crippled, maim and weak to wholeness. 
Being saved is more than just a free ticket to Heaven when you pass from this life to the Kingdom of God  – it is being made whole, healed and delivered while you are still living on this earth. My children bring My Kingdom to earth and display My works within them – but before this can happen fully, one has to die to themself and this world. The body of Christ as a whole is weak, feeble and failing.  I am restoring them and bringing back to life that which is dead or dying.  Dying to self – the process of sanctification.  I cause those things not of Me to die but not many understand or know how to receive My resurrection power of life into their souls and physical bodies.  Your Ministry teaches how to receive and rise up in My resurrection power to bring back to life that which is dead.  I am going to use you mightily – as long as you are willing there is no place, or nowhere that we cannot go and conquer and come out victorious. Be ready - for things are about to escalate in a way this world has never seen before."
As I was writing this, God brought to mind the people who had the call, or knew the call and laid it down because they trusted more in themselves or their negative circumstances more than the promises of God. If God gives us a promise and things seem to be not working out that way, we have to not allow circumstances to steal what God has for us. Things like finances and poor health can make us want to lay everything down so we enter into comfort and comfortable things instead of trusting in God.  The Bible teaches that the road to God is narrow.  Humans want the easy way and the least painful way.  Seek God in all things – sometimes He may advise us to lay things down in order to do a new thing, or even have a much needed rest, but more often than not He may be testing our commitment to the promise or call that He has given us, and wants us to continue in it – no matter how hard or painful that is.  There were times in my health struggles where He said 'rest' and other times where He said 'keep going out and ministering'. During these times, before and after were so hard, but during the ministry sessions things became easier because of the anointing. This is how I knew that I was meant to continue to do what I was called to do, even though it was incredibly hard. There were other times where our finances dried up so much that we considered that I should lay down the call of God and ministering to go back to work (as Mark was already working from home in our computer business) but God always said 'no'.  How much do we trust His word?  How much do we believe in Him to do what He promised?  If things are uncomfortable when we choose God and His will and not the world, then be assured that when you put God first everything else will eventually come into place.  It may not happen immediately but if God says it will happen, it will happen just as He promised.  I have found that we can have mind-sets and ideas of how it should look, or how God should do it.  More often than not God's ways are truly unconventional and we have to continue to trust Him in the process.  Until I got this word I had no idea God was testing my commitment to the calling and Ministry He placed in my life.  Throughout the whole eleven years that I have been a Christian I have never doubted the call over my life.  I have had to guard against people trying to control or take over or lead me in a wrong direction.  The devil will use people (and usually the ones closest to you) to lead you off track.
Ask God what the calling and purpose is that He has given you to serve Him and keep it close to your heart.  Hold onto it no matter what and allow Him to lead the way.  Continuing in the call of God over these last eleven years (especially the last six) where I have been struggling so much with health issues has been very hard but I can see that the perseverance and refusal to let God and His will for my life go will soon pay off.  The promises that He gave me at the beginning will soon come to pass.  My healing will enable me to continue to serve God in the next phase of my life even better than I already have.  In the next phase I believe that the world is going to get worse and we are going to need God even more than ever before. 
It is time to lay down ourselves and what we want in order for God to utilise and use us more.  We need to be healed, whole and delivered with a testimony of the goodness of God to help those who don't know Jesus, and to help those who do know Jesus but don't know how to receive all He has for them. Our experiences will be worth more than their weight in gold.
(PRAYER) – "Father God in Jesus name I ask that You would show me clearly my call and purpose in You. I repent for anytime I have laid down the call of God over my life.  I repent for anytime I trusted more in the world, my own flesh and what the world was saying more than what You were saying.  I repent also for not putting the call of God, which is my service to You ahead of other things in my life.  Thank You Jesus for the call of God You have placed upon me.  I pray that You would help me to fulfil that call and purpose and to achieve everything You have predestined for me to do. Help me to stand fast in that purpose and never let it go.  Equip me for all that I need for my call and purpose in You.  Help me to put the call of God first in my life.  The call of God is my service to You to bring about Your purposes in the world. I lay myself down afresh to You and Your purpose for me. I commit myself to Your cause. The labourers are few but Lord Jesus I am willing.  I pray also that You would send forth labourers into the harvest. As I walk in this call I pray that You would empower me with more of Your gifts, talents, power and strength to fulfil all You have called me to do.  I lay down my life for Your sake – which is Your body – the church.  Help me to reach them.  I pray that You would use me to save them, complete them and make them whole through Your power and precious Blood.  Thank You Lord Jesus, Amen."
By Tania Francis